Swedev launches H9 blade for white inks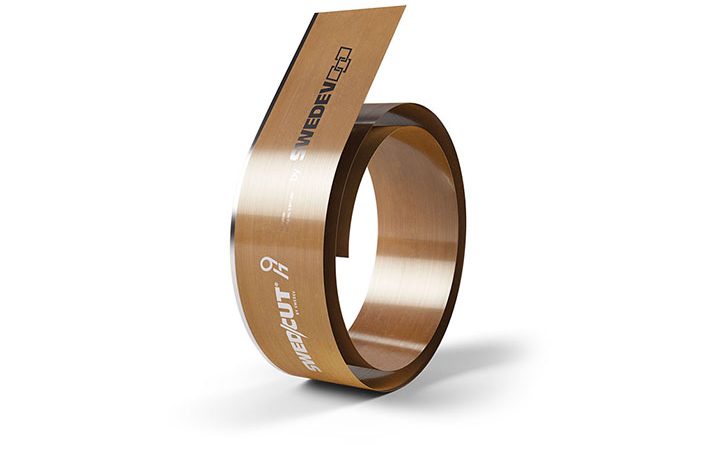 Swedev's H9 doctor blade has been launched for metering white ink
There is no other colour used more by flexo printers than white, and being made with abrasive titanium dioxide pigments makes it a challenge for other parts of the flexo processs, in particular the doctor blades. In response to these problems, Swedev has launched the H9.
Printing with white inks is challenging in today's packaging industry, as these inks are not only abrasive, but they are often used in higher volumes to cover large areas and can have tough requirements on opacity. These inks give special effects to the printing results, but the process parameters and consumables such as the doctor blades need to be adapted for best overall results.
White ink is abrasive due to the hardness of its titanium dioxide pigments. In printing whites by gravure, opacity levels of over 85% can be achieved, while in flexo printing there are challenges in transferring the large volumes of ink needed as a smooth coverage of the substrate without defects such as pinholes. The larger ink volumes mean coarser aniloxes (lower line counts), which can wear blades faster.
A large portion of white ink on the market is solvent-based for flexo printing on packaging film. This often goes on wide web presses, where higher printing speeds of up to 400–600m/min can bring on higher pressures and vibrations. These conditions as well as the abrasiveness of the ink raise requirements for thicker blades and tips and more wear resistant material such as tool steels and higher hardness coatings.
A well-tested combination is 0.20–0.30mm thick SWED/CUT H9 with radius edge for metering and SWED/ CUT MicroNox II 0.15–0.20mm thick for containing. This has given total production of 850,000 metres of flexible packaging over a week's printing, on a Uteco machine, reducing downtime with no issues of with print quality nor blade longevity.
In another case of printing brown bags on a wide web machine, on a Windmöller & Hölscher Novaflex at 500–600m/min in white inks, a SWED/CUT H9 blade 0.25mm thick with radius edge doctoring and MicroNox II blade 0.15mm thick with radius edge for containing have run between 1.7 and 2.7 million metres compared with 1.5 million metres for a high-value competitor blade.
In label printing, UV inks are popular for their ability among other things to give vivid covering. Thicker, hence stiffer, blades like 0.25 and 0.30mm are often chosen depending on printing speed. The abrasivity and viscosity of white UV inks call for more wear-resistant materials and harder coatings on blades with tips tailored to the anilox line count.
A general rule of thumb isb that 0.25mm thick radius edge SWED/CUT H9 blades perform very well in flexo white inks, whether they be solvent-based or water-based, printing film, paper, cigarette stubs or coating on carton. The thicker blade provides more material that can be worn away, but the material is also more wear resistant due to a higher hardness coating as well as low friction.