Label&Print show springs back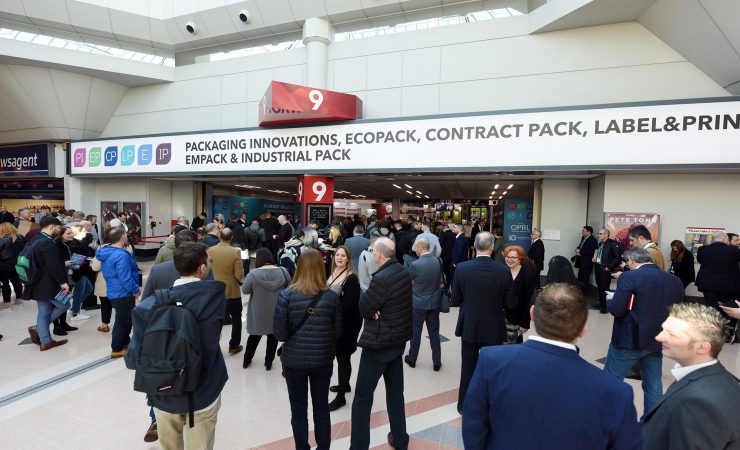 Label&Print 2019 drew a record crowd
With high quality speakers, 300 industry suppliers and a record-breaking 6922 visitors, Packaging Innovations, Empack and Label&Print had a triumphant return to Birmingham's NEC. Michal Lodej reports.
After suffering from all the problems that come with putting on an exhibition during one of the coldest weather fronts in recent history last year, the Label&Print show returned busier than ever.
Sustainability was of course, at the top of the agenda, with experts from Coca-Cola, Marks & Spencer, Iceland, Innocent Drinks, Co-op and Greggs taking to the stage to address the issue and reflect on the progress made by brands over the last 12 months.
One year on
It was just over a year ago that Ian Schofield, own label and packaging manager at Iceland Foods, appeared on BBC news to announce that the supermarket was making a commitment to removing plastic from its stores. Appearing at the Label&Print show just weeks later, he was able to explain his plan in detail. He returned to report how he was getting on.
For Mr Schofield, the problems remained the same. He had to remove plastic packaging, but by no means could he allow food waste or the prices of his products to increase. Mr Schofield said, 'My customers shop at Iceland because they have stretched budgets, and the money they had to spend on food 10 years ago, is the same amount of money they have to spend on food today. So I cannot pass on a price increase to these customers.'
Iceland, he revealed, has 400 individual plastic packaging components in its portfolio which represents 80% of its plastic packaging on the shelf, so this is where Mr Schofield is focusing his efforts.
So what has changed? All ready meals will be placed into cardboard trays by the end of 2019. In the frozen desserts aisle he has six viable applications which could make their way to the store soon. Lidding films, however, is not so far along. Mr Schofield said, 'We have many ideas but unfortunately there is still not one solution.'
Other areas have also seen set backs. The supermarket tried removing packaging from bananas, however there was some shrinkage of the fruit before it could be picked by the consumer. Mr Schofield has much to do before meeting the 2023 target, but he knew it was never going to be easy.
'We have been successful in finding alternative materials over the last 12 months and have developed plans to replace plastic across a vast range of products. However, with some of these materials costing between three and 10 times more than their plastic counterparts, cost remains one of the biggest challenges in our mission to create plastic-free packaging,' he concluded.
Plastic, plastic, plastic
The headline feature of the seminar programme, the Big Plastics Debate, built on the groundwork laid at last year's show and featured some impassioned voices. On day one an expert line-up debated whether 'plastic will always be fundamental to our everyday lives', with cases made for both sides of the argument.
Barry Turner, plastic and flexible packaging group director at The British Plastics Federation, commented, 'The real issue is how we behave with plastic. Consistent collection and an aided circular economy will ensure that we are using this resource responsibly. We have to cherish plastic and put it back to work.'
On the other side of the debate, Sian Sutherland, co-founder of A Plastic Planet, argued, '91% of plastic ever made has never been recycled. All the noise and concern over recycling has made no difference to the acceleration of plastic production. When our children have children, they will be dealing with triple the amount of plastic on the planet. Something needs to change.'
Something new
Many exhibitors also chose to launch their latest products live on the show floor. Highlights included: Charpak introducing its 100% recyclable Twist-Loc plastic tub with integrated twist-and-lock mechanism; Macpac presenting its revolutionary new Breakdown PET material; and Ampacet showcasing its REC-NIR-BLACK masterbatch solutions for automated sorting of black plastic at recycling centres. IST informed visitors of its UV LED SCR Units, made for retro fitting UV curing systems onto flexo machinery.
Enabled Labels spoke about just how effective smart and connected labels using RFID tags or NFC could be in marketing and promotions. Greg Devenish from the company said, 'Stand out from the crowd with a flexible way to egage with customers allowing them to indulge in dialogue with you. You want to maintain the conversation.'
The idea is to marry the visual art of a label with human relationships. Mr Devenish continued, 'We are driven by visuals and every second of the day, we are hit by 11 million data points. Which ones stand out from the crowd? The ones that are perceived to be a threat or a reward. What we want to do is leverage the reward instinct and make a soliloquy.
'So where could it be used for, drones? There is huge concern for these devices, but what if they could only be activated by a chip, which could hold information such as where the drone has been, who is the licensed owner, and what licence does the owner possess?
'It could be used for alcohol packaging. People today are consuming less alcohol, but spending more money on it. Wine is especially prone to this behaviour, with consumers wanting to be well read in wine tasting, by describing a wine's terroir, the characteristics of a wine inherited from the grape's geography, geology and climate. Scan a NFC tag on a wine label and this could all become available.'
Other areas which might find this technology useful include the pharmaceutical and medical sectors. Products in these industries need to be traceable, and patients could use it to access safety information in any language they need via their smart phone.
This technology only has two barriers, but they could be enough to put people off attempting to use it. Firstly, it is dependent on the internet connection at the time. If anything takes more than five seconds to load onto the screen, people will tend to give up. Also, it requires that person to have the correct application their phone in the first place.
Great debates
The panel debate from PrintWeek, looked at the role of e-commerce and how it was affecting the printing industry. On the panel were Jenny Cairns, innovation manager, ButterflyCannon, Amelia Dales, business development manager, Garçon Wines, and Rachel Scoffield, head of customer experience at Papier.
These brands had all made their money with a strong e-commerce platform and utilised print to enhance that experience. Suppliers of course hold a crucial role beyond simply selling to these brands and communication between them to know what they can do is more vital still. Ms Dales added, 'From our suppliers we really need support for them, we have a sustainable benefit from the bottle, and the support is great.'
The theme of sustainability was again touched upon during the discussion, revealing a positive story for both plastic and plastic alternatives. Garçon Wines has made an impact by selling wine, which can be sent as a gift, by using a flat bottle which can fit through a letter box. To achieve this shape easily and cost effectively, the wine bottle is made out of plastic. Ms Dales explained, '100% recycled materials are used in creation of the bottles we use. It is plastic used in a responsible way and its more effective for being sent through the post, as it is supposed to be. Once peopleunderstand that we have made a value for plastic waste, the more accepting they are of us using plastic, and for drinking wine out of a plastic bottle.'
As a paper stationary provider, Papier came to a different view of using plastic, Ms Scoffield said, 'We made a commitment to be plastic free, because we sell paper-based products, but that is a risk in itself, sending paper in the post only protected by paper in a country like this where it rains all the time is a risk. But where our customers have bought into this concept, we couldn't go back on this now. It is at the forefront off our company ethos.'
On the same stage a day later was the return of the flexo debate, chaired by Michal Lodej, editor of FlexoTech, which looked at the position of flexo in the printing industry. In his introduction, Mr Lodej said, 'Flexo, as a printing process, is surrounded by competition. On one side is the newer, customisable and agile digital printing technology, perfect for short run and personalised print campaigns. On the other, gravure, seen as the pinnacle of quality in the packaging print world and fully equipped for extremely long runs. And that's the question we're here to discuss, has the flexo industry done enough to keep its place in the printing industry?' 
To answer the question was a panel made up of Paul Horton, independent consultant from Print.Brand.Colour, Jason Gilmartin, senior print manager, packaging and POS at Asda, Tom Allum, chairman of Abbey Labels, and Steve Mulcahy, managing director at Contact Originators.
The panel agreed that technologically the industry was advancing well. However, Mr Horton pointed out that this was not always making its way to the press room, using the analogy of having an F1 car fitted with tractor wheels. he explained, 'The technology available on the newest press (and often as retrofit) is astounding with focus on press uptime, robotic loading, 100% inspection, inline colour measurement, to name but a few, however, often these items are stripped away before a press lands in a production hall and despite this evolving technology business revert back to running how they have always done it.'
Speaking after the event, James Drake-Brockman, divisional director of Easyfairs' packaging portfolio, said, 'Packaging Innovations (including Contract Pack and Ecopack), Label&Print, Empack and Industrial Pack has been an overwhelming success this year and I would like to thank everyone who has supported the show. With sustainability remaining a key challenge for the packaging community, it has been particularly exciting to see the industry coming together to move the conversation along and continue to strive for change. We can't wait to continue this success as we look towards the London event in September.'