Grab your coat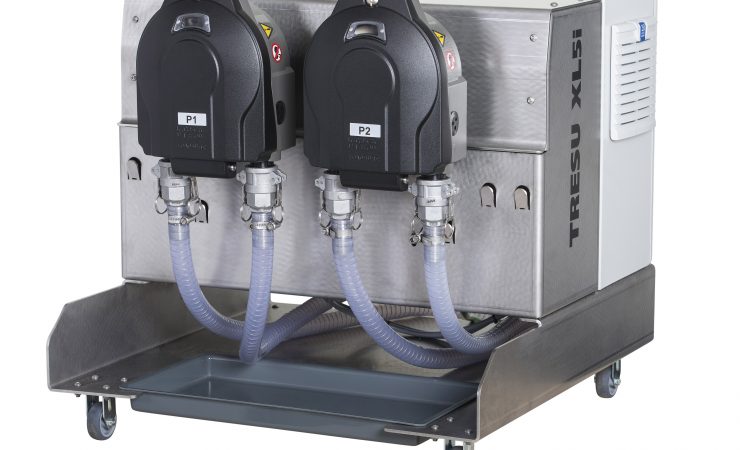 Tresu offers a self-regulating coating concept
Helen Dugdale looks at the growing inks and coatings market, and at the industry trends and consumers who want more than just functionality from their packaging.
From a global perspective, the inks and coatings market is enjoying a buoyant and healthy period. The changing habits of shoppers are giving brand owners the excuse to use coatings for more than just preventing contamination and maintaining a food's taste and quality. The increasing consumer preference for pretty packaging is driving the demand for brands to up their game in the design and style of their packaging. This is being seen across a wide variety of industries including food and beverage, cosmetics and pharmaceuticals. Technological advancements are also helping to improve packaging and assists brands to achieve more individual looks and exciting experiences for the end user.
Coatings, adhesives and cleverly crafted finishes are helping to set brands apart on the retail shelf. As recorded in a recent report by Global Market Insight, North America has captured a major chunk of the industry share due to product demand in the food and beverage industry on a large scale. Change in consumer lifestyle and increasing public awareness for contamination-free food in Asia Pacific (primarily in India, China and Indonesia) has stimulated packaging inks and coatings market size over the last few years.
The report also goes on to reveal that the stringent regulations imposed on the products used in the food and beverage industry is likely to slow growth over the next decade. However, researchers believe that manufacturers are developing organic and eco-friendly inks to comply with the regulations which are a potential opportunity for the packaging inks and coatings market.
Coveris has seen a recent transition to tactile coatings across carton board, flexible film and label packaging formats. Will Mercer, group research and development director at Coveris explained, 'The use of different tactile coatings and varnishes delivers ontrend presentation and decorative embellishment and can be targeted to packaging, offering barrier and other
special features. In flexible films they offer the additional benefit of reducing complexity in overall packaging structure, enabling the move to mono materials which are more easily recycled. Aligned with Coveris' sustainability strategy, Pack Positive, we have placed a particular focus on tactile coatings for PE film which is fully recyclable and OPRL compliant, subject to blend and facilities, in addition to other formats. This tactile print polythene is suited to vertical form, fill, seal and pillow packs for produce and frozen food applications, particularly for seasonal and premium lines where there is greater demand for decorative effects, and we continue to develop technical capabilities for tactile coatings in combination with our materials. We have seen increasing demand for tactile coatings in the food sector, both for the decorative properties and from a sustainability perspective.'
Functional and fashionable
The market for peel and read labels, also known as peel and reveal, multi-layer and piggyback labels, has grown dramatically over recent years, fuelled by regulatory demands for extra information required on labels particularly for pharmaceutical, healthcare, cosmetics and industrial products.
Narrow web ink specialist Pulse Roll Label Products, manufacturers of coatings and varnishes for label printing, has seen an increase in demand for peel and read labels that require everything from decoration and embellishment, to functionality and compliance.
From a coating perspective, it is critical that the adhesive used on this type of labels allows the layer to be peeled, released and resealed on a 'repeatable' basis.
Complementing its flagship UV flexo ink system, PureTone, the company has also formulated a portfolio of specialist UV flexo coatings which include its PurePeel peel and read release varnish and its newer PureFX rough texture varnish launched at Labelexpo Europe 2017.
Mikaela Harding, product manager, said, 'Our PurePeel UV flexo release varnish is used by label printers worldwide and, with proven smooth, even and repeatable release properties, almost 10 years after its launch, this continues to be one of our most popular products.'
Skanem Cardiff is a producer of self-adhesive labels and offers peel and read labels to its customers. Colin Stafford, UK operations manager, said, 'Skanem Cardiff has been using Pulse Roll Label Products' peel and read release varnish for several years now. We produce peel and read labels in up to three ply and the choice of release coating is critical to ensure the label's functionality. PurePeel offers excellent stability and printability plus offers the repeatable release properties required for printing high quality multi-layer labels. It's our release coating of choice for the growing peel and read label market.'
Premium effects
As well as adhesives and coatings developed primarily for functional purposes, the growing popularity of craft beer, artisan products and other speciality food and drink products, has also influenced the trend towards the use of varnishes for decorative purposes.
Testifying to this trend, Sarah Harriman, marketing and communications manager, Pulse Roll Label Products, said, 'We have seen a surge of interest in coatings which create premium visual and tactile effects on labels, particularly in the food and beverage markets.
This includes alcoholic sectors such as wine and beer, as well as soft drinks, where specialist coatings are being used to enhance the product's shelf appeal. And textured effects are proving particularly popular. Our PureFX UV flexo rough texture varnish was formulated to satisfy this need, as brand owners focus more on delivering a sensory experience to the consumer.'
Ms Harding added, 'It's important for us to support our customers in delivering outstanding quality and optimal performance on press. So, when we develop a new ink, coating or adhesive, we work closely with other companies including anilox companies, repro houses and plate makers to ensure that we can offer our customers a complete solution. Our collaboration with experts like Creation Reprographics, for example, means that we can help to deliver the highest-standard print solutions for our customers and their customers, the brand owners and retailers. We believe that these industry partnerships add real value as we bring together knowledge and expertise from leading industry suppliers.'
In combination
Flexographic coating frequently complements offset and digital processes for packaging and commercial printing because it enables the application of a protective and aesthetically enhancing matte, gloss or velvet touch finish, inline, directly after the printing stage, productively and economically. With an appropriate chamber and circulator in an enclosed, pressurecontrolled, environment, flexo provides the optimum combination of coverage thickness, fast makeready, and consistently clean, uniform printing.
Tresu offers a selfregulating coating concept that comprises a chamber doctor blade with 'E-line' clamping, a coating circulator, and a coating conditioner.
The circulator automatically adjusts to the coating supply and initiates optional cleaning programmes, and by means of a sensor to measure coating pressure and press speeds at the doctor blade, the circulator also regulates coating flow. With Tresu's Pressure Control Technology, a constant pressure is maintained in the chamber doctor blade. This causes a liquid barrier to form between the rotating anilox cells and the chamber, stopping any air in the cells from transferring to the coating during production.
The company offers a wide range of coating circulators that are specifically designed for the viscosity, desired sensual effect and coating chemistry, with options on pressure control and automation. There are two circulator varieties, each of which can be configured for either UV or water-based liquids. The Li series, with diaphragm pumps, is best suited for standard and foam-sensitive coatings. They include automatic cleaning programmes and detergent dosing. A 'combi' version provides a two-inone solution for both UV and aqueous coatings, with separated circuits for each coating set. The XL series, with peristaltic pumps, are 'all-rounder' solutions, suited for high-viscosity, opaque white, metallic, pearl and special effects.