Safer inks and technologies reduce environmental impact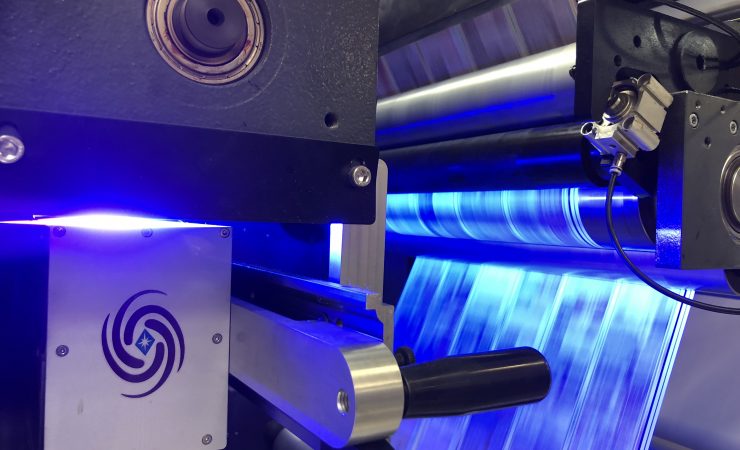 Phoseon UV LED unit retro-fitted to Sopano's Nilpeter press
Sopano is an independent printing company located west of Paris, near Rouen, France that manufactures and prints adhesive labels and rolls of receipts. The company decided to improve its processes by investing in UV LED equipment.
Sopano's customers are hypermarkets and supermarkets, as well as industrial companies in the agro-food and many other fields.  The company traditionally printed its labels and receipt rolls on a flexographic printer that used high-temperature mercury UV lamps to cure the inks. However, these legacy technologies were starting to become an issue for Sopano, impacting operational processes and hindering its ability to attract new customers and meet new food safety regulations. Mercury UV lamps are notoriously power-hungry, and are slow to warm up to optimal curing temperatures (between 1550 to 1750 Fahrenheit), and equally slow to cool down. This impacted printing uptime whenever the print technicians had to stop the presses to change papers or inks. Labels or other printed matter rolling out of this high temperature curing process were also extremely hot, and cooling these materials was a process of its own, requiring a specialized chiller to speed the cooling process. Furthermore, Sopano found it challenging to print clearly and dry quickly using the paper used for receipt rolls (which Sopano prints on the back with coupons) with mercury UV lamps and the inks developed for these processes.
These traditional inks were themselves becoming an issue due to regulatory changes, as inks that are not properly formulated for food packaging can result in migration of unwanted chemicals into the packaged food. The European Union has adopted new REACH standards to protect human health and the environment from certain chemicals in both industrial processes and household products, including paint and ink. In addition, food industry giant Nestlé has issued its own guidelines identifying the inks that can be used for the outside of its food packaging materials. These new stricter guidelines have been adopted by a number of other food industry companies; new 'low migration' UV inks have become the industry norm. The mercury UV lamps pose another environmental concern. As part of their curing process, mercury lamps produce ozone, a toxic gas that is considered dangerous to breathe, especially when concentrated in a restricted space. Though Sopano installed an ozone extraction system to protect its workers, it's also is just another machine for the staff to manage and maintain.
With its outdated older technologies and processes, Sopano found itself locked into its printing niche, unable to address new opportunities that required printing on a wider selection of papers and other substrates, and increasingly unable to meet stricter guidelines for printing foodrelated labels. 'We immediately identified the possibility of upgrading our printing processes,' said Laurent Charbonneau, president of Sopano. 'It was evident that we needed to adopt UV LED technologies on our machines.'
Too see how Sopano used UV LED technology to improve its process read the rest of this case study here.
This article is an advertorial; the featured company created the wording and paid for its placement. It has been edited by Whitmar Publications to ensure that it meets our standards.