One size fits all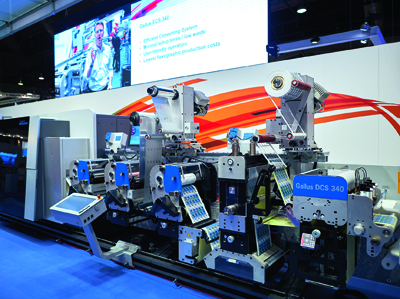 Gallus has developed this semi-hybrid Labelfire press, which combines digital printing with flexo finishing
A hybrid press can be a cost-effective way of printing different types of jobs all on the same line in a single pass. Nessan Cleary looks at the options available.
Hybrid solutions can take different forms. Sometimes this means combining different print processes, such as offset and screen printing with a flexo line, but it can also involve matching a digital print unit with a conventional flexo converting line to create a semi-hybrid solution.
In most cases adding further units is fairly straightforward as most inline flexo presses are designed for this kind of flexibility. The main issue is the ink supply, with most vendors opting for a cassette system to make this as simple as possible, and the drying system, which must be fast enough to keep up with the rated speed of the flexo units. The degree of integration varies between vendors and sometimes depends on the type of units being added. In some cases the press has been designed as a hybrid and the controls for the other processes fit right in with the main flexo system but often additional units such as screen or gravure may come with their own control system that will also need to be monitored.
Different methods
Screen printing is perhaps the most obvious hybrid printing option to add to a flexo press. This process is capable of applying opaque ink or heavy varnish deposits between 6 and 250 microns in one pass and at relatively high speeds. It can be used for both decorative and functional effects – tactile varnishes, braille dots, rich opaque colours, metallics, security features including optically variable and conductive inks. Most vendors offer their own screen printing units but there are also several third party options such as SPG Prints, which supplies rotary screen units up to 900mm wide.
Another option is to use gravure, which has a reputation for producing very high quality images, with fine detail in images and is consequently mainly used for added-value work such as metallic effects. The gravure process is based around etching the image into a cylinder. The etching creates wells, where the ink fills up, transferring the image when the substrate is pressed against it. This process allows for high ink transfer, producing very dense, saturated images.
There is a growing trend to use offset presses for labelling and packaging applications, with several flexo vendors also supplying offset printing units for use on flexo presses. Offset printing can deliver very high quality results, depending on the substrate, and the degree of complexity. In most cases this means using offset sleeves, which can be changed quickly and allow users to switch between offset and flexo printing.
Keeping conventional
Nilpeter, for example, produces combination presses, such as the MO-4 that uses Nilpeter's Easy-Load sleeves for both offset and flexo but can also be configured with screen printing units as well as hot foil and die-cutting. This is a 420mm wide press that runs at 175m/min. It is capable of producing complex labels and so is often used for printing labels for the wine and spirit markets as well as for health and beauty products.
Nilpeter also sells a gravure unit that can be added to any of its flexo presses and is mainly used to print metallic inks and special coatings as well as an opaque white. It uses solvent inks and has an integrated ventilation system as well as an ink circulation system, viscosity control and a drying and vacuum system. It can be set up for both front and reverse side printing. The Danish company also produces a screen print unit, which can take both cylindrical and flat screens and can be fitted to both the MO and FA line presses.
Screen printing, such as the SPG Prints Rotary Screen Integration units, can produce highly decorative effects
Omet sells the X6 Offset, a hybrid version of its X6 press with a combination of offset and flexo printing. It is available in 430 and 530mm widths and can produce up to 200m/min. It will take a fair range of different but integrated types of printing units, most of which can inserted at any point in the line. Options include offset sleeve, with a high-precision ink duct with remotely controlled independent sectors. The inking train features 20 idling rollers with an automatic washing system and balanced damping system.
There is also rotary silkscreen, which is constantly calibrated and can produce think ink layers and high coverage. It is a servo driven unit that uses an automatic screen tensioning and screen positioning system so that there's no need to adjust for repeat size changes.
There is a rotogravure option that can be used with a wide range of substrates from cardboard to labels. Naturally, there are also various finishing options including hot and cold foiling, inline lamination and die-cutting. Most of the other Omet presses can also be fitted with some of these units.
Omet has worked with Durst to create a hybrid solution that combines a Tau 330 with Omet's XFlex X6 flexo press plus Durst's Web to Print label workflow. The X6 has a modular architecture that can take flexo stations for priming and/or varnishing, web cleaning and corona treatment, rotary/semi-rotary die-cutting and slitting.
Bobst also sells presses capable of multiple processes such as the M9, designed mainly for carton and packaging applications. This can be fitted with a gravure head that will take both solvent and water-based inks, as well as an offset unit and, of course, flexo printing, as well as hot foiling.
Gallus too offers multiple printing options for several of its presses. The RCS 430, for example, can be fitted with offset, screen printing and rotogravure units. All of these can be added at any point in the line complete with pre-set web tensioning and registration. Even the offset units can have the ink and water balance set up before printing to minimise waste.
Joining digital
There is an obvious trend towards shorter runs, which digital printing aims to cater for. A hybrid solution that combines digital and flexo can give converters the option to handle shorter runs without compromising on the ability to also take on longer run work in a single press. And, of course, digital can also be used to add variable data as well as versioning as part of a longer run flexo print, all in a single pass. The main issue is that inkjet almost always involves a trade off between image quality and speed but in general you will need at least 600dpi resolution to come close to the quality of a flexo image.
Gallus also has a digital semi-hybrid press, the Labelfire, which is based on its ECS 340 flexo platform and uses the flexo finishing options. This is a UV inkjet press that runs at 50m/min but delivers 1200dpi resolution with up to eight colours including white. The converting units can include screen printing, varnishing, laminating and cold foiling as well as die-cutting.
Mark Andy has developed a number of digital options including the Digital Series HD which is built on its Performance Series platform and mixes digital printing with flexo units for effects such as top coating, metallics and cold foiling. It prints at 1200dpi and runs at 73m/min taking media from paper and film to light carton. It can be configured with up to eight colours including a high opacity white.
MPS has worked with Domino to create the EF Symjet which is based on an MPS EF flexo chassis. The company added a Domino N610i inkjet engine, to create an integrated hybrid press with digital printing plus a full length rail system to add flexo and other units for printing or finishing, complete with a workflow options from LabelTraxx and AVT. However, it is worth noting that the N610i only prints 330mm wide, while the EF chassis allows the flexo units to print up to 430mm wide. The seven-colour N610i uses Kyocera printheads with 600 x 600dpi resolution and runs at 75m/min, which is typical of inkjet presses but somewhat slower than the 200m/min of the standard EF flexo press.
Edale sells a hybrid version of its standard FL3 narrow web flexo press, called the Graphium. This was developed together with FFEI and uses Xaar 1002 printheads with Fujifilm UV inks, including a high opacity white ink. The press has all the standard features of the FL3 series, including the AiiR automated inking, impression and register system. It can be fitted with up to 10 flexo print units, which can be positioned either before or after the digital print unit. Other options include foiling and lamination as well as rotary die-cutting and slitting.
Focus Label Machinery has developed its own digital hybrid offering, the d-Flex, which combines single pass inkjet printing with flexo printing, laminating, foiling and die-cutting. The inkjet engine uses Konica Minolta printheads and can run at 50m/min. It is available in several widths from 142mm to 330mm. There is a re-register option so that you can run pre-printed webs from other devices through it.