Narrow web label producers benefit from tesa Softprint FE FLEX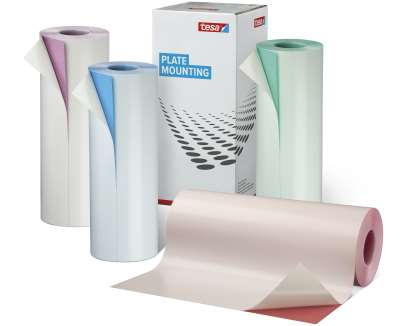 Flexographic printing continues to prove itself as a growing global market, leaving narrow web label producers facing an increased demand to supply premium looking transparent products. One company that continues to provide solutions to this market need is tesa, who produce a tailor-made range of high-performance plate mounting tapes for label printing applications.
The modern effect of transparent labels, which ensures that information looks as if it was directly printed on the packaging instead of on a label, is needed by customers across multiple industries. A Smithers Pira report from 2017 concluded that a 'continuing major trend is to achieve a no-label look' and that the label style is 'spurring brands to invest in clean graphics that can stand out from the packaging'.
The perfect 'no-label-look' is achieved with a flexo-printed clear on clear label stock – mostly with a thin high clarity face material and a clear adhesive carried on a smooth film liner. To ensure a brilliant print result, white inks have to be printed as a background to the actual design, ensuring high opacity of the final design and a smooth laydown of the different ink layers.
The condition of cylinders and sleeves used in this process has a major impact on the final print quality, but it can become an expensive process to replace this equipment regularly, something that may seem unavoidable if increase in demand continues. With tesa Softprint FE FLEX Design, these issues are eliminated, efficiency is increased and high quality no-label-look printing can be achieved every time. The foam of this 380µm (15 mil) plate mounting tape provides optimal cushioning and resilience properties, resulting in optimised ink laydown even at very high press speeds.
'FE' stands for 'Fast and Easy' and relates to how simple the mount and demount processes are when applying and removing a printing plate from the tape. Aligned for critical sleeve conditions, these tapes known as 'FLEX' are ideal for use on scratched sleeve surfaces or thin-walled sleeves that expand during the mounting process.
tesa Softprint FE FLEX Design has been optimised between plate and cylinder with low tack adhesive present on the plate side and strong adhesive on the sleeve side. This leads to a more reliable and secure bond for use on demanding cylinder and sleeve surfaces, as well as resistance to edge lifting and encouraging fast and easy plate mounting and demounting processes.
This latest addition to the tesa flexographic range focuses on demanding cylinder and sleeve surfaces but is just one of an assortment of solutions tesa has produced for wide web, narrow web and corrugated post-print markets in recent times.
Richard Eeles, strategic segment manager Print & Web Processing at tesa UK, said 'We offer the most advanced flexo print tape technologies designed to meet increasing requirements for fast mounting, high print quality, and demounting tape performance. We have been able to develop a wide range of product specifications with the consistency of performance that the industry demands.'
This article is an advertorial; the featured company created the wording and paid for its placement. It has been edited by Whitmar Publications to ensure that it meets our standards.