Closing the loop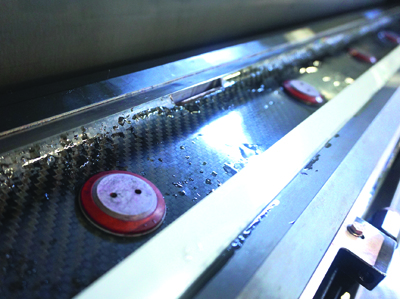 Tresu's MaxiPrint Chamber Doctor Blade
Automatically regulating the flow of ink or coating from the bucket to its arrival on the printing plate is essential for achieving quality consistently, minimising material waste and make ready times, and boosting output. Michal Lodej looks at how doctor blade chambers help printers do just this.
Doctor blade chambers have been used in the flexographic market since the early 1980s. Their main purpose is to provide a closed loop ink supply to the anilox roller and then precisely meter the surface of the roller with a reverse angle doctoring blade. Because the chamber is enclosed, ink is not exposed to the atmosphere. This reduces evaporation and keeps the ink in proper chemical balance. The end result gives a consistent and repeatable ink film that is critical to success in flexo printing.
Although this may sound relatively simple, there are many variables that demand constant innovation. Higher press speeds, demanding inks, and the continuous need for faster, more automated changeovers require the chamber system and its components to continually evolve.
Leave no gaps
The basic construction of a chambered doctor blade system starts with a main chamber cavity that holds the ink. Ink is fed into and returned from the cavity by inlet and outlet porting, providing a continuous closed-loop system. Components that must be changed at recommended intervals include chamber doctoring blades and end seals. Pumping systems are then added to the chamber to complete the ink-delivery system and wash-up configuration.
In initial chamber designs, the consensus was that a large cavity with a large gap between blades would allow more ink exposure, or dwell time, to the surface of the anilox roll. In reality, the larger chambers allowed too much room for the ink to slosh around. The agitated ink allowed air to enter the system, which limited the ability of the cells to refill efficiently. This made it difficult to get up to speed and often resulted in ghosting, which meant a shift between heavy and light ink
coverage.
The best way to resolve these issues was to reducing cavity sizes, with a more circular shape, and narrow blade gaps. The smaller cavity allows fluid to accelerate through the chamber, quickly taking the micro-foam out.
Loading up
The loading system positions the chamber and blades into perfect alignment with the anilox roll. There are several types of loading systems, depending on a printer's needs:
Mechanical loading – Provides rigid loading, but requires an operator to routinely make adjustments to compensate for blade wear.
Pneumatic cylinders or bladders – Often used, but since the air is compressible, they're subject to position changes because of press vibration or pulsation from ink
pumps.
Air-over-oil – This loading system is made of rolling diaphragm cylinders filled with oil. Rigid chamber positioning occurs because the oil is non-compressible. To
compensate for blade wear, the chamber will slowly index inward without operator involvement.
Depending on application, many sizes and materials of blades are used. The blades are consumable items that must be replaced on a regular basis. Therefore, the blade clamping of a good chamber needs to provide easy and quick swap out. Harris & Bruno's blade clamping includes a series of tool-less designs that incorporate levers and cam-action clamps, or a powerful magnetic clamping action that captures the doctor blade between the chamber and blade clamp, regardless of material type.
These consumables provide a seal where the blade touches the anilox roller at each end of the chamber body. Various materials are available, including foam, felt, rubber and plastic. Necessities are lubrication to prevent dryness caused by the seal running against the anilox roller face. Very important is getting the seals manufactured particular to each chamber cavity design to prevent ink slinging and to ease and quicken changeovers.
Varying levels of automation are available, depending on a printer's needs. Basic configurations use a single pump to supply ink to the chamber with the ink gravity-returned to the tank to complete the cycle. Fully automated inking and wash-up systems allow for faster make-readies and a repeatable process, often using
a supply and return pump to and from the ink. PLC controls and automated valves in the inking and washing sequences allow ink or wash solutions to circulate efficiently. More advanced H&B systems also provide on-board viscosity and pH control, making for a seamless integrated system.
Pressure control
Tresu manufactures and supplies a programme of chamber doctor blades in aluminium, carbon fibre and ceramic varieties. Central to the performance of its chamber doctor blade systems is the company's 'Pressure Control Technology'. This is
based on the principle that an enclosed system is the basis for
keeping pressure and flow-rate at precise levels, thus preventing
the occurrence of microfoaming, to ensure clean, uniform print on
the substrate.
A key feature of this technology is a long-life
rubber seal system that provides an airtight enclosure, preventing
leakage and enabling ink pressure to be maintained automatically,
at consistently high levels. A liquid barrier forms between the
rotating anilox cells and the chamber, preventing air from entering
in the cells from transferring during production. This tight
control also ensures a uniform layer of ink across the substrate,
allowing higher gloss values and more efficient drying.  Because quality is
maintained without manual intervention, faster speeds, sometimes in
excess of 600m/min, are possible thus boosting output. Tresu
chamber doctor blades also feature fast, safe blade exchange as
standard, with the company's eccentric E-Line and pneumatic P-Line
blade clamping systems.
Available in widths from 185mm to beyond 6000mm, the
chambers cover all flexo printing and coating applications and ink
sets. There are closed-cassette chambers for label presses and
wider variations for folding carton, flexible packaging, corrugated
board and tissue converting.
Tresu's SAVEink chamber for water-based and
UV-curable narrow web applications can go up to 800mm wide. The
chamber profile has larger volume, and is capable of holding
between 250ml and 2000ml, depending on the width. It acts like an
integrated ink reservoir, eliminating the need for a connected
pumping system. The reservoir can be topped up manually, for
uninterrupted short and long-run printing. The chamber is easily
locked into place and is removed without ink spillage in seconds.
The MaxiPrint Concept chamber, for wide format
applications, is available in widths from 1600mm to 6000mm. Made
from carbon fibre, offering light weight, corrosion-resistance and
easy cleaning, the MaxiPrint features an integrated cleaning nozzle
with a robustly designed water-shot mechanism. This ensures
efficient cleaning of the chamber and anilox roll in a short time,
with minimal water loss.
Bigger picture
To achieve the best return on investment, one must
view the chamber doctor blade as only one element of an integrated
flexo ink supply system, linking the bucket with the printing
plate. Performance of the equipment depends on ink flow being
enclosed, at every stage. As well as preventing leakage and
preserving the quality of the contents, enclosing the ink –
preventing its contact with the atmosphere – enables the
relationship between flow-rate, pressure and viscosity, and the
resulting benefits.
The chamber doctor blade works harmoniously with an
ink supply system, which automatically replenishes the chamber, to
keep the ink volume at constant levels as the  rotating anilox sucks
ink into its cells. As well as ensuring constant supply, Tresu's
F10iCon ink supply system enables automatic ink changes within
minutes, returning unused ink to the bucket for reuse and
thoroughly cleaning the chamber before replenishing it for the next
job.
Tresu provides a complete container-to-substrate ink
logistics solution, developed on a bespoke basis to meet the
printer's specific application needs. A closed-loop system, inkLink
provides effective process control regulating ink flow, ink
pressure, pH level, temperature and viscosity, to bring uniform
quality, less waste and reduced costs. The system may be developed
in collaboration with flexo equipment and materials suppliers, to
ensure it is optimised for the ink kitchen, inks and substrates
used by the customer.
Henrik Kristensen, vice-president, Tresu Ancillary,
said, 'Thanks to inkLink, users have experienced significant
quality, productivity and efficiency benefits, improving output by
as much as 30%. In addition to the stable colour results,
blister-free print, and higher gloss values achieved with chamber
doctor blades, printers are reducing setup times considerably. Ink
recipes are recalled for repeat jobs instantly without need for
calibration; all chambers are cleaned simultaneously instead of
consecutively; and operators are freed to focus on higher-value
tasks. When customers increasingly demand repeat orders in smaller
quantities, the savings potential is magnified: returning as much
as 95% ink from chamber to bucket alone can generate tens of
thousands of Euro savings annually. Solvent ink users can achieve
emission reductions of up to 66%.'
Overall, the value of an integrated, automated and
controlled flexo ink supply cannot be underestimated: it provides
an essential basis for a lean, waste-free, productive workflow,
repeatable quality and a flexible, responsive service. There are
many components that make a good chamber, and just as important is
ensuring that all components properly work together, preferably as
part of the same system specially designed for each printer's needs
and plant configuration.
Retro fitting
Absolute Engineering continues to grow by investing
in innovation. Continual investment in research and development as
well as new equipment has led to a string of successful
installations. Antony Whiteside said, 'We recently completed a
further installation at Automated Packaging in the USA. This
company now has the complete central impression presses fully
converted to Absolute chambers  over several years,
demonstrating our customer support and the resource to develop
positive long-term relationships with customers.' Whilst retrofits
are commonly carried out on older machines Absolute has also
retrofitted on a newer BOBST F+K 20SIX eight-colour press at East
Riding Sacks in the UK. Jürgen Bopzin, East Ridings Snacks'
technical engineering director, commented, 'There are several
suppliers of chambered doctor blades, and so we assessed the market
alternatives and decided on Absolute. After a testing period, we
decided to replace the remaining seven units. We are really happy
with both the technical expertise Absolute offer, as well as the
service and support they have given us since.'
Mr Whiteside continued, 'One reason Absolute
continues to be a prime carbon fibre supplier is our supply
agreements with major OEM's in each sector. We deal with the very
best manufacturers in flexible packaging, tissue and corrugated
sectors. Our range of 14 chamber profiles are capable of
accommodating the full spectrum of anilox diameters to guarantee
the optimum doctoring performance
that the OEM's require. In order to deal with this demand, we have
recently purchased another multi-axis milling centre and are in the
middle of a building project which will double the factory space
and add a new design suite. This will be complete in December 2018
so that we can continue to grow the business in
2019.