Making it stick: plate mounting tape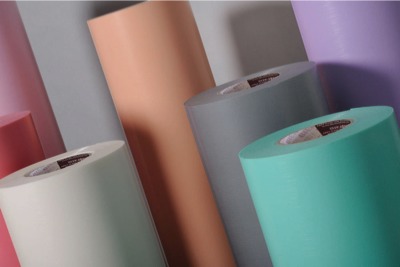 Deciding which tape is right for each print job is a significant factor in the quest for efficiency and process reliability. Although it may seem that the tape is simply there to stick the plate to the printing cylinder, the increased demands from the flexo printing process, such as higher running speeds, faster changeovers and cost reduction, mean that the importance of this component cannot be overlooked. Neel Madsen gets stuck in. 

Balancing act
Tapes for flexo printing are precision engineered double-sided adhesive structures consisting of several layers of material, including compressible foam, reinforcement film, release liner as well as the actual adhesive. Balancing the tack level of this tape is crucial as it both needs to hold the plate in place, ensuring there is no movement during printing, and also has to be easy to remove when demounting at the end of the job. The latter should be possible without leaving any residue on the plate or cylinder so that job changes can be done as quickly as possible.
The adhesive can be the distinguishing factor between having to clean off residues when the job is stripped, or having the tape removed cleanly with little to no required cleaning, said 3M. The adhesive requirements are simple: bond to the sleeves/cylinders and plates as securely as possible during printing to completely eliminate any possibility of plate edge lifting or bubbling and when the job is done, remove easily. 
The adhesive foam tape also acts as a substructure under the printing plate, allowing accurate transfer of the plate image to the substrate. It cushions vibrations and further accommodates the varying degrees of hardness of the numerous printing plate variables. 
Lohmann Technologies UK, a subsidiary of the Lohmann Adhesive Tape Group, explained that it is well aware of these special requirements and what can be achieved. Its DuploFlex range of plate mounting tapes is manufactured with a double-sided flexible PE-reinforcement system which offers superior results in the transfer of the printed image.  
'With ever increasing image detail/complexity, finer screens, more lines per inch, finer aniloxes, higher densities, the plate mount tape comes under a lot of pressure (excuse pun) to perform,' said Bob Drew, national sales manager, graphics products. 'This construction is proven to support all these variables. Additionally every linear metre of foam mounting tape passes through a thickness measurement unit to ensure it conforms to a stringent thickness tolerance.'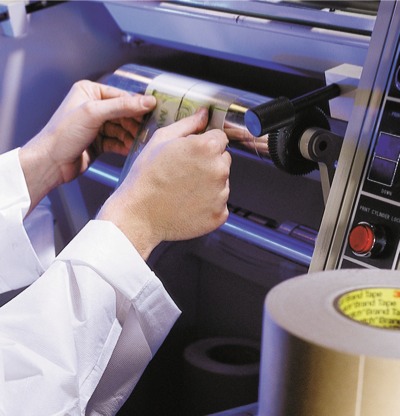 The basic DuploFlex 5 range consists of several compressible adhesive tapes that differ in terms of foam hardness and adhesive strength. The compression features and recovery of these products make them suitable for all plate types and images, from short to long runs. One UK customer recently ran a multi-colour line and process job for 1.9 million metres without the need to change tape. 
The DuploFlex HP 5 product is used for difficult and demanding printing jobs. The high performance polymer foam (HP) employed plays a key role. An even greater distribution of pressure is guaranteed by the smaller uniform cell size structure. Compared with conventional foams, the polymer foam also has a very high degree of stability and regains its original form perfectly. In addition, it effectively counteracts machine vibrations and prevents vibration marks, which distort the printed image. The HP 5 range is available in different foam hardnesses to permit fine process work as well as dense ink coverage.
For label printing, the company has the DuploFlex 3 and 4 ranges, ideal for printing jobs in a thickness range of 0.38 mm and 0.44 mm and coping with printed images with fine runs as well as dense ink coverage and clean lettering. 
Foam hardness  
With five different levels of hardness, tesa's Softprintrange is available in hard, medium-hard, medium, soft and x-soft, each tailored to the individual requirements, whether used for short print jobs, with the associated high number of changeovers, or long printing jobs, which require a particularly strong bonding of the plate; for fine screens, which require soft plate mounting tapes, or jobs with high print speeds and complex designs. 
 UK managing director, Steve Plastow, said that when evaluating tapes, it is important to understand how the hardness levels of the foam correlate to specific print designs. For example, for printing solids, a hard foam or even a film should be used to promote proper ink density and distribution, while for printing fine screens with high line screen plates, softer tapes provide the best cushioning effect to act as a shock absorber.   
This 'shock absorbing' effect mitigates dot gain and any bouncing in the cylinders that can show as 'banding' or 'gear marks' in the print. Using the wrong foam hardness can, however, have a disastrous effect on print quality. As an example, using a soft foam to print a solid area will not allow for sufficient ink density transfer and pin holing will occur. Conversely, using a hard foam to print a screen or process area will lead to a number of print defects such as dot gain, slurring or haloing. A thorough understanding of foam hardness levels and how they affect print quality is essential for producing high quality products every time.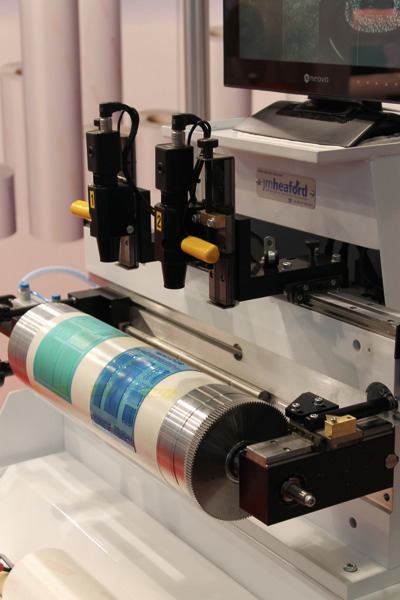 Compression rates 
Tape carriers may feature polyurethane open cells or polyethylene closed cells foam material. According to Milan-based BiesSse Tape Solutions SpA, the latter is the best choice as it promises no ink absorption, better resilience even during long print runs, and several different compression degrees enabling operators to come closer to the ideal pressure and hence better print quality. Foam density is the feature most often considered when choosing the tape, however, it is the compression rate that should be evaluated rather than the density. Compression depends on the density, but not entirely, and it is important to select a product which has the right compression features, expressed within a range of 5 to 500 kPa (kilopascal). 
BiesSse offers a wide range of double-sided adhesive tape which includes six products featuring different compression rates that enables the operator to reach a more accurate balance among the various main components of the printing process and at the same time to exert the right pressure.  
The company's tapes have a sophisticated double lamination structure, which provides high compactness to the tape and facilitates easy removal from the sleeve/cylinder without lacerations at the end of the printing operation. Each tape is manufactured in a different colour for easy identification.
The range of products offers a selection of different adhesion levels and construction types, especially designed to cope with all the most common interactions of the printing components. The most advanced range features a Pattern liner, designed to eliminate the problem of air bubbles forming. 
Its ongoing investments in research and development is now culminating in BiesSse launching its new Titanium range, a fifth generation of cushion adhesive tapes suitable for the most demanding customers requirements and challenging applications. 
Bubble issues
Working closely with its customers, 3M has developed its products to ensure they meet the demands of the industry and add value to the flexo printing process. The company offers eight foam densities to choose from in its Cushion-Mount range enabling 'fine tuning' of the level of ink transfer on the press, particularly when combining both line/solid and process print on the same plate. 
For the challenges of fast modern presses, the company has developed the Cushion-Mount products for improving ink transfer and minimise bounce. The calliper control maintained in the manufacturing process allows the printer to 'mix and match' products on press to achieve the highest print quality. 
For the demands of short print runs and quick job changeovers, 3M tapes have a well balanced adhesive system which allows for quick and easy repositioning of the plate during mounting, excellent on-press durability (complemented by the E liner technology) and easy removal of the plateafter the print run, with the tape designed to remain on the sleeve/cylinder whilst the plate is removed.
Another perennial issue is air entrapment during mounting. Air trapped under the plate and/or tape can lead to high spots in the print and can be the cause of plate 'edge lift' issues during the print run. 
3M has developed its technology to address this issue of bubbles forming. Its E Liner has a cross-hatched pattern that creates a continuous and permanent network of micro channels in the adhesive, allowing air to flow on both sides of the tape. The micro channel liner refers to three dimensional microstructures sometimes only a few thousands of a millimetre in size. The fine uniform pattern is generated in the manufacturing process of the adhesive tape with the help of micro structured films. They ensure that air trapped between tape and sleeve or between the tape and the photopolymer plate during the assembly process and also later in production can easily escape.
 The provision of this liner allows air to escape via the channels between sleeve and cylinder as well as tape and plate, allowing for easier mounting. In addition, print quantity and consistency can be maximised with the reduction of air entrapment, reducing the occurrence of air bubbles and the resulting blemishes in screen and process jobs. 
 Best practice for tape application* 
For optimum results, cylinders, sleeves (if used) and plates should be clean and dry.  Grease, oil or ink should be removed using a mild solvent. All surfaces should then be cleaned with a 50:50 mixture of Isopropanol and water. Do not use ink thinners or mixed solvents for cleaning purposes. Surface uniformity is important for consistent adhesion. Scratches, nicks and dents can cause variations in adhesion, leading to removability problems, or flagging. The photopolymer plate should ideally be applied with a roller, paying particular attention to the plate edges, to help ensure the correct contact between tape and printing plate. Where small diameter cylinders are used and there is time between plate mounting and use, then wrapping the plate with polyethylene after mounting will enable the bond to build to full strength and prevent plate lift at the edge. Occasionally, edge sealants may be required to prevent ink or solvents from causing plate lift, particularly on long runs, where plates are cleaned during the print run. 
*Courtesy of 3M