High tech technology ‒ that's flexo plates today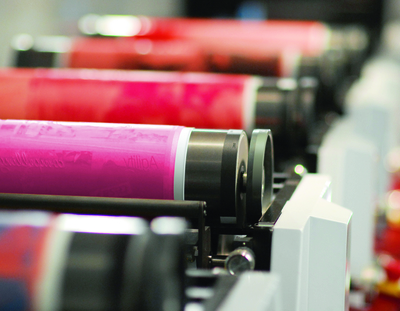 DuPont's new Cyrel Fast DFUV plates on a Mark Andy press
Multi-billion dollar takeovers in a high tech industry – yes, the world of flexo platemaking is making waves in high finance as well as delivering improved performance to converters across the land. By Sean Smyth.
Global consumption of flexo photopolymer plates was some 5.2 million square metres in 2013 (excluding liquid plates and sleeves), with an end-user sales value of around £900 million. Add to this, the imaging and processing equipment, and the consumables.
The biggest market is in North America, where flexo is very widely used in labels and packaging as well as in newspapers and envelopes. The Asian market is much smaller than the North American or West European sectors, although it is growing at a much higher rate.
There are some 3,500 flexo photopolymer CTP systems in operation and these are taking increased shares of all plates. Some machines are also used to image sleeves in the round. Since the first flexo CTP machines were launched in the early 2000s, their use has taken off as improved quality and production efficiencies were observed. Today almost half of all flexo plates are imaged digitally ‒ it is higher in the UK ‒ using computer-to-plate systems and the share of digitally produced plates is increasing in all regions.
Flexo growth 
Flexo has fared well over the past few years in the UK and Europe with significant volume and value growth in packaging applications. There have been some gains in share over gravure, where the greater flexibility of the pre-press is a major competitive advantage as run lengths drop and designs change. The process has seen significant improvements in the achievable quality of the printed products, the presses have better control, ink and anilox technology are better, but the real improvement has been in the plates and imaging methods.
There are better materials used in the production of flexo plates, with greater durability allowing finer dots to be imaged and held throughout a run. This is a combination of improved photopolymer plate material and processing chemistry and method. The plate imaging methods have also improved as computer-to-plate imaging has increased its share, with major improvements lead through the adoption of HD imaging from Esko and DuPont. 
Most of the plate suppliers are using variants of this type of technology to improve the achievable quality, new product launches are being spurred on by the competition. The biggest boost has been the growing use of digital exposure through flexo computer-to-plate systems which now account for the majority of platemaking.
In process
The market leader in flexo CTP is Esko, with some 2,600 CDI devices of various formats in use across the world, of these some 300 are certified HD Flexo sites.
Many use DuPont Cyrel plates, the global market leader, which supplies solvent processable and thermal curing FAST systems. It introduced its new Performance Plates in 2013. These have been improved to give smoother solids with less grain and a higher end density than older formulations. There are analogue and digital versions, with solvent wash and thermal FAST versions. The company claims many users are achieving 'gravure-like quality', while the materials and processing are increasingly sustainable. 
In April 2014, DuPont launched the new Cyrel Fast DFUV plate, designed to be used with UV curable inks for shorter runs by optimising the ink transfer, rather than looking for long run durability.
Part of the reason is improving systems that simplify and smooth the exposing and plate processing stages after image exposure ‒ whether using film or CTP. UK manufacturer Heights makes many of the plate processors, either sold under its own brand or the majority re-branded and marketed by plate manufacturers. It is an independent company with manufacturing plants in the UK, USA and China. 
Michael Millea is the general manager and he is very bullish about his company's future in flexo plate processing. Its product mix is changing from litho processors to flexo; since 2012, the flexo share has grown from 30% of sales to 70% expected this year as investment in litho CTP stalls in a mature market.
In digital flexo CTP plate exposure, there is little interest in direct exposure, the black laser ablation mask system remains dominant and Heights is developing more efficient processors which back expose the floor, expose the image while protecting the surface to minimise any oxygen inhibition and wash out the plate, dry and de-tack automatically. These will reduce the necessary processing time and energy consumption. Mr Millea believes there are still great prospects for more growth, with black mask removal opening new opportunities. 
One system being introduced is ThermoFlexx, which was bought by Xeikon in 2011. Jenne Smit is the European sales manager and he highlights productivity and quality improvements through redesigns since the takeover.
There are direct motor drives to reduce vibration and peripherals have been removed while autoloading and unloading provide upgrades in both speed and image resolution. There are new lasers offering imaging speeds of up to 12 sqm per hour at 2540 dpi resolution. Mr Smit will not be drawn on which is the best plate, simply commenting, 'We are plate neutral. We will work with most plate vendors to get the best results from any plate, working as a system with the processor to boost performance.'
ThermoFlexx is working with Flint to micro-pattern flat-top dots. When finalised, the capabilities will be offered as a field upgrade to existing users, making sure they have access to the latest technology. 
 MacDermid LUX ITP 5% dots at 150 lpi
Changing hands
Flint Group has just been sold to new owners, Goldman Sachs Merchant Banking Division Partners and Koch Industries which acquired the group from CVC Capital Partners. Business remains as normal with a new product launch, the nyloflex ACE UP digital, designed for high print performance using water based ink. The surface tack is reduced, leading to lower paper dust and dirt contamination. 
Another group that recently changed ownership is MacDermid. The privately owned speciality chemical group was bought by Platform Specialty Products Corporation in late 2013 for $1.8 billion. One of the divisions is Graphics, and in April 2014, it announced a new flat-top plate, LUX ITP, that improves the plate properties while using existing exposure systems.
There are some 200 users globally and MacDermid wants to increase the user base. The first LUX ITP (in the plate) product commercially available is ITP 60, a 60 Shore A durometer plate in 1.14 and 1.70 mm thicknesses. It works well at 150 lpi screening with all inks, water, solvent and UV. The range of surface screening technologies is fully supported for all types of CTP.
Kodak recently celebrated five years in the flexo market with the Flexcel NX system, reporting over 300 users worldwide. New CEO Jeff Clarke confirmed the company's commitment to the packaging sector with the Flexcel NX singled out for comment in a recent conversation. Post Chapter 11, the new Kodak is well positioned to deliver further refinements and will spend 'over £50 million in R&D and £30 million in CapEx this year.' In a method similar to Esko's certification of HD Flexo, Kodak is offering Flexcel NX certification, demonstrating it is at the leading edge of standardisation, consistency, quality and capability.
Waterwash
In the UK, Dantex is making inroads into flexo with digital and analogue plates under its own brand and supplying Toray Torelief plates. It claims to be the largest distributor of letterpress and flexo plates. The company focuses on waterwash plates, highlighting the lower environmental impacts while the fine resolution, deep reverses and excellent ink transfer boost quality. Rapidoflex is designed for UV inks, while the Aquaflex Aqua plate has been developed for water-based ink and Aquaflex Optima for solvent inks. There is also the new Aquaflex Varnica plate for varnish and coating applications.
Asahi Photoproducts has long pioneered its waterwash plate technology and is now pushing its TOP plate with surface pinning technology, where the free surface energy of the plate is treated to make sure that there is a sequential increase from plate to anilox to substrate. This results in improved ink transfer because ink wets the plate material well with a larger contact angle than on traditional polymers. This results in less ink being pushed down the plate dot, because there is a lower contact pressure for all ink systems needed to get the necessary ink transfer. This in turn leads to better plate life and stability on press with longer intervals between cleaning stops.

Asahi's Pinning TOp technology ensures that the ink stays in place
Asahi is selling this as the AFP-TOP, marketing the product as a premium digital flexo plate, promising quality boosts through 'a wide colour space with vibrant colour reproductions and soft tonal shades fading out to zero.' The plate holds a 1% to 95% dot at a screen ruling of 200 lpi from CTP. It is being refined; the 'Pinning Top Dot' reduces dot gain for small dots, improving highlight range and image detail. Pinning technology reduces the ink filling-in in midtones during a run leading to fewer cleaning intervals and press stop downtimes for cleaning. 
Dutch company AV Flexologic is the agent for Toyobo in the UK and it claims to be a world leader in waterwash plate technology, holding 2% to 95% dots at 150 lpi screens with a fast processing time that can be a minimum of 20 minutes. Toyobo commercialised the world's first waterwash letterpress plate in 1977 with its Printight range and the latest versions are still available. In 1992, it launched another first, Cosmolight waterwash plates for flexo, and today it highlights the fast processing as a key advantage.
Other options 
While the great majority of the flexo plate market is for flexible photopolymer plates, there is growing interest in sleeves and in-the-round imaging.
Fujifilm is pushing direct laser engraving with its Flenex DLE plate. This uses a multi-channel laser array to expose the image onto a highly cured polymer plate, effectively vaporising the non-image areas in a controlled manner and then just requiring a final rinse to finish the plate. There is no laser ablation mask (LAM), and final exposure, wash, de-tack and drying required, and the plates can hold 1% to 99% dots at 175 line screen rulings. 
Fujifilm claims overall process efficiencies, and a lower environmental impact at the platemaking stage. Last year, the company announced its partnership with Hell Gravure Systems to sell its B1 format Direct Laser Engraving (DLE) platesetter, the PremiumSetter S1300, in Europe. This is part of Fujifilm's commitment to grow its label and packaging business, and it hopes to sell the machine together with its Flenex DLE plate to create a high quality, simple and efficient flexo plate production system.
The flexo plate sector is vibrant, with new improving technologies competing strongly for the benefit of users. Developments are leading to many new product launches, and there are high value mergers and acquisitions demonstrating confidence in markets going forward. Long may it remain so.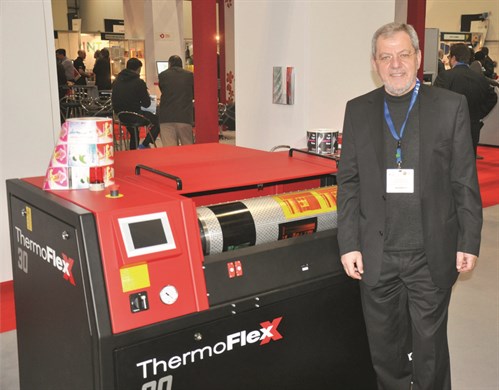 Jenne Smit, European sales manager of Thermoflexx