Life on film
The film developed for this bread bag offers a considerable reduction in the carbon footprint
Filmic substrates form the base of many flexible packaging applications thanks to high performance at low cost. By Nessan Cleary.
Filmic substrates are a staple in the packaging world, used for a variety of products from specialist areas like breakfast cereals and chocolate bars through to pharmaceutical and general packaging. These substrates have to work hard, not only carrying eye-catching graphics that will help the products fly off the shelves but also protecting and containing those products. They have to be sealed against the elements, but increasingly they also have to be easy to open.
Most manufacturers of these films say that not much has changed though there are increasing demands placed on their performance. They have to deliver longer shelf life, which means better barrier performance to keep moisture and oxygen out. Naturally they have to be more cost effective, which leads to thinner gauges without compromising performance, and they have to run faster through packaging lines.
Moreover, nowadays there is increasing pressure for brands to be seen to be environmentally friendly and for packaging to be recyclable. Many brands have switched in recent years from rigid to flexible packs to reduce the amount of packaging, and therefore the costs, and have promoted this as being a more sustainable approach.
Film types
There are a number of different plastics available, but most filmic substrates consist of some form of polypropylene, which is itself formed by joining multiple propylene molecules together through polymerisation. As a rule, it is generally recyclable and resistant to moisture, grease and most oils and fats though it will degrade over time through exposure to heat and sunlight.
There are different types of polypropylene films, such as oriented polypropylene or OPP, which is stretched on a machine as it is extruded to increase its strength.
Biaxally oriented polypropylene film, better known as BOPP, is both stronger and clearer, and therefore more common. It is formed by stretching polypropylene film in both lateral and transverse directions as it is extruded, which aligns the otherwise random molecules. As a result it offers good moisture resistance and high tensile strength as well as being optically clear. It is widely used for food and beverage as well as pharmaceutical packaging. Global demand for BOPP film is rising, with the bulk of it produced in China, South Korea and Taiwan. 
Cast polypropylene, or CPP, is simply extruded onto a chill roller with no stretching to orient the molecules so that it is not as stiff as OPP but is heat sealable. It has a high gloss finish and is mainly used for bagging. 
Another popular material is polyethylene, or PE film, a relatively cheap plastic most commonly used for things like grocery bags. However, this can be coated and laminated for other packaging applications.
Most applications will involve laminating two or more film layers together to mix and match different properties, such as heat sealing from one layer with barrier protection from another. Most materials will also need some form of coating for improved graphics and performance.
Natural film
Innovia Films produces both BOPP and cellulose films. This includes a compostable film, NatureFlex, which is produced from wood pulp that is sourced from managed plantations. NatureFlex is resistant to grease and oil and has a wide heat seal range. Earlier this year, the company announced another addition to this range with a hermetically sealing film. 
NatureFlex has been used for a number of products where environmental concerns were important. Thus for example Bird & Wild, a Dorset-based company which produces organic coffee, recently opted for NatureFlex specifically because of its environmental credentials. 
A major selling point of Bird & Wild's coffees is that the way they have been grown helps to protect important migratory bird habitats in equatorial coffee growing regions. Naturally the brand owners want to reflect this in the packaging and opted to use Econic packaging developed by a New Zealand converter, Convex Plastics. This consists of a triplex laminate of reverse printed clear NatureFlex, plus High-Barrier Metallised NatureFlex, finished off with a Starch-based biopolymer, a combination that helps to preserve the flavour of the coffees. Moreover, because Natureflex can be composted it makes it easier to persuade health food stores, delicatessens and farm stores to stock the brand.
Innovia divides its BOPP films into four groups, all under the Propafilm brand. Acrylic coated films can be printed on both sides, have a low sealing threshold and offer good product protection. They are typically used for box overwraps for everything from biscuits and bakery to perfumes and DVDs. Co-extruded films can be supplied in different thicknesses as a lightweight barrier solution suitable for most packaging markets. Fast films are suitable for horizontal form filling seal applications and can be acrylic coated for better printing or PVcD-coated to improve barrier protection against gas. There are PVdC coated films that offer good barrier protection for oxygen and water vapour and can be heat sealed on both sides. They are used in various food applications from chocolates to meats.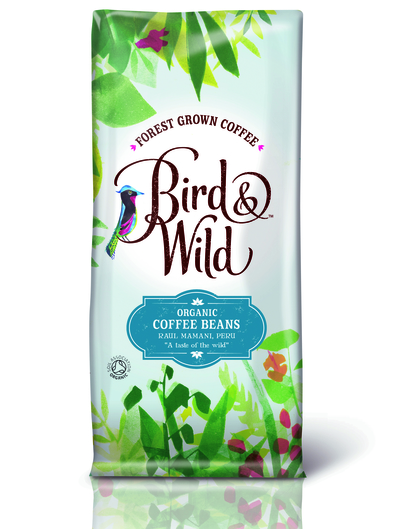 Coffee bean pack made from multi-layered filmic material that is compostable
Made of corn
Amcor makes the Ceramis biodegradeable films, a thermoplastic polymer made with corn. It is coated with a polylactic acid film that acts as a barrier against oxygen and water vapour. It is said to have good stiffness and to be transparent and glossy. It is used in various applications from breakfast and cereal bars through to fruit bakery packaging. 
Amcor also supplies Ceramis high barrier films, which incorporate a transparent SiOx film that keeps moisture, gases and aromas out.
Amcor Flexibles worked with Hovis to develop a bag for its Seed Sensations range of bread. The bag is made with predominantly renewable polyethylene (PE) giving it a 75% lower product carbon footprint than could otherwise be achieved with traditional bread bags, as certified by the Carbon Trust. This sustainability is an important part of Hovis' marketing message and has been highlighted on the pack itself.
Many films 
Packaging Films, which is part of the PSG Group, produces both CPP and OPP films under the Polymex brand. The basic products are OP242, a double-sided clear heat sealable OPP film, and OP200, a clear, plain OPP film, but the company also supplies a broad range of OPP products. This includes coated and metallised barrier films, which offer a similar effect to laminates but at a lower cost. They are typically used to protect foodstuffs, such as biscuits and chocolates from oxygen, moisture or light.
There are also white or pearlised films, which can produce a distinctive high gloss effect suitable for luxury products. Other products include High Speed OPP, which can be run at up to 80 m/min, and High Tensile OPP, which is strong enough to allow for a very low gauge of film, thereby reducing packaging costs and waste. Perforated OPP can help prevent moisture forming inside a pack and is typically used for products such as crusty bread. An alternative is to use AntiMist OPP, which can be cheaper in some cases. 
Zulu Packaging is a UK based, North European sales agent for a number of international manufacturers of flexible packaging and labelling material substrates. It supplies several different types of filmic substrates (PP, PE and PET). These include a plain BOPP film that can't be heat sealed but can be used for applications such as greetings card bags. 
The company also sells a co-extruded BOPP film that can be heat sealed and laminated to other films, and which can be acrylic or PVcD-coated for better gloss and barrier protection. There is also gloss and matt BOPP lamination films with a choice of adhesives of self-adhesive, or a wet UV adhesive, or even a thermal adhesive layer, which is achieved by extruding an EVA coating that can be heat activated.
Zulu also sells CPP films that can be laminated to other films such as PET or aluminium foil for a heat sealable lid.
Hot films
Treofan produces and coats a wide range of OPP films. These include white or glossy films, as well as transparent films that can be coated with acrylic or PVdC or can be metallised. There are also multi-layered films, with heat sealable and cold seal layers as well as a release layers and coatings inside and out.
Bemis Europe has just announced Be-Pack, which uses its Paper-Like finish on a film laminate for a more bespoke feel, while still running through processing lines at the speed of a film. A lightweight pack that is easily disposed of, it has been designed for processed meat and cheese packs, and can be easily opened and reclosed. It can be flexo and gravure printed with up to 10 colours and withstands heat sealing from 135° to 180° C.
TCL Packaging recently unveiled a printed film that can withstand temperatures up to 220° C for use with ovenable products. The key to the product is the inks, which retain their full colour gamut despite the high temperatures. The film itself is a PET laminate and the whole product is certified to be safe for food use. It was the first in the UK to have been successfully tested to 220°C by Smithers Pira.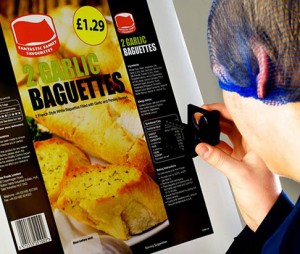 TCL Packaging has developed a printed film that can withstand high heat in the oven
Managing director, Mike Golding, commented, 'We decided to extend the test boundaries after we became concerned that not all printed ovenable films on the market are verified. We are thrilled with the results for our new films and believe ours are the only films to have tested comprehensively and safely at these higher temperatures.'
These examples highlight the tremendous range of different applications that filmic substrates are suitable for. Mixing and matching different layers and adding coatings and effects such as metallising all help to deliver different levels of performance, while also satisfying our growing demands for recyclability.