Is there a doctor in the house?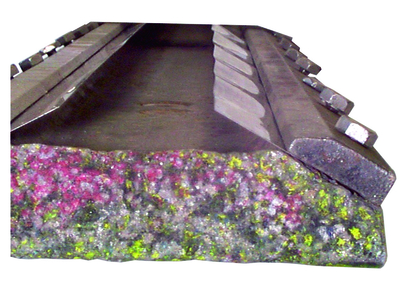 This is the result of not maintaining the doctor blades (courtesy of Allison Systems)
Serious problems with print quality can arise from poor maintenance of doctor blade systems and from using low quality doctor blades. Neel Madsen spoke to a number of suppliers about the issues faced by printers, and to hear about their latest developments.
Maintenance is critical to achieving repeatable and predictable doctor blade performance, explained vice president of Allison Systems, Bill Warner. 'I can't tell you the number of times I have been at a customer's location to help solve a doctor blade issue and have found frozen blade system adjustment mechanisms, dried ink build up on the system, or warped or deformed system components to name a few.' 
As an essential mechanical component of the press, all parts of the blade system must be in good working order, aligned to the anilox roller, and clean to achieve the functionality they were designed to accomplish. Even with the best maintenance programmes, blade system components have a life cycle and will eventually need to be replaced due to normal wear and tear, advised Mr Warner.
He concluded, 'Poorly maintained or worn out blade systems can create a number of print defects, such as streaking, banding, dot gain and print density variation as well as contribute to increased ink usage and anilox roller damage. Using a low quality doctor blade, or the wrong high quality doctor blade, can result in similar problems.  The blade and blade system have to work together as a system to achieve the best results.'
More pressure
Kenth Sandström, general market and sales manager at PrimeBlade Sweden, agreed, 'When there is a problem with poor maintenance of the chamber system, normally the operator needs to add more pressure to the system, which is increasing the blade wear and could cause higher wear and damage to the anilox roller, such as scoring.' 
Using poor end seals could cause the same problems, as added pressure is needed to prevent ink leaking. Using a high quality doctor blade with a fine micro structure will also slow down the blade wear. It will cause less harmful contamination of the ink as the finer particles from the steel will easier pass under the blade without the risk of sticking to the blade contact zone.
PrimeBlade has a wide range of the doctor blades, from standard carbon blades, highly refined carbon blades, stainless steel, to tool steel and the patented Nano series long life blades.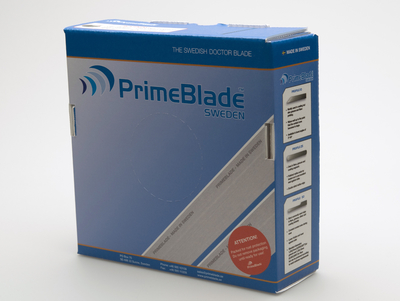 After the successful launch of the Nano I blade for solvent and UV inks, in long and high speed runs, the company launched Nano II (stainless steel base) for use with water-based and acidic inks, and other long life solutions, and Nano III (tool steel base) for the mega life solutions, long print runs, and highly abrasive inks, such as white and metallics.
Mr Sandström noted, 'One trend is that printers are focusing on productivity and would like to find good long life solutions for the doctor blades and the end seals. Another is that when lamella/stepped edges are used, the trend goes toward longer and thicker edges. This achieves longer blade life, but still offers a good wipe.'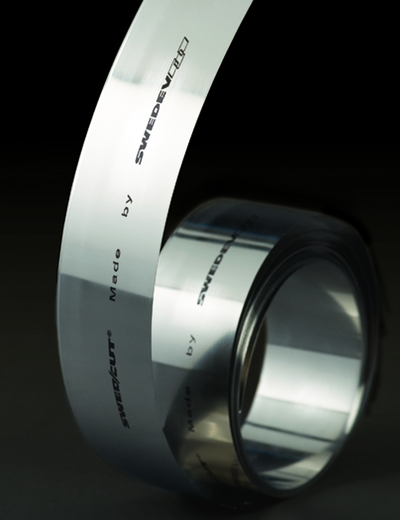 Swedev's Swedcut blade
Higher quality
Sören Ågren, Swedev's director of marketing and sales, said that the manufacturer is experiencing an increase in the demand for higher quality blades from printers of lottery tickets, labels for alcoholic beverages, cosmetics and pharmaceuticals, as well as films for food packaging, amongst others. Higher quality blades offer benefits such as less downtime, less waste of printing and material, and less frequent replacement of the expensive anilox rollers. 'By higher quality blades, we are talking about blades with a wear resistant and yet lubricating coating which cause less anilox surface wear; blades of higher quality steel and pre-cut blades in customer-specific lengths and edges,' he explained.
The company is also seeing a high demand for coated blades. This can be attributed to increased requirements for clean wiping for clear high resolution jobs, combined with the need for longer blade life together with longer anilox life. The lubricating and wear-resistant coating on Swedev's MicroKote blade series decreases friction and resists the sticking of ink and particles near the tip of the blade, thereby minimising the risk of streaks and lines. 
The M-Flex+ blade is made of a special alloyed carbon steel with higher yield strength offering higher hardness and longer blade life. This steel is produced with an extra refining step, which gives it a higher purity resulting in increased ductility. This means a better flexibility and responsiveness of the blade edge for cleaner doctoring of the anilox, while at the same time maintaining a long blade life and thereby less frequent blade changes.
The martensitic stainless steel MicroNox I&II series of blades are resistant to corrosion, for longer life. This is beneficial for those cases where the blade remains in the press long after the outer tip coating has been worn through and is subject to humidity.
Another trend is the increased interest in pre-cut blades for flexo printing, as customers find that this format can help them achieve a more efficient utilisation of their time and of the blade material. Swedev's packaging is also constructed in such a way that each blade is protected until removal from the box for mounting in the machine.
Finally, Mr Ågren said that thicker blades are also becoming more popular, especially as more blade stability is required for higher printing speeds and for UV inks. Blades of 0.25 mm and 0.30 mm thickness with 1.2-1.4 by 0.10 mm lamella edges and with 2 degree bevel edges are popular for achieving a good wipe with a stable edge.
In the chamber
'The trend towards shorter production runs, and the need to reduce downtime have made controlling ink flow a matter of greater urgency. Careful consideration has to be given to a design that reduces the maintenance and cleaning burden between jobs and during production and allows stability or predictable results at higher production speeds,' said Henrik Kristensen, vice president, Tresu Ancillary.
The key components of an automated ink flow are the supply system and the dual doctor ink and coating chamber, such as Tresu's FlexiPrint IMW E-Line chambered doctor blade system, a cassette-format system for narrow web applications.