The evolution of print in focus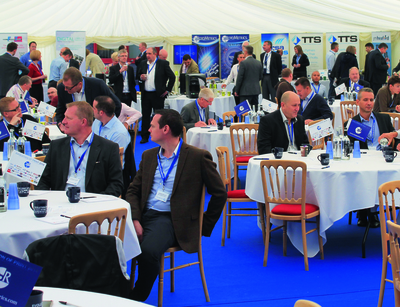 It was a full house at RotoMetrics Walsall facility
Together with a large collection of partner suppliers from the packaging print industry, RotoMetrics held a very successful second biennial open house event on 23 to 25 September at its UK facility in Walsall.
Manufacturer of rotary and flexible cutting dies, print cylinders, sleeves and adjustable anvils, RotoMetrics brought together the industry for three days under the theme 'Evolution of Print'. With 318 registered visitors and 26 partners supporting, the event has grown by an impressive 50% since it was first held in 2012.
CEO Bob Spiller, who had flown in from the US after a very successful Labelexpo in Chicago where the company had presented a brand new stand to visitors along with several new products, opened the event on the first day. He said, 'I wanted to be here in person to support this great event and would like to welcome you all to our UK open house.'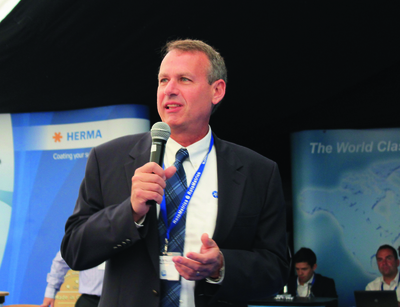 Robert Spiller, CEO of RotoMetrics, opened the Evolution of Print 2014 event
Having spent the last six months organising the open house, Neil Lilly, UK & Eire customer services director, said, 'I'm very passionate about this event. It is very important to provide an opportunity for the flexo industry to come together and we have 26 global leaders here along with visitors not only from the UK, but from as far afield as Romania, Poland and Spain.'
'This is an excellent opportunity for us to show the market what RotoMetrics is all about and what we do to meet customer demand. This is an ever growing and sometimes a very complex market. We use a lot of very innovative technology here and this is an opportunity to show out technologies, as well as bringing a lot of suppliers together.'
Presenting …
A varied programme saw presentations from the host and a number of partners. These covered a wide range of topics, including counterfeiting of goods and how labelling technology can offer security in a variety of ways; how digital print can help reduce to time to market and how it can be used for other applications outside labels; the trend towards automation in plate mounting machinery; the advantages of proofing in an extended gamut workflow; innovative engineering and open partnerships in press manufacturing; optimisation of workflow in the pressroom; UV curing; next generation reprographics; the importance of implementing a management information system; adding value through inspection; the evolution of ink formulation; innovation in finishing; multi-layer substrates and thin liners; as well as the history of the host company. 
The final presentation each day came from outside the industry in the form of Steve Cunningham, who gave a truly inspirational talk to the audience about how he has overcome the challenge of losing his sight at he age of 12. Accompanied by his guide dog Foster, Mr Cunningham entertained with his direct, no-nonsense approach to life, and explained how he went about becoming the fastest blind man on land and at sea. He said, 'It is attitude that disables you, not whether you can't see or can't hear, and there is no point in worrying about things we can't change.'
During the lunch break where the famous hog roast was served, there were tours of the RotoMetrics plant giving the attendees an insight into the production of both flexible and solid dies. The manufacturing facility at Walsall has the capacity to produce some 1000 flexible dies each day along with solids dies, some of which are still so specialised that they have to be finished by hand. The dies are used not just for labels, but for a wide range of applications such as tea bags, nappies, foils and leather. Some 80% of dies are produced the same day as they are ordered, for next day delivery.
Mr Lilly explained, 'This event offers a better understanding of how complex the manufacture of flexible and solid dies actually is. The factory tour gives a good insight into the production that takes place here and the skill levels and engineering processes that are required to produce the very high standard of dies that we send out.'  
The company also used the opportunity to raise funds for MacMillan Cancer Support with a raffle for a signed Manchester United football shirt.
The right formula
The event's success has been noticed throughout the industry and suppliers were unanimous in their praise for the programme and the format of the three days.
Simon Cosh, digital print specialist at Dantex, said, 'The reason why this event has gotten bigger and better this year is because RotoMetrics has listened to the feedback and included more speakers both from the UK and abroad. This helps with the learning process, not just for customers but for us as suppliers as well. They've also added a fantastic motivational speaker from completely out of the industry which has really stirred up the customers, and I think the event will continue to grow.'  
Matt Burton, sales executive AB Graphic, agreed, 'We took part in the first event two years ago and it was a great success. The format is also really good for networking and we had no hesitation in participating again.'
'This is a great opportunity to support the partnership we have with RotoMetrics, to see our customers and to bring new ideas to the industry as well as hear what unique challenges and changes our customers are facing,' said Jenny Whittle, commercial manager Label Traxx.
'Labelexpo aside, there are no dedicated events for our sector with such a large mix of vendors, said Steve Donegan, managing director of Graphic Republik. 'The internet is a great place to gather information, but this open house allows the industry to keep abreast of the most up-to-date technological advances being made. It gives customers the ability to have a one-to-one conversation with a variety of suppliers under one roof – from this aspect, it has been a great show – we are going to be busy.'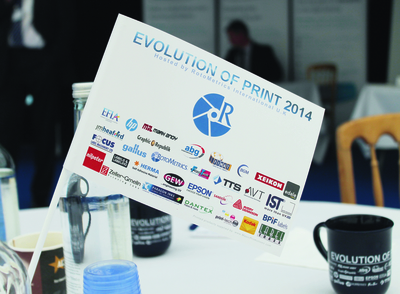 The event brought together 26 suppliers to the industry
Edale also took part in 2012, and James Boughton, managing director, said, 'We exhibited as table top suppliers at the first event and jumped at the chance of exhibiting again this time. Being UK manufacturers ourselves, it is good to support UK based events as well as some of the bigger worldwide shows in a more intimate venue.
'As always, it was good to meet with industry friends and fellow suppliers to see what everyone is up to in the industry whilst keeping ahead of new trends. As well as meeting with existing customers, there were also a large number of potential prospects who we were able to speak to, and we are thrilled that several companies have since contacted us to arrange a visit to our head office in Hampshire for a demonstration on our showroom FL-3 press.'
Marcus Ruckstaedter, managing director of Zeller+Gmelin UK, commented, 'If you compare the cost of a large exhibition and the effort you have to invest, with these smaller more focused industry events, it is very unlikely that you would find any positive arguments for booking a stand at some of these big shows. 
'The smaller events are usually conducted in a positive and relaxed atmosphere. In our experience, having run many similar events ourselves, we find that most customers do take time to visit these seminars and then also use their time for meetings, discussions, and small talk, while still being focused on what they hear and what they see.'
He concluded, 'RotoMetrics presented a well organised and well attended open house, which was very productive for us as expected. So from my point of view all the boxes were ticked and we would appreciate being invited to the next RotoMetrics event, but also consider our own activities in this respect.'
Table top exhibitions supported the event throughout the days. Partners were AB Graphics, Avery Dennison, AVT, Bar Graphic Machinery, BPIF labels, Dantex, Edale, Epson, FINAT, Focus Label Machinery, GEW, Graphic Republik, Herma, HP Indigo, IST (UK) Ltd, JM Heaford, Kodak, Label Traxx, Mark Andy, Nilpeter, Paragon Inks, Print-tech Solutions, Sandon Global, TTS, Xeikon and Zeller+Gmelin.