Revised order of service
Shelf-ready packaging designed for the convenience store and printed by DS Smith
Although patterns of consumer behaviour are redefining the established retail model, packaging is holding its own as the sector's go-to marketing solution, reports Des King. 
Anyone who can remember shopping before supermarkets will recall it as a seller's market characterised by a lack of choice compounded by a lack of competition, and in the immediate post-war years, as often a lack of anything likely to nourish the imagination for anything else. The drab reality of those half-day closing, never-on-Sunday times was superseded by the 'you've never had it so good' mood swing of the 1950s, when what had been the social stigma of living beyond your means morphed into not just a virtue but a necessity.
The subsequent democratisation of consumerism has provided the essential backdrop to the way in which the retail sector has evolved ever since; an ever-accelerating upwards spiral of supply egging on demand fuelled by the encouragement to bite off more than could ever be chewed. Whilst the basic model is unlikely to ever be entirely discarded – let alone how things tick on the high street, however much the global economy itself might struggle with how best to deal with debt it would totally implode without it – its immediate future is being shaped by a sharper focus and greater discernment on both sides of the supply chain.
Consumers are increasingly inclined to shop around; an appetite for getting the best possible deal clearly fuelled by the current recessionary climate and being catered for with notable success by the discounters Aldi and Lidl, which saw market share increase by 21% and 23% respectively during the three month period up to November last year; the subsequent run-up to Christmas raising those stakes still further. Correspondingly, of the established grocery operations only Waitrose was able to demonstrate a respectable level of sales growth, but that was just 7%. Tesco, meanwhile, saw its sales drop by 4% over the period (source: Nielsen).
The cost of goods is only part of the picture. In what is clearly a fast changing retail landscape, there is a marked preference towards topping up rather than stocking up. The once weekly shop is giving way to a once or even several times daily frequency; an on-demand trend to which the multiples are responding through placing a greater emphasis upon convenience outlets whilst scaling back on out of town superstores. Aside from the irony in restoring the corner shop habit that the multiples were directly instrumental in sweeping aside, the quid pro quo has been a reduction from the average supermarket size of 40,000 SKUs by as much as 90%.
Room for manoeuvre on-shelf
The implications for the packaging industry are self-evident: fewer goods on display mean not only lower volumes but also a reduced requirement for differentiation. And with less shelf space to colonise, there is also less need for attention-grabbing POS material, predicts Moorgate Capital's head of packaging M&A, Nicholas Mockett.
'I suspect that these smaller stores are less reliant than the big supermarkets on promotional aids simply because of the service they're designed to provide viz. offering a small number of specifically required top-up shopping items. Conversely, I'd say that shelf-ready packaging (SRP) is even more important in the compact store environment because there's a far quicker stock turnover. Of course, the number of SKUs is lower so the whole operation will be far more concentrated potentially.'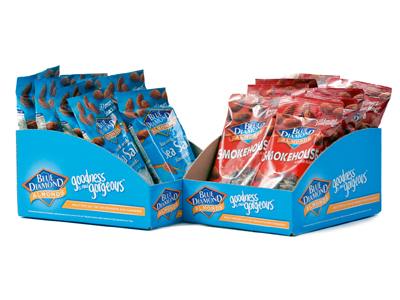 Shelf-ready solution for Blue Diamond almond packs printed by TRM Packaging
'Smaller pack sizes – and by extension, smaller SRPs – may be the order of the day in a convenience outlet, but they still need to replicate and mimic primary packs with the same standard of detail and consistency,' noted inspirepac's managing director Mark Hawkins. 'With less branding space available printers must hold tight register on smaller text and images. In order to achieve this, we've invested in further high quality post printing (HQPP) and digital equipment to increase capacity of achieving excellent print quality on all flute types for both large or small packs, along with new gluing techniques to offer a range of product styles to suit all markets.'
'Providing it can successfully be adapted to function within the constraints of a smaller footprint then the shelf-ready solution will have a critical role to fulfil within the convenience store environment,' agreed sales and marketing director, DS Smith Packaging, Tony Foster. 'I don't think retailers will want to go back to the time when they had to decant everything individually onto the shelf. I just can't see the UK supply chain being prepared to add that level of cost back in. With less available shelf space in a convenience outlet, brand owners are going to have to fight even harder to gain access. What will determine how well they succeed in getting listed is how good, easy, attractive and labour-saving their on-shelf packaging is.'
'Indeed, brand owners are going to have to offer more formats. They can't carry on doing 12s and so on if it's demanded that they do a single row of six. Likewise, the smaller the pack the more accuracy it needs, so that will require changes to the converting equipment; better print tolerance to the creases; even better tear and perforation properties and so forth,' added Mr Foster. 'The pack will have to do even more than it used to do in terms of the 'Five Easies': ease of identification back of store and on-shelf, ease of openability and on-shelf replenishment, ease of access by the customer, and ease of recycling after use – but over-layered onto that it has then got to work with the complexity and the format change of on-shelf equipment too.'
That might entail accommodating a range of different on-shelf devices engineered to ensure that either the SRP unit or its contents stay prominently in the consumer eye-line – for example, the adaptation of the pack to allow for interaction with an installed pusher-bar. Whilst there is undoubtedly sufficient flexibility within the system to cope with adaptation as necessary, requirements will differ not only between superstore and convenience outlet, but between the different multiples themselves.
Even so, SRP will hold firm as the supply chain's optimum solution, said leading retail consultancy Perception Research Services' European vice president Grant Montague. 'Whatever the issues, it's still going to be easier from a stock-keeping perspective to stick with an SRP/RRP model than to contemplate dealing in individual packs/products. The convenience store doesn't preclude the use of shelf-ready packaging; it's just that the industry has got to look at ways of being able to fully satisfy both the large and smaller-scale models.'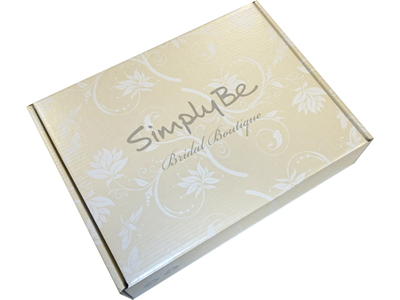 Outer box for wedding dress for online retailer printed by inspirepac
From store to door
Whilst corrugated display and merchandising packaging seeks to adjust to the shift in balance from hypermarket to convenience store, it can bank on expanded opportunities that are devolving through the parallel trend towards increased online shopping.
Online sales throughout the UK of food and non-food items combined are currently worth in excess of £100 billion per year and predicted to account for 15% of the total UK economy by 2017. It is a dazzling prospect for transit, and particularly so for corrugated, packaging, both in volume terms and the potential for enhanced decoration.
Gone are the days of a brown transit box to ship the purchased items, said Mark Hawkins. 'The customer expects quality in not just their purchased item but of the packaging that arrives at the door. With the continued growth in online sales, transit packs should now incorporate 'the 'theatre of the reveal' and the aesthetics of a boutique experience. With the requirement from the retailers for short run lengths and multi-coloured outer cartons to promote online sales the corrugated industry has to offer strong brand colours – a key driver to the changed landscape of the flexographic market with near litho quality required from the process – micro flutes and tight registration to promote brands in the e-commerce revolution.'
Mr Hawkins cited a wedding dress outer box recently developed for the online retailer Simply Be, whose structural design was created to show a reveal opening to which the wedding dress can be viewed and stored safely after the big day. Printed using pearlescent flexo inks, the finished product was a classic cost effective outer that complemented the quality of the purchased item.
Whilst greater customisation of outer packaging applications would appear to be the logical next step in online fulfilment – a goodly proportion co-printed by using both flexo and digital less certain is quite where on that pack that might present itself – an obvious consideration being the potential for damage or soiling that occur in transit could seriously reduce impact of personalised messaging and indeed undermine rather than enhance brand integrity in the process.
'Print can be inside or outside or both,' said Tony Foster. 'I think we may get lot more inside-out printing. The customer still expects the experience especially if it's a gift product, so you could have a plain transit exterior with a nicely customised interior.'
Whilst the intention of a value-added transit packaging strategy might be to build the anticipation implicit with 'the theatre of the reveal' any suspicion of excess or over-packaging could result in a similarly adverse effect, noted head of packaging and design at Marketing Sciences consultancy, Chris Peach. 'There is the possibility of there being an aversion to opening a box and then having to remove lots of interior packaging; that appears as being wasteful rather than being appreciated as having a purpose viz. to protect the contents. The challenge for brands and packaging manufacturers is to try and convey this justification as to why it's there – or at least through innovation come up with a solution that's protective but minimal in terms of the amount of material it uses.'