Northern lights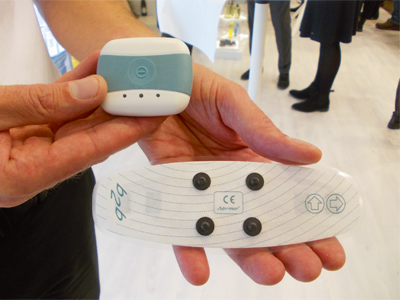 Smart labelling for heart patients developed by Beneli and ST Micro Electronics.
Innovation through partnerships and the ongoing commitment to developing more sustainable packaging strategies were the main focal points at Scanpack 2015, reports Des King, who visited the show in Sweden. 
Attracting a registered attendance of 13,483 trade visitors, Scanpack 2015, held in Gothenburg, in Sweden, late October, undoubtedly lived up to its self-proclaimed reputation as northern Europe's number one packaging show.
Nor was it just an opportunity for Scandi stars to shine brightly during the event's four open days. With a significant proportion of exhibitors drawn from 31 different countries, the show had a pronounced international flavour that was also reflected by a healthy proportion of overseas visitors within an overall attendance that was up by 5% over the previous event two years ago.
A flexible approach in future 
Amongst a number of innovative solutions developed by Scandinavian flexible packaging manufacturers in conjunction with external partners being shown for the first time was smart labelling technology for the medical sector from Beneli, a contrastingly simple but effective easy-open solution now being commercialised by Flextrus and the revolutionary new ifoodbag concept for the online retailing sector.
Based in Helsingborg, in Sweden, Beneli has developed a smart label fitted with an externally-sourced electronic device for monitoring heart rate: a nine-ply solution that incorporates electrodes; a hydrogen treated conductive layer to facilitate the passage of the electrons from the body to the electrodes; plus non-woven materials, adhesives and silver.
'What's happening today is that if you have a heart problem and you go to the hospital then you'll be kept there under observation for maybe up to four days. It takes up bed space unnecessarily. With this solution you give the patient a couple of the monitoring labels and they can be as easily treated at home,' explained technical sales manager, Michael Bäärnhielm. 
Beneli was initially approached by ST Micro-Electronics to develop the solution, and has subsequently entered into a joint venture that is currently producing between 75,000-100,000 labels per month for use worldwide. 'Partnerships such as this are definitely the way to go forward in the future; it's linking companies with a specific knowledge and expertise that together can provide a really good solution,' said Mr Bäärnhielm. 'It's the complete opposite to the everyday use of a label as a commodity item, useful though that service might be. Whilst I would estimate the medical side of our business represents 10-15% of our output, it's growing fast though and will probably be 25% in three to five years' time.'
In the bag
Swedish flexible packaging manufacturer Flextrus is also working in tandem with a technology partner to launch its new PopPack solution, suitable for consumer products packed in flexible as well as semi-rigid pouches and thermoformed packages. The packs are easy to open and can be combined with a reclosing feature eliminating the need of scissors, knives or even teeth to open them.
 'With most packs that are designed to be easy to open, there's normally an edge or a corner that has to be pulled back to access the contents. This is not so straightforward for the manually impaired, the arthritic or the elderly,' said group marketing manager, Ingrid Lidback. 'The idea behind PopPack is the inclusion of an inflated bubble between a top layer film and the base that pops open when it's pressed, requiring very little pressure. We use a normal sealant, and the film can be whatever is appropriate for any given application as long as it's a material within which you can create the bubble. It can also be barrier coated.'
Also poised for full commercialisation is the ifoodbag developed by ex-retailer (Vivo) turned packaging inventor Karl Fallgren. Made out of a patent-protected composite material with advanced thermal properties, the ifoodbag will target a space served by EPS (foam) in three key segments: food, pharma and logistics. It is most likely to become best known as a fixture containing frozen and chilled food products left by online retailers on the door step to await collection by the householder who is no longer required to stay home to await delivery.
The ifoodbag is flexible to meet the requirements of all degrees of temperature and has been designed to maintain levels within legislated parameters for up to 24 hours, for example, milk at 8ºC + and frozen goods below -15ºC. According to Mr Fallgren, it can also maintain the appropriate temperature across a mixed range of products with different levels. It is also highly cost competitive. 'This solution could be anywhere between €1 to €7 cheaper per unit logistically. Not surprisingly, not only have we got signed pre-paid orders for over 20 million bags worldwide, but also a firm demand for a further 25 billion bags once the system is commercialised,' he said.
Scandi players
Notable newcomers to Scanpack were the world's sixth largest flexible plastic packaging group Coveris, which has just opened an office in Helsingborg through which to manage its planned entry into the Scandinavian market; and StrongPoint, the recently merged group of seven labelling companies within the PSI Group showing under its new trading name for the first time.
Another Scanpack debutante was liquid food packaging contender Ecolean, albeit primarily as a flag-waving exercise rather than with any innovative new products to add to its portfolio of drinks pouches for chilled and ambient distribution. The Helsingborg-based company has, however, been busy outside of Scandinavia said CEO Peter Nilsson. 'We've opened up an office in Kuala Lumpur this year to service our growing Malaysian market, and also one in Tokyo. These are primarily sales outposts, but once the volumes have opened up then production facilities will follow. In the meantime, we've also established a US base in Dallas, and will be extending our presence in North America through a network of strategically located branch offices.'
According to Mr Nilsson, the European market is becoming increasingly interested in Ecolean's lightweight alternative to the ubiquitous liquid food carton. 'Our aseptic one litre pouch weighs on average just 14 gsm, which can be half the weight of a carton or some PET bottles. In addition to that logistical gain, there's the opportunity for shelf stand-out and differentiation – something that's difficult for most brand owners to achieve because of the blanket installation of carton-making systems within the sector.'
Paper and board
'Protecting natural goods with natural resources' is the underlying principle behind SKOG: the new paper-based bag for FFS (form fill & seal) systems launched by Mondi Coatings at the show. In development for the past two years, the bag represents a more sustainable alternative to plastic packaging containing a wide range of products requiring barrier protection, namely pet foods, heating pellets, fertilisers and even some frozen foods. 
'SKOG incorporates a double-sided natural coating that repels moisture,' said marketing manager Verena Schnedl. 'The overall pack complies with EU standards for biodegradable packaging and can be recycled through appropriate waste streams subject to individual country requirements.' 
Also meeting the needs of eco-sensitive brands is Mondi's compostable waste bag; a paper-based structure incorporating an inner Sustainex biodegradable PE layer making it a totally waterproof solution, said Henrik Axling, business development manager at Mondi Örebro. 'Whilst it's about 60% more expensive than a conventional paper-based solution, because of its advanced barrier properties it's effectively doing the job of two bags by eliminating the need for a secondary protection to prevent any leakage.'
A new corrugated transit packaging solution incorporating a dispense facility developed by Smurfit Kappa's Swedish division for the Kavli food service supplier was also shown for the first time. Recipient of a ScanStar award earlier in the year, the pack's corner section contains the pouring mechanism without it coming into contact with the sauce content, whilst the unused material is folded over on the outside to provide added reinforcement. It also serves to reduce unnecessary food waste within the pack, as well as saving cost of production.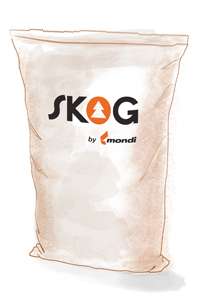 Mondi Coatings' new SKOG bag.
Focus on food waste
Highlights of a seminar programme within which there was an extensive focus upon global food waste were presentations made by three notable campaigners, whose activities have done much to raise awareness to the issue at a general consumer level.
US activist Jonathan Bloom noted that the amount of food waste generated throughout North America each day could fill the entirety of the 93,000 seating capacity Rose Bowl stadium in California; likewise that one-third of all food bought by UK consumers was thrown away uneaten and often unwrapped.
Arash Derambarsh, mayor of a small suburb on the outskirts of Paris, described his successful one-man campaign that caused the French National Assembly to pass legislation banning the unnecessary disposal of edible food by supermarkets. Joining him on the seminar podium was arguably Europe's highest profile food waste activist: Huffington Post blogger and the driving force behind the Danish 'Stop Spild Af Mad' [Stop Food Waste] campaign, Selina Juul, who was voted 'Dane of the Year' in 2014 in recognition of her efforts in reducing Denmark's food waste by over 25% in the past five years.
Speaking on behalf of the packaging industry's positive track record, Stefan Glimm, executive director of the European Aluminium Foil Association (EAFA) and Flexible Packaging Europe (FPE), compared the 30% per cent of fresh produce going to waste with less than 10% of packaged food. He also added, however, that the results of a research study recently conducted by the Sealed Air Corporation showing that 85% of US shoppers still perceived wasteful packaging to be more harmful than wasted food meant that the packaging industry had much to do in terms of improving its image.