Taking it on the sleeve
Axcyl Carbon carbon fibre bridge sleeve
There are many types of sleeves used in flexo printing. There are anilox sleeves, plate carrier sleeves and in-the-round imaging or printing sleeves. There are bridging or adaptor sleeves. By Sean Smyth.
There is a surprisingly large degree of technical innovation in what at first seems to be fairly simple hollow tube. Whatever you do, don't describe a sleeve in that way to a supplier, they will quickly and emphatically put you right!
Adaptor sleeves are variously described as mounting sleeves, carrier sleeves or bridging sleeves as well as adaptor or format adaptor sleeves. Converters can buy them from their press manufacturer or directly from specialist manufacturers.
There are narrow and wide web versions with varying thicknesses up to 125 mm. Printing plates (or in-the-round imaged printing sleeves) can be mounted in the correct position away from the press onto an adaptor or bridging sleeve, which is then loaded and locked into position onto the plate cylinder on the press. There are various hydraulic or pneumatic loading systems in use pushing air to expand the sleeve during mounting, with the end of the sleeve usually protected with a metal ring to avoid damage.
There are many things to consider when choosing a sleeve. Print quality is usually paramount, especially avoiding vibration and bounce that will affect the printed result. The sleeve must not flex in a wide web, or deform over many years of use. At the same time, they should be lightweight to ease handling; the speed and ease of mounting and removal from the press is important to minimise the makeready time. Mounting and replacing flexo plates or imaging sleeves in register is important, as is eliminating static. So, these sleeves have a lot to do.
Good position
Italian manufacturer Rossini SpA makes a full range of printing rollers and sleeves including anilox base sleeves, carrier and plate sleeves. It supplies OEM sleeves to the major flexo press suppliers, as well as new sleeves sold directly to converters.
Ellen Brimble is the UK managing director (actually covering UK, Ireland, Benelux, Scandinavia, Latvia and Lithuania). She is very happy about Rossini's market position, reporting that Rossini UK has more than doubled its sales so far this year (and 2014 was previously their record year!). This has included providing the sleeves for 22 new presses sold into its sales territory, plus replacement and retro fits. She commented, 'Carrier and sleeve technology has improved over the years and converters who do the tests see the quality advantages at high speeds. Our high modulus carbon fibre carrier reduces vibration allowing consistent faster running, meaning customers see the production benefits and calculate very quick payback.'
Many converters in the medium and wide web were at first suspicious of the tolerances introduced when a sleeve is used over a carrier, as both have their own tolerances. Rossini introduced strong carbon fibre carriers with cantilevered mandrels 20 years ago, helping to reduce downtime through quick changes. Thick walled sleeve use has steadily decreased by more and more printers using carrier technology, especially High Modulus carrier designed with a hollow design to absorb vibration together with thinner walled sleeves to optimise print performance. If they are looked after – storage, handling and service are important – sleeves will last for many years, with good operator training important.
Rossini is keen to stress the package it offers is more than just the sleeve, providing operational support is an important part of the offering. All sleeves are made to order for a particular press with tight fitting tolerances. The factory near Barcelona making the top end high modulus carrier sleeves has enjoyed massive growth in the last few years. This growth is evidence that the market understands the benefits of high quality sleeves and carriers.
So what of the future? Ellen Brimble commented, 'We are always developing, and we will be launching several innovations at drupa next year.'
Technical
Dutch supplier Tech Sleeves is part of the Color Control Group, Which also includes AV Flexologic. It provides hard and soft bridging and plate sleeves.
The bridging sleeves are five-layer constructions (four for hard sleeves). The flexible and expandable inner sleeve is made from Dyneema (a high-modulus polyethylene offering maximum strength combined with minimum weight), covered with a foam layer with high rebound resilience that is compressible with no bulging. Then a layer of thermoplastic micro balloons combining lightweight with extreme high form stability. The outside of the sleeve is an epoxy vinyl ester resin that provides high chemical and temperature resistance. Soft-coated sleeves are finished by a compressible polyurethane, available in different densities. The surface is finished with a diamond grinder to provide a smooth surface. Additional features include a reinforced metal line 0.5 mm in depth to prevent damage to the sleeve due to cutting or a liquid metal slot, which prevents damage to the slot. 
Rossini's site in L'Aquila in the Abruzzo region in Italy produces flexo and gravure sleeves
The company is also doing something very different in sleeve production to reduce sleeve weight. A sister company in the group is Leapfrog, which makes 3D printers. The Leapfrog dual extrusion system (one is a support that is removed) is used to print a replacement for the thermoplastic layer that is lighter and stronger. The Dyneema, foam layer and vinyl-ester resin are as normal. Production of 3D printed sleeves involves providing an accurate CAD file with the printing taking some 24 hours. This was announced at the Andina Pack event in Colombia in November, Tech Sleeves claiming the process provides a sleeve with higher stiffness and no deformation or loss of memory. 
Honeycomb structure
Trelleborg's printing solutions operation has been supplying Axcyl sleeves for wide web presses for over 20 years, and narrow web more recently. Designs include either straight ventilation or separate ventilation, to adapt perfectly to OEM designs. Its bridge technology is based on a composite honeycomb structure that makes them among the lightest, stiffest and most stable on the market. A specially designed mounting layer is optimised to filter vibration coming from the printing plate to minimise press bounce. 
Trelleborg launched its Carbon BS Bridge last year, engineered with carbon fibre high end technology demanding applications, helping to reduce vibration. The company is also working to improve service. Damien Leterrier, sales and development manager, said, 'With the supply chain becoming more and more critical in our industry, quick and reliable lead times for tooling procurement is vital for converters. We trust our new Fast Track Service will help our global customer base in that respect.'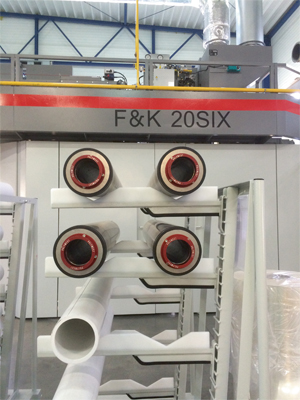 Polywest recently supplied a large number of carbon fibre adaptors to Marpol in Poland
Robust range
Polywest provides a range of sleeves and adaptors under the Rubin and Onyx brands. All of its adaptors are conductive (in accordance with ATEX 95) as a matter of principle with robust surfaces that can cope with repeated changes and allow sleeves to be mounted with ease.
An interesting development from Polywest is the carbon fibre adaptor for hydraulic clamping, designed for Bobst Fischer & Krecke CI presses up to 1450 mm operating at speeds of 600 m/min. One of the first installations is at Marpol in Kleosin, Poland, which bought 33 clamping adaptors with three different outside diameters for a new Bobst F&K press, through reseller Flekso Serwis. 'We found the Polywest clamping adaptors and compressible sleeves worked perfectly, with not a single problem,' said to Robert Awruk, director of production.
German supplier Inometa sells the Inoflex adaptors and introduced a new pneumatic carbon fibre model after independent application tests demonstrated the performance capabilities and the excellent print quality achieved. Christian Göhner, head of development, explained, 'With our new INOflex pneumatic carbon bridge adaptor, we were able to fill a gap for the use of clamping systems in flexo. We developed an adaptor for the pneumatic system, which offers the characteristics and a performance level comparable to hydraulic systems.'
Flint's Rotec adaptors were launched in 1990 and the company offers a comprehensive range. They feature a compressible anti-slip surface for plate mounting. The Atlas Adaptor offers highest performance due to the carbon fibre structure that gives low vibration and vibration damping properties. Omega surface technology treatment provides complete conductivity of the inner construction and sleeve surface to provide reliable electrostatic conductivity.
Comments 
Not everyone is convinced of the benefits of using adaptor sleeves. Ian Antrobus is the managing director of North West Roller Services, he explained that they would rather supply an air mandrel and sleeve that, with the addition of a rubber or polymer coating, is built to achieve a variety of customer required diameters. There is no possibility of slip or vibration at the interface between cylinder and sleeve and plate when a bridging sleeve is not used. As the company has supplied some 5000 imaged in-the-round printing sleeves, he is in a good position to make these comments.
Even so, sleeves are here to stay, and there is a great deal of material science involved, along with new production methods in their construction. They provide cost advantages over new sets of cylinders and the performance has improved significantly over the last 20 years. There are operational advantages, of shorter makereadies that are critical as average run length falls, and allowing presses to run at high speed with no print distortion. There is continuing innovation in a competitive arena and it will be worth looking hard at the subject at drupa next summer.