Run the tape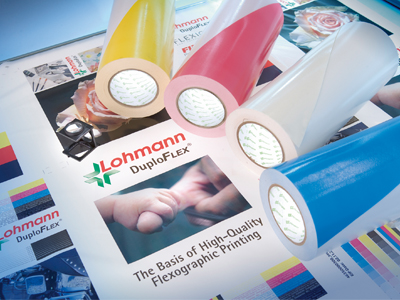 The DuploFLEX range from Lohmann
Highly specialised adhesive tapes are available to help printers achieve the best quality of printing that today's customers insist upon and which are so vital to the flexible packaging markets. By Michal Lodej.
Today's flexo printers are constantly looking to perfect the quality of their printing and to improve their processes. Printing quality, speed and efficiency are essential to meet the growing demands of their customers. Double-sided adhesive tape is one of the many vital parts of the flexographic print process.
The strive for better quality is reiterated by Bob Drew, national sales manager, graphic products, Lohmann, 'Quality is about perception. To the brand owner, it may mean how they identify their product from those of other sellers with the quality focus being on consistency. To the retail customer, the pack needs to be attractive, informative and practical. The print producer however, has to combine a number of complex components – substrate, ink, repro, plate – together to achieve the 'perfect print'. Many other elements need to be utilised effectively – anilox, sleeve, mounting tape, doctor blade, printing press, to name a few. All of these components and tools need to combine effectively to achieve the kind of quality of production being targeted in today's markets, be it film packaging, labels or corrugated board.'
Tapes for all
Scapa is a supplier of adhesive tapes and films for the printing and graphics industry with over 90 years of experience in adhesive tape production. Its Exafit HP range of tapes gives a reliable bond to the plate or cylinder enabling longer, faster print runs with improved printing definition and reduced dot gain.
According to the company, the product has an improved absorption of mechanical vibration and works with a wide variety of substrates, which helps to give consistency in performance for most machine setting conditions. It is available in a range of five different hardnesses and comes with a flexible and smooth liner, which is easy to remove and improves handling performance. 
The company's new PP transparent embossed filmic liner is easy to remove and reposition. It not only reduces the number of air bubbles, but also allows those that do appear to be removed with ease. These benefits are essential in reducing set-up times during the crucial mounting process.
Scapa's new generation of PE compressible foam ensures good quality printing at faster print runs with an increase in efficiency due to fewer foam changes and adjustments during the print run.
Italian manufacturer BiesSse has a product range which covers packaging, labels and pre and post print for cartonboard. For packaging and labels, the tapes are manufactured in much the same way. These tapes provide adhesion of the plate onto the cylinder or sleeve during high speed printing operations and in the presence of ink vapors, as well as being able to compensate for possible deformations of the plate or any other part of the printing system.
The adhesive tapes used for these applications must be resistant to solvents and to the detachment force of the photopolymer plate, depending on its elasticmodule and on the centrifugal force generated during printing operations. At the same time, they must be able to be de-mounted at the end of the run without leaving any adhesive residues. An extra consideration for label printing in particular is where the small diameter cylinders normally used requires a greater adhesion strength than in wide web printing.
Soft touch
Also available to printers is the range of tapes from 3M. These tapes aim to maximise print quality with quick adhesion, bubble-free mounting, easy removal, and foam density options for halftone, process and solids printing.
For halftone work where dot gain is a concern, a softer tape optimises reproduction. When solids and dots share a plate, a combination tape can properly balance results. For solid ink and crisp lines, a firm, high density mounting tape is needed. 
tesa offers an extensive array of solutions for printing labels and flexible packaging with products that cover the entire process from plate mounting to end tabbing.
The tesa Softprint range is an assortment of different grades of foam thickness for thicker or thinner plates. These plate mounting tapes offer different foam hardness to ensure excellent print results. The range includes Softprint Secure; a fast and efficient mounting and demounting process that leaves no adhesive residues after the print job is complete; Softprint Secure SNAP-ON, which has fast plate mounting properties combined with a strong bond for holding down plate edges securely, and Softprint Hard, which eliminates problems like pin holing and avoiding bouncing, even at higher speeds.
The tesa filmic tape range comes in various thicknesses of film or fabric and is always tailored to specific, application-driven demands. SoftSleeve ensures high adhesion to the sleeve for a secure placement, the plate-side adhesive properties allow easy repositioning and demounting, whilst providing a strong bond. In addition, the plate mounting tapes with film backings in different thicknesses, combined with natural rubber or acrylic adhesives, can be tailored to specific application-based demands.
With label printing solutions, such as the Softprint X-Soft series, the printing of small dots and smooth vignettes is achievable. Additionally, the company's filmic and foam plate mounting ranges are also suitable for these types of applications.
tesa's double-sided flying splice tapes are designed for straight line splicing with very high tack, good adhesion to PE and PP films also offers a low splice thickness. The EasySplice FilmLine PLUS is an enhanced product that enables manufacturers of very thin, high slip films to save time and money by splicing at continuous production speeds. Furthermore, its EasySplice FilmLine Black is a fast and reliable splicing tape for heavy-gauge films in the web converting industry.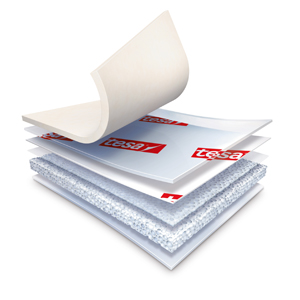 A close up of tesa's Softprint tape construction
Richard Eeles, who is tesa's print and web processing market manager, commented, 'We are committed to offering our customers a breadth of products to suit their individual needs, all the while proving that the brand is aligned with the expectations of the wider market.' He continued, 'Renowned for our onsite application training, our technical and customer support and our performance and efficiency audits, we are clearly demonstrating our future commitments to an ever-changing industry.' 
In today's market the requirement to print finer and finer images has increased. Tonal image areas are more extensive with more vignettes being produced. The improvement trend continues with the impression settings on ever more sophisticated presses, ink transfer from the plate improvements, speed of production increases, all contributing to improved quality of image.
Plate mounting tape for high quality print consists of a foam layer with re-enforcement on both sides in the case of Lohmann, it is used to hold the plate in position on the sleeve and to cushion the impression from the polymer printing plate, enabling the ink to be transferred to the substrate. The company offers the DuploFLEX range of tapes for labels, flexible packaging and corrugated applications.
The variables involved in this process are numerable when considering the different types of substrates, plates, inks as well as the wide range of different printing presses.
Compress, recover, repeat
The key characteristics of the plate mounting tape need to embrace all of the above variables. One of the primary characteristics is the compression and recovery of the foam, this must be consistent throughout the entire duration of the production run.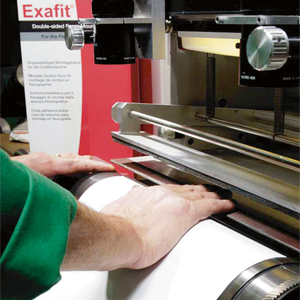 Scapa offers the Exafit tape range
Mr Drew spoke of a trial conducted by Lohmann with co-suppliers to the industry, 'Consider a 500 mm repeat running at 900 m/m. This means the plate mount tape needs to compress and recover 1800 times every minute, a recovery time of 0.033 seconds per repeat. The next time the job is run the new batch of tape needed to reproduce a repeat performance to ensure that the image printed is the same as last time.'
There is also the adhesive to consider, adherence to the sleeve, cylinder, adhesion of the plates ensuring the plates stay in position and the edges do not lift, removal of the plates without damage and in many cases re-use of the tape.
Printing quality will always need to be at its best in order to keep customers happy, but for the printers themselves it is more important for makeready times to reduce as the market shifts towards more jobs at shorter runs. That's the challenge tape manufacturers are facing today.