Preaching to the converting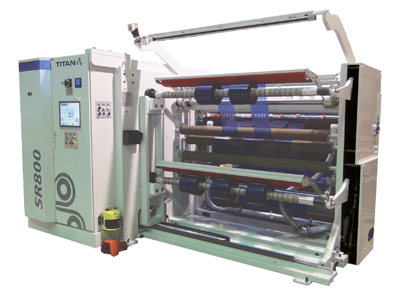 Atlas Converting Equipment demonstrated the Titan SR800 series at drupa
Attention is turning to the slitting and rewinding capabilities of a flexo printer as run lengths shrink, and the bottlenecks after the printing become detrimental to the profitability of a job. Quick and accurate converting is the next big step in the flexo success story. By Michal Lodej.
If you are on the lookout for a new slitting/rewinding unit then you have chosen the right time to do so. Many of the manufacturers in this sector have chosen drupa as the opportune moment to launch new products.
Ashe Converting Ltd will go to drupa to show off the upgrades it has made to its Diamond model which have turned the unit into an automatic turret slitter rewinder that removes downtime in offloading finished rolls and having to re-core rewind shafts. The new machine will have an integrated unwind meaning that it will be a one-piece unit, making transportation and installation easier.
The machine will feature a shaftless unwind with a maximum diameter of 1000 mm and an all-electric reel lifting system. Edge guiding is achieved by the company's own digital edge guide system and tension isolation is achieved by a vacuum roller system eliminating the need for nip and S wrap rollers.
All forms of slitting can be accommodated on the Diamond and it will feature a maximum rewind diameter of 600 mm. This is achieved by a shaft support system on the non-drive side to ensure the rewind shafts do not encounter any undue stresses through the turreting sequence. Unloading of the finished rolls is carried out by automatic reel pushers, which will discharge the finished rolls onto an unloading unit. The machine on display will feature a maximum web width of 1650 mm with a maximum speed of 500 m/m.
Jarshire has extended its range of slitting and rewinding components with the Genius (patent pending) slitting system manufactured by the Italian company Espo. This pneumatic cutting unit provides converters with shear cutting, crush cutting and razor cutting all on one unit.
This cutting technology provides complete inline integration with rewinders, slitter-rewinders, sheeters and cutting machines. The Genius system delivers a precisely controlled vertical down stroke and a fast, specified cutting angle together with automatic blade protection re-entry during the process and total blade protection during rest. A fast rotation of 180 degrees for right-left positioning and an automatic safety block for anti-rotation of the blade are also features in this multi-cutting unit. 
For re-winding, the company offers the Svecom Model 650/PLF Differential Shaft, which uses a torque transmission principle for effective and constant operation. Core loading, positioning and unloading is quick and easy and the design ensures both reliability and extended wear between differential ledges and cores. 
Features of the design allow cores of different widths to be wound on the same shaft whilst winding of all cores are at the same tension rate and each individual core can slip at a controlled speed when the correct air pressure is maintained.
Manufactured from lightweight, aircraft-grade aluminium, the low weight of the shaft body allows efficient insertion and withdrawal of the shaft from the reels thereby increasing production through quicker reel changes.
Printing's from Mars, slitting's from Venus
Soma Engineering will launch its new Venus III Turret slitter rewinder machine at drupa. The new model is an addition to the Planet series and complements the company's existing Venus III machine. The new four shaft system is aimed at larger printing and converting companies needing multiple slitting of medium diameter rolls with high levels of automation and productivity. Benefits include reduced down times through fast job changes and an overhead web path design that lends itself to clean room environments in the pharmaceutical, cosmetic and food packaging industries.
The unit has two additional rewind shafts with each pair located on an independent rotary carousel for a smoother operation during job changeover. Additional enhancements include upgrades to safety and control software that allows a faster response to overall working parameters with the aim of achieving high quality is a safe way. Safety features at unwind include a protective cage and laser scanner at rewind as standard. 
The machine is capable of a minimum slit width of 25 mm and maximum rewind diameter 635 mm with a reloading cycle of less than 35 seconds. Designed for maximum speed up to 800 m/min, the Venus III Turret is capable of handling a wide range of substrates including PP, 10 micron PET and 20 micron LDPE.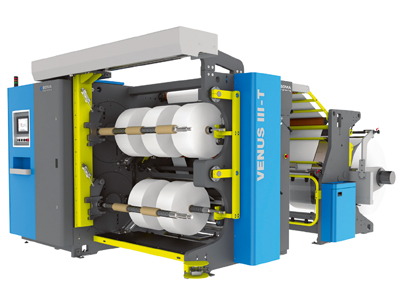 The Venus III Turret will be launched by Soma Engineering
The company has addressed the need for increased automation in production with reduced operator intervention by adding a range of automated features that include: laser core guiding, knife/blade positioning, cross cutting, core splicing and tape application. These features together with automated reel unloading provide for additional cost efficiencies by enabling companies to employ less experienced workers at a lower salary. A compact design with easily accessible operating points enables good ergonomics and comfortable working conditions for the user.
Roll handling is simplified through various systems that include a rotary stand with hydraulic driven tilting and/or lifting rods, semi-robotic reel handling to pallets, unloading system to slide the finished reels to the rotary stand and customised transport conveyors from stand to packing area. The design of the rotary support arms for each rewinding shaft during changeover permits heavy reels to be handled without the risk of overloading the rewind shafts.
The Venus III Turret is suitable for a wide range of flexible packaging materials. Users can choose from various slitting systems including razor blade, rotary knife or individual pneumatic knife holders.
Strength of a Titan
Atlas Converting Equipment will also be presenting new products at drupa with demonstrations of its latest generation of the Titan SR800 Series. In the development of the SR800, the company focused its product development strategy on achieving significant reductions in machine downtime for printers and converters, including reduced set change time, lower operator intervention and also reduction of costly waste materials.
Also on show from the Titan range will be the ER610, the SR9-DS and SR9-DT.
The ER610 is a compact slitter rewinder with the added benefits of reduced power consumption and no hydraulics for lower energy bills and zero risk of contamination. The SR9 series of slitter rewinders is the company's high end secondary slitter rewinder which uses a linear tracking slitter section to maintain a constant minimum distance between knives and rewind shafts giving better control of the slit webs ensuring the highest side wall quality. The SR9-DT builds on of the technology from the SR9-DS adding the benefits of dual a turret rewind to reduce the time from stop to restart down to just seconds.
The Atlas primary slitter rewinder platform introduces the next generation of more compact film slitting solutions operating with web widths from 2.5 to 10.5 metres. This latest Atlas technology also features wireless rewind arm positioning, automatic knife positioning, direct drive web path rollers and running speeds of up to 1500 m/min with a more precise web tension control. Electrical cabinets are now fully integrated into the machines to reduce the space required for installation, with under floor service trenches also no longer required.
Not all about drupa
Not all manufacturers have waited for drupa to release their latest bit of kit.
The new Dusenbery 280 Center Surface slitter rewinder, launched by Parkinson Technologies, is ideal for both high and low volume converting operations. The unit is versatile, with the ability to accurately slit paper, film, non-wovens or foam up to 2185 mm wide with centre, centre-surface or centre winding in minimum gap mode. The 280 features a new and innovative direct-acting winding carriage that provides exacting nip control and winding tension.
Slitting options include razor, shear or score. Automatic blade positioning, laser core positioning, and an advanced control structure help to consistently produce the highest quality rolls quickly and economically. 
Rotoflex had a number of slitting/rewinding products on show at the Gapp Print Expo, in Johannesburg, in March. There the company demonstrated the VSI 330 and DSI 330, featuring high-speed inspection, slitting, rewinding and die cutting technology in a compact design.
The Rotoflex DSI die-cutting platform offers a compact footprint machine with servo-driven accuracy in die cutting and rewinding, and speeds up to 305 m/min. Its flexible design fits a variety of inspection systems and offers a dual-purpose platform for both precision die-cutting or advanced roll and label inspection. Accommodating a range of applications and jobs, the DSI is an extremely efficient die cutting system for today's demanding production environments. 
Ralph Beier, director of Rotoflex, said, 'It wa an exciting opportunity to present two well-known Rotoflex machines, the flagship VSI slitter/rewinder and the versatile DSI die cutting platform at The GAPP Print Expo, with our local agent SArepco. In addition to showing live demos of these solutions, we also presented our three new products: the HSI horizontal slitter/rewinder, Vericut3 for digital and conventional label finishing, and the Security Series module.'
As part of the largest packaging, food processing, plastics, printing and labelling exhibition on the African continent, co-located with Propak Africa, Pro-Plas Africa Expo, Pro-Label Africa and FoodPro, the Gapp Print Expo provides access to all the latest industry innovations, technologies and products for both conventional and digital printing.