Tools of the colour trade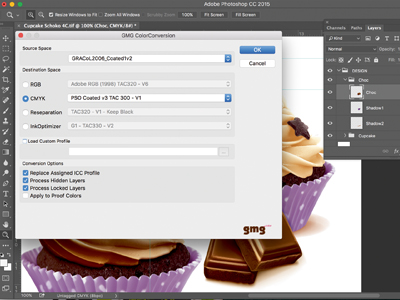 GMG has updated its OpenColor software, which can now create separation profiles that can be used in other programmes
This drupa saw a number of new colour management tools hitting the market including both software and hardware launches that together should go some way to making life easier for converters or at least toward achieving more accurate and more repeatable colour. By Nessan Cleary.
Colour management has always been a fairly tricky business for packaging in general and flexo printing in particular, mainly due to the heavy use of spot colours and the varied range of substrates used. But at this year's drupa there seemed to be a general determination that it was time to sort this out. 
One of the most significant announcements was GMG's latest update of its of its OpenColor software, with a new 2.04 version that can be used to create multichannel profiles. OpenColor uses spectral data that reflects individual production environments, which in turn leads to accurate separation profiles. In this latest version these separation profiles can be exported to other applications.
Until now, the only way OpenColor profiles could be used was by creating proofs in GMG ColorProof. But now the separation profiles can be used with other programs such as GMG ColorServer and Adobe Photoshop as well as within packaging production software solutions. This means, for example, that users of ColorServer will be able to use more sophisticated profiles to convert RGB or CMYK images to CMYK with OpenColor separation profiles. The company is already working on the next version, 2.05, with the promise of dot proof profiles for its proofing solutions.
There is a ColorPlugin, that comes in two flavours including a Standard version that works with all industry standard RGB-CMYK and CMYK-CMYK colour spaces. There is also a Pro version that adds the ability to use custom colour profiles created in OpenColor 2.04 and existing profiles created with ColorServer and ProfileEditor programs, letting them match to a target colour space across a wide variety of printing processes and substrates. There is also a Packaging version, which can remove channels and adjust minimum dot.
In addition, the company has teamed up with Hybrid Software so that its OpenColor colour separation profile technology will be available within Hybrid's Packz label and packaging editor and workflow, helping to extend the colour management deeper into the production workflow for many converters.
Elsewhere, OneVision, which is best known for its preflighting software, has developed a new layer of colour management, which it calls 4D for use with its existing Asura range. Asura is an automated program for optimising PDFs so that they can sail through production without errors, but the 4D colour management technology allows an Asura server to be used as a colour server. It is mainly aimed at overcoming problems with blacks when converting from one CMYK colour space to another, particularly when flattening transparencies, which can sometimes lead to blurred text. It should work with existing ICC profiles.
Alwan has released v6 of its Color Suite with the ability to create inline profiles for spot colours
Alwan used drupa to announce version six of its Color Suite, which allows devices to be profiled and calibrated during a production run with no need to set time aside for profiling presses. The Color Suite includes the company's key products, namely ColorHub, PrintStandardizer and PrintVerifier. These all use the CxF 4.0 format that allows colour information to be shared across devices, with a particular focus on spot colours.
There has been a growing use of cloud technology to store colour information. Thus the company hosts a cloud server that can be used to share colour data between brand owners and their converters, but customers can also choose to store this data on their own network.
Esko has overhauled its entire software offering under the motto 'Packaging Simplified', which it claims is the largest SaaS platform in packaging. Its Color Engine is a central database of colour information based on spectral colour data. This can be used together with other applications, including pre-press editors, proofing RIPs and automated workflows, which can all access the data. There are also a number of cloud-based libraries that offer similar fuctionality. These allow standardisation accross the supply chain, as everyone can access the same spectral data for inks without having to make their own measurements. Esko was the first production workflow to be connected to the PantoneLive cloud, but other systems can also access the database through the CXF format.
X-Rite, which owns Pantone, has announced a Private Cloud addition to its PantoneLive offering. This is a secure, cloud-based repository that allows packaging converters and commercial printers to store and share existing proprietary colour libraries across the colour supply chain so that everybody understands the colour specifications of a given job right across the workflow process. All colours published in the Private Cloud are then available for selection within prepress systems that can connect to the main cloud, such as GMG and Esko.
Adrian Fernandez, vice president of PantoneLive, explained, 'Leveraging the benefits of the PantoneLive model to streamline colour specification and communication, we are now enabling printers to publish proprietary colours in a private cloud infrastructure. This makes colour data easily available at all phases of production and across multiple locations. No matter the colour standard used, converters can be sure that everyone is using the same reference data.'
X-Rite has also set up a new Rationalization Service to help customers move to the Private Cloud. This analyses and consolidates a printer's existing colour library to improve colour accuracy, increase production efficiencies, reduce ink stocks and avoid wasteful duplication of colour.
New spectrophotometers
X-Rite has just introduced two new colour measurement devices that should be available this summer. This includes a new addition to the Exact range of handheld spectrophotometers. The Exact XP is designed specifically for working with flexible films and targeted at packaging converters. Flexible films can be particularly challenging as the device has to be held such that it matches the film's extrusion direction to ensure an accurate reading but that is not an issue with this new device. It can be used untethered and supports X-Rite's PantoneLive initiative.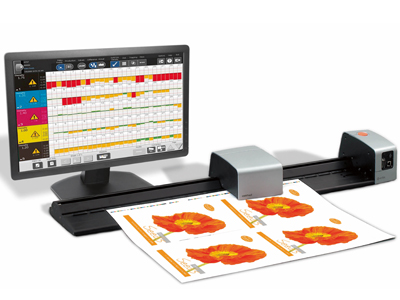 X-Rite has updated its IntelliTrax spectrophotometer, which now supports M1 measurements for optical brightening agents
There is also a new version of the IntelliTrax, which is widely used by folding carton and sheetfed printers. It is an automated system that is fairly quick to use, with X-Rite claiming that it can scan a typical press sheet in around 15 seconds. IntelliTrax2 has gained support for M1 conditions, which deals with substrates that contain optical brightening agents. It can also handle thicker materials, up to one millimetre, which will be easier for packaging converters. It has a new sensor that adjusts the scanning head so that it can now pick up colour bars down to just two millimetres. It can show spectral and density measurements on-screen and can show recommendations regarding ink density differences between a target colour and a measured sample to help get the best colour match on-press.
This new version can also work with X-Rite's NetProfiler, a cloud-based system that offers a relatively quick and easy way to verify that a given device is still producing consistent results. It can also connect with other X-Rite measurement devices so that you can centralise colour information across different departments or sites.
Barbieri has also just launched a new measuring tool, the DigiPress, a version of its SpectroPad that is designed specifically for working with digital presses. It can store colour libraries, including spot colours, so that operators can check printed colours for accuracy and for repeatability. It is based on Barbieri's QB technology, which uses D50 illumination and can cope with the M1 measuring conditions. Results can be displayed on the built-in screen or sent to a computer via Wifi or USB. The SpectroPad itself is wireless and battery powered.
Yet another option is to build a colour measuring device directly into the press. To this end, QuadTech announced a new option at drupa called DeltaCam. This is a full spectral measurement system that can be fitted to flexo presses, both CI and inline designs, as well as gravure presses. It can handle print speeds up to 610 m/min across web widths up to 2.2m, though you will need an optional web stabiliser for working with films. This adds a ceramic backing tile for more accurate measurements without stretching the film. It can read a single 5 mm x 5 mm colour patch, with the press operator setting up a defined location within an image. DeltaCam includes the necessary software to read the corresponding spectral data and calculate the L*a*b* and density values together with the DeltaE from the target. It uses LED illumination, which should guarantee a longer life, and works with the latest M1 standards.