The UV advantage: inks in focus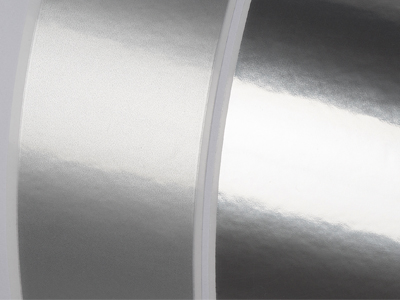 High lustre UV silver ink from Siegwerk
The introduction in the 1980s of UV cured inks for narrow web flexo not only took print quality to a new level but also improved press speeds and offered a better working environment. This resulted in a broad adoption of the technology that continues today. Neel Madsen got an update from the ink suppliers.
UV printing can be used with almost any surface, absorbent or not, and therefore offers printers and brand owners a vast selection of inflexible and flexible print substrates. Furthermore, the print has great resistance to scratches, wear and tear as well as weathering.
'UV printing is still a growing market driven by the technology's convincing benefits of fast curing speed, surface flexibility, high print quality, durability and little to no emission of VOCs. Thanks to the fact that UV inks dry in a matter of seconds, the printed material can be immediately processed when coming out of the press, which saves printers money and time,' said technical service manager narrow web at Siegwerk, George Ashmore. 
'The technology also allows for higher gloss levels, brilliant colours and coatings as UV inks are not absorbed into the surface, but rather sit on top which creates a sharp and clear print quality. All in all, UV printing not only offers time- and cost-efficient benefits, but also can add special value to prints for example with high gloss metallic inks in order to stand out from others,' he said.
Glossy silver
Siegwerk has a range of varnishes and metallic inks encompassing the entire sphere of UV printing processes. One example is the High Gloss UV flexo silver, which is offered as a replacement for silver foil applications. As the printed metallic ink strongly reflects the UV light, curing demands a little more time, depending on the machine speed.
Mr Ashmore said, 'So far, UV inks are commonly used for applications like tube laminates, in-mould labels, yogurt carton lids and labels, or for conventional flexible packaging. As UV inks and varnishes contain low molecular photoinitiators, acrylate monomers or other materials with a relatively high migration potential, there is an increasing need for low migration ink systems when especially printing on packaging and labels for food.'
With its ink series Sicura Litho, Sicura Flex, Sicura Screen, Sicura Nutriflex and Sicura Litho Nutriplast, Siegwerk's UV ink portfolio covers all print applications including low migration inks, varnishes and metallic inks, formulated to meet the requirements for UV printing of food packaging applications. 
Mr Ashmore said, 'Due to the increasing awareness of consumers and the continuing upgrading of regulations, the use of UV low migration systems is ever growing when printing labels for food applications. Brand owners intensify their own policies and exclusion lists of pigments, photoinitiators, acrylates and solvents continuously.' 
He explained that Siegwerk is used to working with compliance standards of global brands with a rigid raw material selection, central approval process and global formulation. 
Running faster 
The special characteristics of UV inks have led to better productivity through higher press speeds and consistent products. James Whitehead, packaging solutions manager, Fujifilm UK, said, 'The main advantage of UV curing inks compared to solvent and water-based inks is that UV curing products do not dry whilst on the press. This results in considerably better press up time, and much greater image and colour consistency both during a print run and from batch to batch. The working environment benefits too, since UV inks contain no solvents or Volatile Organic Compounds (VOCs) which would be released whilst in use, making for a safer environment.'
Print quality with UV inks tends to be high, with highly pigmented ink systems capable of giving vibrant images whilst running at high speeds with low volume aniloxes, and at high screen rulings. 
Fujifilm has the well-established UVivid Flexo JD series of inks. As a complement to this, the company has recently launched a new decorative high build varnish, the Uvibond UV601 Decorative Varnish. Initially used in the beverage market and suitable for printing on to synthetic and paper-based materials, the rotary screen varnish produces a glossy high build effect and is well suited the production of embossed or high build text or line work so often seen on premium and high value beverage products.
Mr Whitehead continued, 'There is a lot of legislation around safety in food packaging and producers must ensure that their choice of UV ink satisfies the demand of the finished product according to the requirements of their customer and market. Fujifilm has long been a market leader in low migration ink development and this will remain a key focus for the company moving forward.'
Up for inspection
Craig Lock, technical sales manager (UV flexo) at hubergroup UK, commented that the market has seen more investment in inspection equipment over the past 18 to 24 months and that this has had an effect on the development of UV inks. 'UV flexo inks are improving all the time in order to keep up with ever increasing press speeds since the advent of inspection equipment. Although expensive, when looked at in isolation of the overall cost and factoring in the increased capacity, it is a cost effective solution.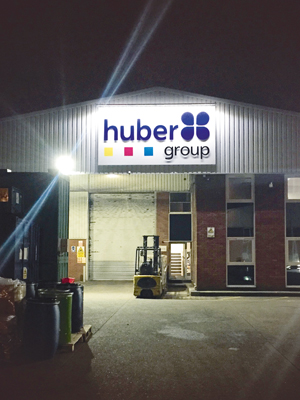 hubergroup UK headquarters
'The inks need to perform and retain colour consistency with minimal drop off in density as you do not want different curves for different jobs depending on the running speed,' explained Mr Lock. This has been at the forefront in the development of hubergroup's NewV flex process and CRS base inks with the viscosity, body and flow being critical elements, enabled by the company having complete control of the raw materials used in the manufacturing process.
'Migration is a big topic at the moment,' said Mr Lock who predicts that over the next 12 months more printers will move down this route. The requirement of low migration products and training to help understand the legislative requirements can be met by hubergroup along with a commitment to manufacturing under strict GMP conditions. The company's MGA brand of products are developed and manufactured to the highest standard, backed up with in-house testing facility and full customer support.
The company has launched a number of new products, including the Touch & Feel range of low migration products developed to offer customers a value-added finish. The range comprises of a relief or tactile effect that replaces rotary screen, and using the same varnish on a lighter anilox will achieve an even finer finish. Also new is the Wet Touch reticulating varnish that depending on the film weight changes the degree of reticulation. Finally it offers Polar Silver which delivers cost-effective cold foiling effect in an ink.
Big issue
'The big issue of migration compliance still remains at the forefront,' said Mark Bowman, managing director of ColorGen, 'and still the information provided to the market place lacks clarity. It shouldn't be the case, but ink manufacturers still disagree on the interpretation of the various guidelines provided by Nestle, EuPIA, Swiss Ordinance (and very soon German Ordinance).'
'Having been badly misused, the term 'low migration' is being disregarded in favour of 'migration compliant',' he said. 'In the past, even those understanding the issue chose a broad interpretation of low migration. It provided reassurance but, in reality, little protection for the converter. Compliance generally requires a minimum limit of 50 parts per BILLION (ppb). Anything quoting ppm (parts per millions) will never be migration compliant.'
He continued, 'Those that grasped the significance of the issue attempted to explain the very real risks to their customers, which all led to some confusion and probably increased the risks of another major food scare rather than reduce it.' More recently brand owners are insisting on clarity and transparency through the supply chain. Films, substrates, inks, coatings, adhesives, press conditions are included in specifications for key types of packaging with compliance being proven by testing at a very early stage. Parameters are set and random testing is conducted so that any deviation in migration compliance from the agreed standard is easily detected.
ColorGen's technology partner, Ashland Specialty Ingredients, has invested more than £1 million in equipment for its Bradford-based analytical facility. Testing various formulations in packaging constructions has allowed the company to develop products where migration can be proven to below 5 ppb.
On the move 
With almost 20 years' experience in the manufacture of UV inks, primarily for food packaging applications, Mirage Inks has a customer base covering all major continents and exports represent over 40% of total sales. The company develops ranges of both cationic and free radical UV curing technologies and will recommend the most suitable technology for the end application.
Its Quartz cationic system has been developed for high performance applications where high levels of adhesion and chemical resistance are required. It also offers a low migration product. The Diamond free radical system is suitable for general purpose applications for narrow web label and shrink sleeve market, with ranges suitable for industrial and low migration applications.
Director Ian Daniells said, 'Mirage puts a lot of emphasis on high pigment loading and therefore strength whilst maintaining low viscosity for flexographic application. This has paid dividends for a new range of extended colour gamut Pantone colours, which enables printers to use lower volume anilox configurations than normal, whilst still hitting the density targets.' 
The Somerset-based company is currently relocating into new purpose-built facilities with modern ink laboratories and full manufacturing capabilities to meet increased demand. Mr Daniells said, 'We are about to move into a brand new factory at Frome that will give the company a perfect platform to grow in the future and to continue to improve the service to our customers. This represents a significant investment and confirms Mirage's commitment to maintaining its position at the forefront of ink technology.'
New opportunities
As label printers are looking for new opportunities, new demands are being put on the ink manufacturers. 'With narrow web printers increasingly branching into the flexible packaging market, where they can be competitive against wide web flexo and gravure printers on short production runs, new challenges have arisen,' explained Andreas Rascher, product manager for Zeller+Gmelin. Many of the packaging substrates specified by end users have been optimised for adhesion with solvent ink systems and are not necessarily suitable for use with typical UV flexo inks. This can lead to difficulties with adhesion and other properties such as lamination bond strengths especially on metallised films and certain grades of PET.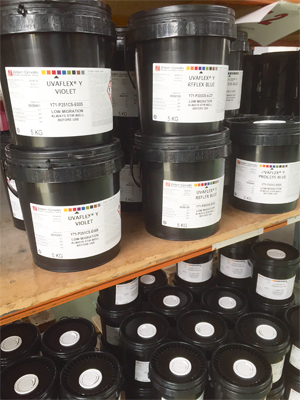 Zeller+Gmelin low migration UV inks
UV ink specialist Zeller+Gmelin has taken this into consideration with its latest UV flexo low migration ink series, which after many months of development is currently at the beta testing stage. The new Uvaflex Y81 FCM Evolution ink has been formulated to give outstanding adhesion to as wide a range of substrates as possible, whilst at the same time having very high cure speed, high colour strength and on-press stability. Additionally the product will use only selected raw materials proven to be suitable for food contact materials.
As with all the company's UV flexo inks, the new range will be available as high strength, high purity mono-pigment bases, which offer printers the option to produce the widest possible gamut of colours, and also enable printing at lower ink film weights and lower ink consumption to be achieved. Zeller+Gmelin will help customers to install in-house ink kitchens to use the mono-pigment UV flexo bases in conjunction with a spectrophotometer, ink proofing equipment and ink dispensing equipment. 
Moving goal posts 
'When supplying and supporting a forever changing global market place, as the web fed product decoration one, the idea of an optimum product or indeed product range suddenly fades into obscurity,' said business development and marketing director at Paragon Inks, Amanda Jones. She explained that the company has not only accepted, but embraced the need and requirement to be a transparent, reactive, innovative and supportive supplier, and went on to explain the reasoning behind those four factor.
Transparency means no supplier within the supply chain can hide anymore. Compliance to regulations and legislations is changing the face of raw material sourcing, UV product manufacturing and processing, product labelling and information, and more importantly the disclosure of confidential formulatory information.
'Legislations and regulations are now part of our day to day world,' commented Kristijan Kucej, one of the company's leading distributors. 'Without Paragon's black and white approach to EuPIA and its commitment to transparency of information, we would not have gained the key customers we have in the last 12 months.'
Paragon Inks has concentrated heavily on not only the ink make-up aspects as part of their due diligence for compliance, but have committed to various new manufacturing systems and processes to ensure GMP is met for all products produced. 'Change within any business is not just financial outlay, but the commitment to develop and empower the whole workforce why the change is required,' said managing director Shaun Bennett.
Reactivity and innovation are key factors needed by any supplier within today's market. The major contributor for these, out with legislations are the constant technology developments from all sectors of the supply chain and the changing demands and habits of the brand owners, retailers and the consumer. Paragon has seen the shelf life of ink and coating ranges decrease dramatically over the last few years, and has therefore invested heavily in its R&D and technical departments to allow for this change in dynamics regarding innovation and the ability to sustain reactivity.
The company emphasises the importance of full supply chain team involvement to ensure that each variable within the print and converting process are developing and working together at the same pace. Support to the customer base is fundamental to technology, business and personal development, but this also encroaches on the whole supply chain. In recent years, the customer has also become integral to supporting the supplier by way of openness to testing and assisting in innovation development.
'It can be said that for all the many new developments, trends and demands within the web printed product decoration sector, none of us individual key suppliers can meet them on our own,' concluded Ms Jones.
Watching the footprint
Sun Chemical's annual Sustainability Report is published to show how the ongoing management and monitoring of key sustainability metrics is an important part of the company's sustainability policy. The latest version describes six case studies to show how its approach is used to evaluate its suppliers' environmental performance, helping to ensure that suppliers remain vigilant in developing new technology that reduces the overall environmental footprint of their products.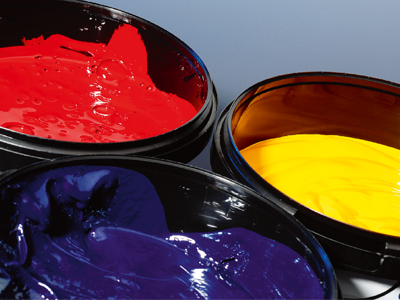 Sun Chemical has a high focus on sustainability 
During drupa, Sun Chemical together with BASF, held an event entitled 'Packaging for a More Sustainable World', which offered insights into the trends, challenges and future developments in the packaging sector. A panel debate saw expert discuss the values of sustainable technologies and inks for film and flexible packaging applications.
Reflecting on the show and ink technologies that offer more environmentally friendly options, Jonathan Sexton, European sales and marketing director for screen and narrow web, said, 'Apart from the obvious and increasing focus on digital printing, the conventional print sectors were demonstrating that traditional printing is still evolving rapidly, in particular in the area of UV and EB curing, with all the main UV drying system providers presenting capabilities in LED curing alongside the core LED system providers. The advances proposed were mainly focused on technology and process optimisation, for example hybrid systems with standard UV lamps.'
He continued, 'In the packaging and label area, there was significant focus on solvent-free printing which was demonstrated by Sun Chemical's collaboration with a number of key press providers at the show. These included presentations and live demonstrations of our WetFlex solvent-free EB flexo inks for the flexible packaging sector.'
'The need for the packaging industry to adapt to lower use of solvents and the continued reduction in run lengths has created an increasing demand for alternative solutions of which EB curing is one of the most promising and where Sun Chemical is active in several areas.'  
Pure colour
Pulse Roll Label Products recently launched the new high strength UV flexo PureTone ink system of ISO process inks and mixing bases. This was in response to a number of factors. Label print quality and colour consistency, as part of the overall product package, play a vital part in maintaining brand integrity on a global scale. There is also growing demand from label printers for greater production efficiencies, waste and cost reduction as well as downtime minimisation. All were key drivers for the development of this new product line. 
The process set (depending on anilox, plate, tape and substrate choice) allows the printer to achieve ISO compliance. The base range offers cleaner and brighter colours due to the single pigment formulation. Optimised colour strength allows lower film weights of ink, meaning more can be printed with less, and the potential for metamerism is reduced. Jobs can be moved from press to press and still achieve the same colour consistency and print quality. And greater flexibility is provided for printing halftones and full tones using only one plate.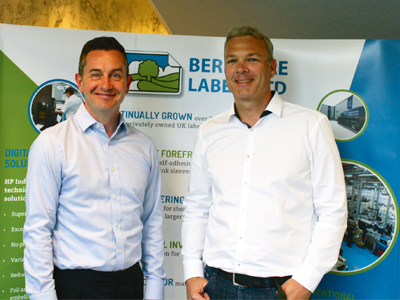 Gary Seward, Pulse Roll Label Products, with customer Paul Roscoe, Berkshire Labels
The value of PureTone is backed up by customer Berkshire Labels. With a focus on applying digital principles to UV flexo printing and the goal to have a fully ISO certified colour management system, managing director Paul Roscoe witnessed the company's live PureTone demos first hand at Labelexpo 2015. He said, 'I instantly saw the benefits and was convinced PureTone was the concept to help take us to the next level of flexo printing.'
Berkshire Labels recognised that, as well as investing in new print, anilox and HD plate technology, the choice of ink would be critical to achieving its goal of ISO 12647-6 certification (the flexographic printing standard) and ISO 12647-7 (the standard for a digital flexo workflow). The ultimate goal was to fully embrace digital colour management and run all colours under a Delta E tolerance of 2.0.
Today all PureTone process inks hit ISO standards in terms of density and colour readings. The mono-pigmented mixing bases are formulated to match Pantone and spot colours, all achievable using the same plates and standard volume anilox rollers ensuring standardisation across all flexo presses. The concept also fits perfectly within the lean manufacturing workflow. 'The transition to PureTone was easy and was completed within just one week,' said Mr Roscoe.
With a new ink kitchen, set up with technical support and training provided by Pulse Roll Label Products, Pantone books are now a thing of the past at Berkshire Labels. Mr Roscoe said, 'We are so confident with the PureTone ink system, that we give live demos to all our customers, including the major retailers to show the level of print quality and colour accuracy that can be achieved. We see CMYK and Pantone colours matched digitally under a Delta E of 1.5 every time.' There is no need for brand owners to approve jobs on press as spectral data taken from the print run is reported directly back confirming the colour criteria has been met. 'Colour is consistent, all backed up with reports and data,' said Mr Roscoe.