Blades of Glory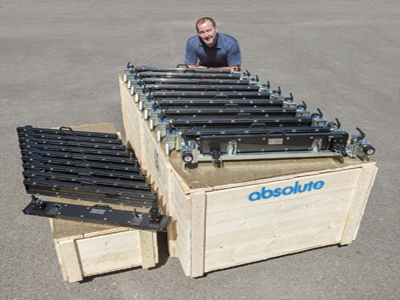 Antony Whiteside from Absolute Engineering with a shipment of the company's 2G chambers for Dutch customer Fardem Packaging BV
Doctor blades were used in other printing processes long before flexo came on the scene, but since then doctor blades have evolved into different shapes and materials, each offering its own set of benefits. By Michal Lodej.
Today, steel is still the prominent material choice for flexo doctor blades, however, there is a lot of variety within the steel doctor blade category.  This is perfectly shown by the Allison Systems' product range alone, which includes White and Blue carbon steels, Stainless Steel, Gold long life steel, and coated steel products.
White and Blue carbon steels are identical materials that share the same properties and features. Carbon steel blades are economical choices when used with short run jobs and inks that are not abrasive. They can be used on all anilox screens along with solvent, water, and some UV inks. If corrosion is an issue, a stainless steel blade may be a better choice.
Allison Gold and Laser Gold long life steel blades are better suited for abrasive applications or long runs. Typical uses would include white inks or other inks with high percentages of titanium dioxide and solids or aggressive anilox rollers. 
Unlike other steel materials, Gold blades are made from a tool steel alloy that is less likely to form wire burrs that can break off as the blade wears and become trapped between the blade and anilox, helping to reduce anilox scoring issues.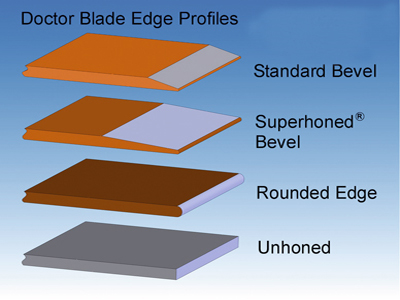 The different edge profiles available from Allison Systems
All of the metal blades from Allison Sytems can be used with ceramic anilox rollers for doctoring applications as well as containment in dual blade flexographic chambers. Metal blades can vary in thickness from 0.004-0.020 inches. Typical blade thicknesses are either 0.006 or 0.008 inches with more demanding applications requiring the use of 0.010 or 0.012-inch thick blades.
Shaping up
Eurograv Ltd director, Mike Attard, sees that today, more than at any other time, the whole ink metering process is one major area where big improvements to colour consistency and print quality can be achieved with the correct selection of doctor blade. 
In flexo, CBG's Wing lamella blade has given flexo operators a more consistent colour throughout the blade life and also improved the sealing of the chamber and the seals when compared its traditional lamella or round edge blade. 'Just these two points are saving clients time in colour control and cleans ups due to leaking chambers,' explained Mr Attard.
The Wing lamella profile has a much finer wiping area and hence printers can benefit from using this blade with high screen aniloxes by allowing a lower pressure to be used and also achieve a more defined consistent colour.
The blade can also be augmented with several different coatings for those running special inks or even those printing extended gamut, where blade changes must be kept to a minimum.
PrintBlade is the newest doctor blade brand being launched into the market from the UK machine knife and blade company, Fernite of Sheffield. The company's range of blades include the PB10, PB30, PB50 and PBSS, which come with a round edge, bevel edge or lamella edge. The PB10 is a carbon steel blade, while the PB30 is a specially adapted tool steel for longer life. For print runs which will cause exceptional wear, the company offers the PB50, an alloyed tool steel with increased hardness. Finally the company's PBSS is a stainless steel blade for use with high corrosive water based inks.
Metal free
Fibreglass composite doctor blades can provide longer life at high speeds when compared to carbon or stainless steel blades.  Since they can match metal blade performance with respect to fine screen metering, composite blades can be a good choice for most abrasive or high solids inks. However, a composite blade will typically allow some surface ink to remain on the anilox roller. Composite blades are reinforced with glass fibers which help them to avoid the plastic deformation issues that plague un-reinforced plastic blades during a press run. 
Allison Systems' fibreglass doctor blades are made from cryogenic grade.  Common applications involve paper and board substrates and line work.  Graphite blades are made from fibreglass composite that is impregnated with graphite. These are typically used on larger ceramic anilox rollers and are commonly used for higher end graphics in corrugated applications.
Plastic doctor blades provide a lower coefficient of friction on ceramic anilox surfaces and long life.  For doctoring applications, plastic blades have to be thicker than metal or composite blades to provide the same rigidity. However, the thicker material will typically leave the most surface ink on the anilox roller of all blade material types and thereby provide less consistent print quality. Other issues with a plastic blade is deformation, which can lead to dot gain, hard particle damage, and particle embedment. Plastics work best for line work with less than 400 count anilox screens that are printing abrasive or high solids water based inks on paper and board substrates. 
The doctor blades manufactured by Esterlam are made of bi-axially oriented polyesters. The process of stretching the polyester materials in both transverse and longitudinal directions aligns the molecules in the polymer, which creates a material with far higher crystallinity, which is much harder and more versatile.
According to Esterlam's commercial director, Neil Hailey, 'The same bi-axial orientation of the material generates material characteristics which offer improved temperature resistance and also improved chemical resistance too.
'Esterlam blades have a much wider resistance than other extruded polymer blades. This means when using the blades in hot water wash up systems, the blades won't twist, warp or buckle like other extruded acetals or plastics. Bi-axially oriented polyester provides the best overall results in temperature, chemical and wear resistance.'
Another important benefit is the spring memory of the material. Polyester is highly crystallised when compared to off the shelf-extruded plastics. 'During the manufacturing process the material is taken to very high temperatures, stretched under enormous pressure and energy and then rapidly cooled. This gives the material excellent 'spring memory',' added Mr Hailey. 'Steel blades are all made from 'spring' steel. This spring memory provides more consistent pressure on the anilox roller over a longer period of time and subsequently more consistent ink values.' 
Get your coat
PrimeBlade Sweden is introducing the Ceramic Coated 700 series doctor blade, developed by combining its surface grinding and special surface treatment technology, which improves the coating adhesive bond and wear resistance compared to existing coated products.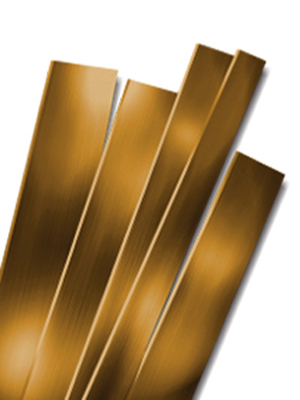 The ceramic Coated 700 series doctor blade from PrimeBlade Sweden
The high grade steel together with the special ceramic particle surface coating technology gives a very low doctor blade tip contact friction, enhanced lifetime, and gives a clean wipe. It reduces the brittleness and cracking risk in the ceramic coating area, and lessens the risk of blade damage due to mechanical impact. Also, due to the refined steel and extra fine ceramic particles used, it reduces the ink contamination that causes higher wear on chrome cylinders.
In the near future PrimeBlade is also looking into the possibilities to combine two different technologies, nano treatment and the ceramic coating to improve doctor blade performance even further.
A recent development from Swedev for longer blade life in fine printing is the H7 blade with a newly developed durable low-friction coating on wear-resistant base steel.  The coating is less prone to chipping and gives decreased cylinder wear compared with other hard coatings. The durable coating has superior corrosion resistance and helps maintain a smaller contact surface for better wipe in comparison with other hard coatings at a relatively wide range of contact angles.
TKM Meyer, BTG and Europex Equipment worked closely together with customers to develop an entirely new DuroBlade, which was launched at drupa 2016. The DuroBlade HL offers an entirely new ceramic tip; resulting in immediate bedding in, with the same long life and consistent print quality. The ability to run for prolonged periods without blade changes, coupled with no bedding in time, means less wastage and less downtime.