Low migration in flexo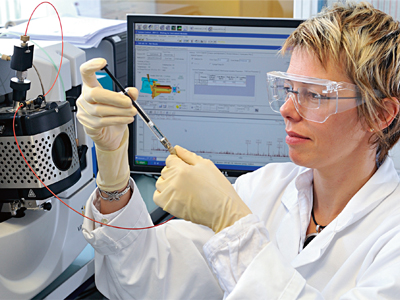 Migration test with liquid chromatographer
If you print food packaging you are responsible for ensuring it does not affect the contents. Analytical chemistry can measure contaminants in tiny quantities and as food safety concerns grow for brands and retailers, the pressure is on for converters and their ink suppliers to prove their products conform. By Sean Smyth.
There is no law covering inks, varnishes and adhesives that are approved for use in food packaging, but there are several sets of guidelines in operation. The bottom line is packaging must not affect the food it contains, and some leading brands now demand higher levels of safety than even the regulations demand. Materials must not transfer any components into food in quantities that could endanger human health, change food composition in an unacceptable way or deteriorate its taste and odour. It is not just UV inks that may lead to problems, residual solvent and materials in water-based inks can lead to problems, along with adhesives and coatings.  
A low migration ink or coating, when properly applied and dried, must only release amounts below accepted levels of components or materials that could migrate into a food after printing. There are no definitive accepted levels, or materials that are accepted although there are comprehensive lists of material that cannot be used.  The Swiss Ordinance on Materials and Articles in Contact with Food (SR 817.023.21) has such a list and the EuPIA (Association of European Ink Manufacturers) also publishes a banned list. These are upgraded as evidence of potential harmful materials comes to light, packaging and label converters producing for food need to be aware of changes.
Several flexo ink suppliers provide guidelines for use. Siegwerk (who sold its web offset business to Flint in July 2016 to pursue its strategy of focusing on packaging) has a team exclusively dedicated to safety, ensuring products meet both regulatory compliance and brand owner requirements. Packaging inks and varnishes are formulated and manufactured in accordance with Good Manufacturing Practice (GMP) with no ingredients on exclusion lists. It has implemented comprehensive raw material introduction processes aiming to characterise the chemical composition of all raw materials, down to trace amounts in parts per million.
Migration optimised UV inks are marketed under the Sicura brand. George Ashmore, technical service manager for Narrow Web at Siegwerk UK, commented, 'Sicura inks are highly reactive, robust and durable and can be used on paper, cardboard, aluminium and plastics. For food and cosmetics applications, we offer specially developed ink and varnish systems which are distinguished by extremely low migration tendencies and fulfil all legal requirements and regulations. As a global leader in providing product safety, we support our customers with training courses on all matters of food safety and regulation to ensure the safety of their products.'
Siegwerk provides a useful customer guidance brochure, Know-How.  Sun Chemical has its Designing Packaging with Certainty, A Best Practice Guide, which outlines the issues and provides support in developing a safe and secure manufacturing environment.  Their recommendation is to take a four-step approach:
At design and prepress stage consider the materials, filling processes and end user requirements Select the appropriate materials – substrates, laminates, inks, coatings and adhesives Print process and finishing – running and set-up working practices, housekeeping and selection of consumables such as machine grease and cleaning chemicals  Print room, storage and transport including any outer wrapping for goods for transport
This makes it very clear that simply using low-migration inks and varnishes is not good enough to ensure compliance, it is a holistic approach to manufacturing, storage and transport. Sun Chemical has been working to understanding the factors affecting migration for many years and has developed a complete portfolio of inks and coatings for low migration sensitive packaging, supporting packaging chains across a range of print processes and technologies. It has electron beam inks that do not contain photoinitiators that can be problematic. Flint offers Flexocure Ancora as a low migration UV curing ink series for narrow web applications.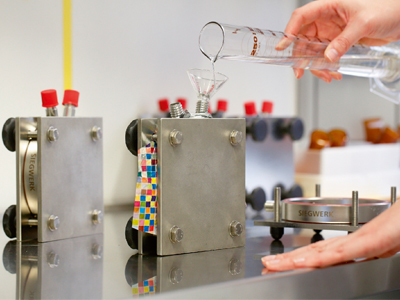 Test with migration cell
Improvements in analytical chemistry techniques make it possible to detect ever lower amounts of components migrating from printed ink. These can measure materials in the parts per billion range – a few sugar grains in an Olympic sized swimming pool. It is not just the ink formulation that could lead to contamination, the source could be the grease on a roller, or wash-up fluid that gets onto a reel. Converters should follow standard procedures that identify such risks and eliminate potential problems. 
This would form the basis of GMP, which is increasingly needed across the supply chain. It will cover raw material suppliers, ink makers and converters, with processes controlled, monitored and documented to ensure the correct materials are used with no contamination, and the manufacturing procedures are followed. This is a topic close to the heart of Amanda Jones, the marketing director for Paragon Inks, who make UV inks in Scotland. Its approach is to support customers in an optimisation process. An excellent example of this is the low migration vision and commitment that Paragon Inks and YRG Eclipse have created for all of YRG Eclipse's mock-up customers, offering them a complete low migration ink and finishing system. 'It is an industry first and one we will be backing all the way, giving out brand owner and retailer customers a complete GMP and low migration compliant from the innovation and mock-up stages onwards,' said a very enthusiastic Mark Gration, managing director of the YRG Group.
EuPIA publishes a guide covering GMP for the production of inks for use on the non-food-contact surfaces of food packaging and articles intended to come into contact with food. The fourth edition was published in March 2016 and can be downloaded from EuPIA's website. It provides guidance on conducting a risk assessment, covers the necessary hygiene requirements, personnel, planning, design, purchasing, production, quality assurance and control, and how to operate the overall system. There are several flow charts showing the processes in detail, and what is required to gain approvals and compliance. There is a very useful failure mode effects analysis (FMEA) section that shows the potential impacts of a failure, taking the factors' potential severity, the probability of occurrence and the detectability of a failure. 
GMP is an all-encompassing production system that involves documenting the procedures, identifying non-conformity and taking steps to correct such events. Training all personnel is necessary and the management of the company must support the adoption of the processes. Suitable inks and coatings must be specified, and care taken to ensure drying and curing conditions are properly performed. There may be problems with end customers accepting additional costs of the safety first approach, of course. Getting it wrong can be catastrophic for the consumer, the brand and the converter. 
Nestlé claims to be the world's leading nutrition, health and wellness company, placing food quality and safety as their top priority. With good reason; In 2005 Nestlé baby milk packed in cartons was found to contain isothioxanthone (ITX), a photoinitiator used in UV curing inks on the outside of the flexo printed liquid cartons involved. This high profile scare led to milk being removed from shelves at a direct cost of some €2 m, significantly higher in terms of adverse publicity. The carton manufacturer was Tetra Pak, and they discontinued the use of UV curing. Nestlé developed extremely stringent procedures to ensure this never happens again, all packaging suppliers are audited to prove that they meet these requirements. 
The Nestlé Guidance Note on Packaging Inks specifies the mandatory four standards (for outer printing, UV printing, inner printing and inkjet printing) of the Standards on Materials in Contact with Food GI-80.008 that are mandatory for all Nestlé packaging. It forms the basis of the Swiss Ordinance and will be developed in future regulations across Europe, with the German Ordinance in development, although this may be superseded by an EU approach.    
Converters should ensure there is no chance of contamination leading to organolepsis (any change in taste, sight, smell or touch must not occur) from any food packaging or label.  Responsible ink suppliers are only too happy to provide help that makes all packaging safer. However, the ultimate responsibility is yours as a flexo converter.