Are UV LED inks the future?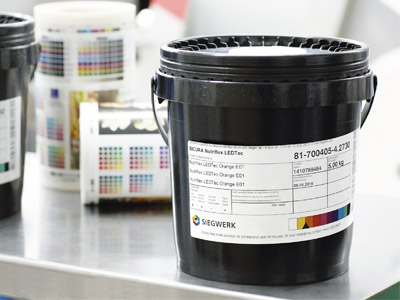 Siegwerk launched its low migration UV LED flexo inks in 2016
As UV LED inks and curing enter the mainstream, we ask the ink manufacturers active in this sector to tell us about their products and what they predict will be the future for this technology. By Neel Madsen.
There are an increasing number of UV LED compatible inks on the market today as ink formulation technology has grown in step with the acceptance of LED curing systems. Formulating inks for this type of curing has also improved due to more readily available base materials, including new resins, monomers, oligomers and photoinitiators. 
Growth driver
Siegwerk offers a wide portfolio of UV and UV LED inks covering all print applications, including low migration inks, varnishes and metallic inks.
In 2009, the company's ink specialists demonstrated the use of inks that had been matched to the specific radiation spectrum of UV LED light, on a Gallus EM 280 at Labelexpo in Brussels. With SICURA Nutriflex LEDTec, the company has now also launched a migration-optimised UV LED ink series for food and pharmaceutical packaging as well as label applications. This series includes process colours, Pantone bases, whites, OPV and metallic inks.
George Ashmore, technical service manager narrow web, said, 'There will be a further shift from conventional to UV LED inks over the course of the time, as the first migration-optimised UV LED ink systems are now on the market. A further expansion of applications will enable printers to use UV LED inks for their full range of print jobs, which of course will then drive the implementation and usage of this technology.'
He concluded, 'Printers are increasingly interested and opting for UV LED technology regardless of the printing process used. With its potential for eco-efficiency, cost-effectiveness and productivity advantages, it is definitely one technological advance of recent years that will drive future development in the printing industry. Going forward, there will be an increase in UV LED solutions and applications; the next level is already within reach.'
Low migration
Flint Group Narrow Web has been developing UV LED inks for a number of years under its EkoCure brand. At Labelexpo in September, the company launched EkoCure ANCORA, a low migration flexo ink series for high-speed narrow web and flexible packaging applications. It was developed using specially selected raw materials that match the narrow and targeted wavelength area that is typical for UV LED lamp output. The ink is compliant with the Swiss Ordinance, Nestlé Guidance Note and FDA regulations.
Kelly Kolliopoulos, global marketing director, said, 'With our dedicated portfolio of low migration inks – or better terminology, 'food packaging compliant' inks – we provide narrow web converters with the right products to expand into the growing market segment of flexible packaging.' 
She continued, 'The innovative journey to develop UV LED curing products, that was started four years ago by Flint Group together with key converters and lamp and press partners, is advancing toward the next milestone development, low migration UV LED curable flexo inks.
'We believe strongly in low migration UV LED technology because it offers all the economic benefits of better press uptime, increased press productivity, and reduced energy consumption in addition to assuredness of cure and food packaging compliant formulations. EkoCure ANCORA provides the converter with an opportunity to grow their business in a new market space, and the peace of mind that they will meet the compliance requirements of the food packaging industry.'
Available in a range of Pantone basic colours, as a four-colour process set
and in opaque white, the new ink range is suitable for coated and uncoated papers, PE, top-coated PE and PP, BOPP and other films, for applications including self-adhesive labels, wraparound labels, in-mould labels, shrink sleeves and unsupported film.
Focus on compliance
'This year has seen a significant market interest for UV LED ink technology especially within the narrow web label market both in offset and flexo printing,' said Mark Walkling, product manager, energy curing packaging products and narrow web labels Europe, at Sun Chemical.
Sun Chemical has been involved in low energy curing since the early days of offset printing in Japan in collaboration with Ryobi and its DIC parent company. This has resulted in the introduction of products for HUV and LED printing including developmental food packaging compliant inks. 
Mr Walkling said that more recently, Sun Chemical has been closely monitoring developments in UV LED flexo technology and market take up. From this research, it has concluded that efforts should be focused on compliant systems, primarily focused on sensitive applications, such as food, pharmaceutical and cosmetics packaging.
He continued, 'In the narrow web label market, although penetration in Europe is still very low, we can see interest increasing as most press manufacturers now have lamp systems available on new presses or for retrofit purposes, some being fully interchangeable for complete flexibility.'
The challenge for Sun Chemical has been to develop a fully compliant ink range for flexible food packaging that provides the required adhesion and lamination properties while maintaining the very low levels of migration required. Other challenges include minimising the cost impact of extra photoinitiators or functionality, yellowing and visible light skinning.
Sun Chemical's SolarFlex LM Lite has been developed to meet the needs of flexible packaging and label customers wishing to convert to UV LED flexo and will be commercialised shortly, said Mr Walkling. 'Demonstrating its commitment to the technology, Sun Chemical is investing in UV LED lamps on a six colour flexo printing press in the UK to support the requests from label and flexible packaging customers.'
He concluded, 'At Sun Chemical, we continue to develop strategic relationships with leading industry partners and leveraging resources from within our own parent group, DIC, to develop new materials and ink technology concepts which will enable the creation of the next generations of UV LED inks.'
Close cooperation
The 68NC Series UV LED flexo ink from Nazdar Ink Technologies has been specifically formulated for tag, label and packaging applications. These inks have rheology characteristics making them ideal for most printing equipment and product applications, and were formulated for use with UV LED curing lamps of at least 8 W/cm2, which have an output wavelength of 395 nm.
The ink series was formulated using ingredients as specified by the Nestlé Guidance Note. It is suitable for pressure-sensitive vinyl, top coated and print-treated polyester, BOPP films, polyethylene, polystyrene, coated paper and board, PETG, PVC shrink, and direct thermal paper.
Rich Dunklee, global market segment manager, UV inkjet inks, said, 'For ink manufacturers like Nazdar, it is important to work closely with our printer manufacturer partners in the development of UV LED curable inks. While it is true that many inks developed for use with mercury arc lamps can cure with an LED lamp, that cure may not be as efficient or complete as if the ink has been exposed to a multichromatic UV bulb.'
Read the full feature here.