Instant cure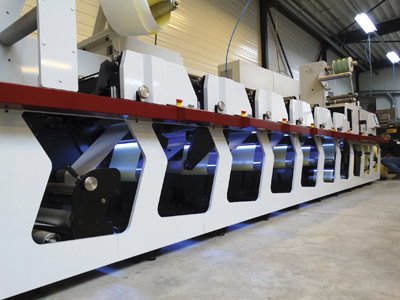 Dutch Graphic Group installed a Mark Andy P5 fitted with ProLED UV curing from Phoseon
The flexo industry is moving towards replacing conventional curing systems with LEDs but what are the advantages and the options? By Nessan Cleary.
An integral part of printing inks is the ability to dry them, with many converters favouring UV inks because they cure almost instantly, allowing for further inline processes. There is a growing trend towards using LED light sources to cure UV inks, with most narrow web flexo press vendors now offering UV LED curing as an option for new presses. Most companies developing UV curing systems also offer retrofittable LED kits and work directly with converters to help them upgrade their presses.
A Light Emitting Diode (LED) is basically a semiconductor that produces light in the UVA range between 365 and 405 nm when connected to an electric current. The use of LEDs should lead to significant savings in running costs for converters. This is partly because the lamps use considerably less power when they are on, and only need to be on when actually curing, leading to lower energy bills. Also, since the semi-conductor is a solid material it is not likely to break or wear out easily so the lamps last longer than mercury or metal halide lamps, with a typical life span of around 20,000 hours. Better still, LEDs can be turned on or off instantly so this should equate to several years of use. Conventional lamps, on the other hand, have much shorter life spans, which will also include the time it takes for the lamps to come up to temperature.
What's available?
There are several companies that specialise in developing UV curing systems that can be used for flexo printing. Phoseon, for example, is completely focused on UV LED curing systems. It has its Semiconductor Light Matrix, or SLM, technology that combines LED arrays with optical systems, to better target the curing energy, and cooling to manage the heat generated from the LED arrays.
Phoseon offers a choice of two systems suitable for flexo printing both of which can handle a wide range of substrates, including heat sensitive films, shrink films and direct thermal paper as well as metalised pouch materials. The FirePower FP501 is a water-cooled system designed to work with presses running at up to 230 m/min. The alternative is the FireJet FJ200, which uses air-cooling and is meant for older presses running up to 150 m/min. An integral part of both solutions is the Flex Tower, a modular unit that controls the power distribution to each light source and doubles as the control point to be integrated with the press control system.
There is a retrofit installation kit that includes the light sources, cables, control systems and any shielding and cooling systems as necessary.
Mark Andy used Phoseon's FirePower system for the ProLED option for its narrow web flexo presses. This collaboration also includes EkoCure LED curable inks from the Flint Group. Mark Andy recently installed a 330 mm wide P5 press fitted with ProLED curing at Dutch Graphic Group, based in Venlo, Holland. It is a six colour press that runs at 160 m/min and has replaced two older presses. Much of the company's work comes from the nearby AGR wholesale auction market for fresh fruit and vegetables, which requires food-grade packaging. Nino Venezia, who owns Dutch Graphic Group, explained, 'This was one of the reasons we specified LED lamps in the UV curing system. They have instant off/on, consume less power, have a longer lamp life, and crucially generate no ozone. LED has to be the way forward, especially with sensitive products like food.'
Best of both worlds
IST Metz has developed both conventional and UV LED curing systems for different uses, including the MBS system for label printing. The MBS system is available in a conventional UV version called LampCure, or as a LED version called LEDcure. They are the same size and use the same power supply so that it is easy to switch from one to the other.
Codimag has worked with IST to fit an MBS unit to one of its Viva 340 label presses for curing waterless offset UV inks. Benoit Demol, president of Codimag, explained, 'In addition to its other benefits, MBS LEDcure technology reduces the heat generated by dryers, enabling the printing of temperature-sensitive substrates, including shrink sleeve materials. This ability can help users extend their product offering and attract new customers.'
GEW makes a range of UV curing systems, with a choice of conventional mercury arc lamps, LEDs and hybrids. This includes ArcLED, a hybrid solution, that allows converters to start with a conventional UV approach and then upgrade to LED curing. There are separate cassettes for each type of lamp and a standard housing that accepts either. This approach also means that future systems can be designed to work with the same housing. They use the same Rhino power supply, which can automatically switch between AC for Arc lamps or DC power for LEDs.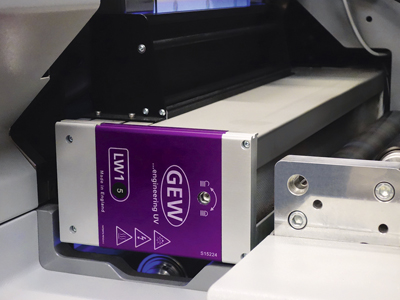 GEW sells a number of UV LED curing systems, including this LW1
The LW2 LED units are water-cooled and supplied in 25 mm sections that can be used to create arrays up to 2.4 m wide. There is a choice of 385, 395 and 405 nm wave lengths. GEW recently showed off a new air-cooled LED system, the LA1, that uses the same LEDs and is said to produce the same output as the more expensive water-cooled system. There is less piping needed so it's easier to install, which helps to keep the cost down.
Electron beam
Ebeam Technologies has developed a completely different system based around electron beam technology, which also forms the basis of X-Ray scanners and sterilisation systems.
Elsa Callini, business development manager for Ebeam, explained, 'We create electrons instead of photons. The electrons travel to the substrate and they break the bonds of whatever is on the substrate. This is what we exploit for sterilisation.' Not surprisingly, Tetrapak is a major customer. She added, 'For curing ink we create radicals and these radicals cross link with polymers. We can induce the bond between a coating and a substrate that would normally not want to match.' The simultaneous crosslinking of polymers results in tougher scratch and puncture resistant packaging materials.
There is no need for photoinitiators in the ink as the electrons trigger the polymerisation effect, but the presence of the photoinitiators will not inhibit the curing. Ebeam is working with a number of ink companies but in theory it should be possible to develop cheaper inks without the photoinitiators.
The system will work with a wide range of substrates, including aluminium foil. The electrons travel through the entire ink layer and the substrate to cure all the ink. Furthermore, there is no odour, which typically results from UV curing. This is a considerable benefit for food packaging, which is the main target.
The ebeam system is either on or off and Callini says that it does not degrade over time. The lamp has a typical service life of around 8000 hours. Ebeam has created a compact sealed unit, which it calls an eBeam engine, that includes the ebeam Lamp together with a high voltage power supply and cable. It can be retrofitted to existing presses and there are two sizes available for working widths of 270 and 400 mm.