Strong and stable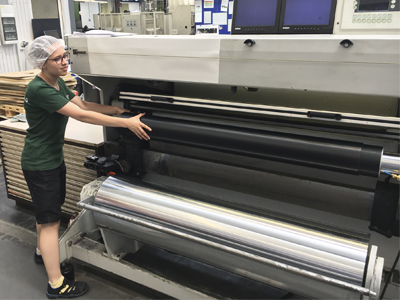 The rotec Eco Bridge sleeve in use at Rommelag Flex in Germany
Developments in sleeve technology aim to provide higher and more consistent print performance and increased productivity as well as a safer working environment. By Neel Madsen. 
Plate mounting or carrier sleeves and adapter or bridging sleeves are available in various widths and thicknesses for narrow to wide web presses. They can be bought with the press, from the press manufacturer or separately from specialist suppliers. 
Plate mounting sleeves are used to reduce downtime and make the printing process quicker and more stable as the whole plate mounting process takes place off press. For repeat jobs, the printing plate can be left on the sleeve and used again. With most systems, the sleeves are then floated onto an air cylinder on press and held in place using air compression. Adapter sleeves are used to bridge the difference in diameter between the air cylinder and sleeve, combined with the plate mounting sleeve or used for mounting In-the-Round printing sleeves.
The drive to meet the challenges of today's pressroom environment is seeing investment in capacity, service and R&D.
Capacity increase
Trelleborg has been manufacturing sleeves for narrow and wide web presses for over 20 years. The range includes Coaxcyl EM thick and Coaxcyl TR thin plate mounting sleeves, the Coaxcyl BS composite bridge sleeves, with either standard air holes ventilation, or separate ventilation, and the Carbon BS high performance carbon fibre bridge.
The company's Printing Solutions has completed a major investment programme at its Axcyl flexo sleeve production facility in France, commissioning a new oven, grinder and sleeve indexing facility. The project is part of an ongoing increase in capacity at the site, which also includes the creation of the new position of director of operations, a role now filled with by Katia Deycard, who has 15 years' experience in production and quality management positions.
Damien Leterrier, sales and application manager, said, 'It's an exciting time at the Trelleborg Axcyl factory. A significant amount of work has been carried out over the last two years to increase production capacity so that we can ensure a faster turnaround of flexo sleeves. We've also examined the entire operating structure and have altered this to improve our service to customers even further.'
Lightweigthing
'The recommendation for the correct adapter/sleeve split has over the years developed to the common rule of thumb that sleeves should have a max wall thickness of around 20mm in order to allow the press to run at higher speeds over 400m/min, whilst obtaining superior results, especially on half tones and vignettes,' said Ellen Brimble, managing director at Rossini UK. 'Recently, Health & Safety rules have gradually been implemented in many companies that reduce the handling weight from max 20kg to 15kg, which of course poses a new challenge to sleeve suppliers.'
To meet these challenges, Rossini has developed a new lightweight sleeve called Hony, which is available in both conductive and non-conductive version. Compared with a conventional sleeve of the same dimensions, the weight reduction is 70%. Its surface and side structure are sealed to ensure no solvent or humidity can ingress into the sleeve, which could otherwise result in loss of dimensional stability over time. 
Mrs Brimble said, 'A very exciting 'side effect' appears to be that for the first time there have been measurable advantages of bounce reduction in a press that come from using this specific sleeve type.' In order to tackle bounce, customers usually work with a high modulus adapter in combination with the plate sleeves. She continued, 'The special Hony sleeve construction appears to have a similar effect when used in a press. As an example, one of our North American customers decided to equip his press with a significant amount of Hony sleeves due to a new weight restriction for any single individual to lift. Over a period of six months, they realised that the sleeves were actually providing an additional benefit, namely faster press speeds. After a brief comparison, they determined they were getting 15-20% higher speeds due to reduced bounce.' The general feeling was that the honeycomb structure, coupled with the carbon fibre layer, was providing a dampening effect, allowing higher speeds. 
And breathe
Flint Group offers the rotec product line, which includes all types of sleeves. The most recent innovation includes the rotec Eco Bridge, a patent-pending adapter with a more efficient air supply system. This features a breathable metal ring on the operator-side, which creates an air pillow to more easily mount sleeves. This new technology promises up to 90% reduction in compressed air and 99% reduction in noise. The Eco Bridge has been nominated in the Innovation category at the FlexoTech Awards. 
The feedback from customers has been positive. Torsten Kohm, production shift leader at Rommelag Flex in Germany, said, 'Our press operator was ecstatic. Mounting is much easier than before. The noise is significantly less than normal, and the best is, we can de-mount the 420mm repeat sleeve with one hand, without effort! Perfect development for our pre-press operation.'
On the plate mounting side, the rotec Smart and rotec Smart Premium are two new generation sleeves with an upgraded construction. The base sleeve has been optimised with 'easy-mount technology' to make sleeve mounting easier and more efficient. The intermediate layer is made with advanced materials for mechanical durability and with up to 15% weight reduction compared to similar products. The Smart Premium has an additional barrier layer for dimensional stability and register accuracy.
Forever tacky
An alternative to traditional plate mounting sleeves comes from Polymount, which has the Twinlock sleeve – a self-adhesive and compressible sleeve that needs no mounting tape in order for the plate to adhere. A sleeve or cylinder from any manufacturer forms the basis of the Twinlock. This is then coated with a layer of polyurethane (PU) foam, followed by a special coating made from a polymer that has been treated to retain its tackiness. The PU foam layer is 1.5mm thick and the coating adds another 0.5mm, creating a 2mm layer on top of the base sleeve, which can absorb any bounce in the press. The open cell structure of the foam will always recover after compression and not wear over time.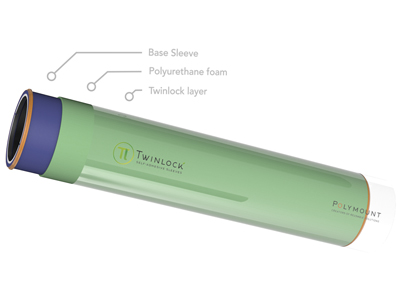 Twinlock sleeve construction
Carlos Saya, marketing manager, said, 'We know that some printers, even the biggest groups, choose Twinlock due to the fact that they can have more output on the press due to the unique build up of our sleeve and the ability to absorb bouncing better. If you can print all of your jobs on maximum press speed, which you couldn't do with mounting tape that
is a huge gain in output and thus more profitable.'  
The Twinlock sleeve is available in four types each produced in soft, medium or hard to cover any flexo application. The medium hardness sleeve is the most used with 85% of Polymount's customers choosing that product. Mr Saya continued, 'Roughly you could say that the cost of the Twinlock Sleeve is twice the price of the base sleeve! This seems to many as a high cost or investment, the ROI of the Twinlock Sleeve lies between 20-30 times of usage.'
The adhesion of the sleeve is permanent as the polymer's properties allow it to remain tacky forever. The polymer can't develop as long as there is oxygen surrounding it. Mr Saya said, 'Most of our customers only need to recoat their sleeves due to the fact that the base sleeve is damaged, while the Twinlock coating is still working perfectly.'
After printing, the plates are demounted and the surface of the Twinlock sleeves treated with the Twinlock Activator. After activating, the sleeve will need to dry for a couple of minutes before it can be reused for the next job.
Fine jewels
Polywest supplies conductive sleeves called Onyx+ for customers in the EU, which are using mainly solvent-based inks. A non-conductive sleeve called Rubin+ is used for UV- and water-based inks, however both versions can be used generally with all inks.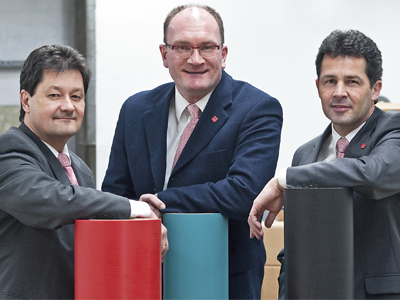 The Polywest management team (L-R): Michael Bormann, head of sales, Jörg Saueressig, owner and general manager, and Michael Kockentiedt, technical general manager
The plus feature signifies the fibreglass barrier layer that lies directly below the outside PU layer. The lightweight structure of the sleeve with this barrier offers stronger stability and can also withstand the higher temperatures that can occur when printing at high speeds (temperature fluctuations of up to 50°C can occur when printing at 600m/min causing permanent distortion of the sleeve). 'In the beginning we only produced the plus version on demand, but we soon decided to offer this superior version to all our customers, and it has been the standard since 2012,' said Michael Bormann head of sales.
The Onyx Premium sleeve has special ultra-lightweight structure often needed for print big repeats with wall thickness over 30mm and or work with XXL Sleeves up to 3m width for easier handling. 
'Producing lightweight sleeves is not new for us – we have been doing that for more than 15 years – but utilising the technology for big diameters and lengths was the challenge,' explained Michael Kockentiedt, technical general manager. 'A sleeve made in 2011 with a weight of 150kg weighs about 80kg today. These sleeves have, of course, the fibreglass layer built in, but also feature special, highly reinforced ends which further protect the sleeves.'
Polywest also offers a compressible top layer called Softcoat+, which only requires a hard 0.1mm tape; the higher price is therefore quickly offset by cost savings on tape. This top layer can be produced with a tolerance with +/- 2° Shore A, and is available in three hardness grades, so the printer can decide to use a soft version for fine gradients, a firm version for full tone, or a medium for combination of both. 
Dantex established an office in Poland in 2006, and in 2010 it started sleeve production in the country, at a newly built, modern production facility near Poznan, delivering sleeves to customers all over the world. 
The division manufactures a range of products to order. It offers hard printing sleeves as a cost-efficient and flexible solution for short runs, repeat jobs and design alteration. These are available in a wall thickness from 0.6 to 100mm and a maximum length of 2000mm to cover nearly all demands. 
Its Solid Sleeve Thin (0.6-2mm) is a high precision, non-compressible fibreglass sleeve for conventional plate mounting with adhesive tape, which can be used for label and flexible packaging applications and combined with various bridge adapters for repeat length up to 600mm. The inner sleeve is made from a combination of fibreglass and high-density foam bonded with elastic cellulose-based resins, which allows increased flexibility but maintains dimensional rigidity. The Solid Sleeve is also available in a 3-100mm thick version, with a repeat length up to 1200mm.
Super strong
Dutch manufacturer Tech Sleeves offers both plate mounting and adapter sleeves. The range includes the Tech Sleeve Hard, Tech Sleeve Soft, Tech Bridge Hard and Tech Bridge Soft as well as the Tech Sleeve Thin. These are all manufactured to have a TIR (tolerance) of +/- 0.020mm checked by contactless laser TIR measurement equipment before shipping. 
The company uses a filament fibre base volumised by fibreglass infused with epoxy vinyl-ester-resin to form the core layer, which results in composite core that reduces bouncing at high press speed. The fibre used for the core is Dyneema, an ultra-high molecular weight polyethylene, which is trade-marked as 'the world's strongest fibre'. This ensures that there is no permanent deformation and also provides good resistance from aging, weathering and cleaning solvents used for polymerplate cleaning. The ends of the sleeves are sealed using an epoxy thermopolymer to prevent chemicals from damaging the sleeve.
Tech Sleeves offers a three-year warranty on its premium sleeve Tech Pro+, which is designed for the most demanding conditions in the market. The full inner metal ring of Tech Pro+ version prevents damage to the inner edge of the sleeve that can be caused by hitting the pin while positioning. The diameter of the metal ring is slightly wider than the core to guide the sleeve while mounting.
To reduce the cost of tape, the company has also developed compressible soft sleeves, which save on mounting time. A thin 0.1mm non-compressible tape instead of 0.5mm tape can be used as the sleeves are compressible up to 50% without bulging.
Read the full October/November issue of FlexoTech here. Subscribe to the magazine for free – register your details here.