More than just ink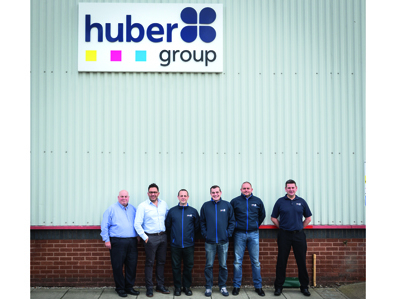 The liquid inks team at the new premises in Nottingham
When hubergroup first introduced liquid inks to the UK in 2014, the Gecko range was a new species here. The company had ambitious plans and opened a new dedicated site alongside its existing offset inks facility. Neel Madsen paid a visit to get an update.
The go-to-market strategy for hubergroup has always been to build solid partnerships with customers. Dedicated to slow and considered growth, the UK liquid inks team takes time to nurture relationships. 'People need support and innovation,' explained sales director Hal Halil. 'Our business model is to be creative and support our customers. We're not trying to take over the world; we're aiming at the medium to medium-large printers, because this is where we know we can make a real difference. We noticed a gap in the market right there where many UK converters were unhappy with the service levels of their historic suppliers.' 
It would seem that this philosophy is paying dividends as the company has converted 50% of the original ambitious target set in 2015, with yet more customer conversions on the horizon and the end goal in sight. The plan is to reach UK liquid ink sales of £6 million, equivalent to 1700 tonnes, giving huber 8% market share by 2018, and to keep growing this to 15% by 2020. 'Following our initial success, we are now seeing that customers are approaching us, having heard such good reports. They are really interested in what we have to say,' said Mr Halil.
Gecko invasion
The roots of the UK company go back to 1983, and today, it has a turnover of £36 million and 103 staff members across two sites. The new liquid inks division was set up in 2014 with just three people focusing on developing the Gecko brand in the UK market. This side of the business has grown to now involve 27 staff, headed up by a management team consisting of managing director David Ward, operations director Andrew Pike, financial director Ian Richardson, sales director Hal Halil, UK technical manager Richard Birch and David Jackson, key accounts manager.
In May 2016, this division moved into new premises in Nottingham to better serve its growing customer base. The company is certified to store 50,000 kilos on site; however, the aim is to offer a direct supply chain from the manufacturing plant in Italy to the customer. This set up is backed up by storage facilities in off-site warehouses, located nearer the customers' sites achieved through the partnership with a global logistics expert. Mr Halil explained, 'We operate a different business model here; we work on a direct delivery basis from Italy. We will remain agile and competitive to support our solvents business and our model keeps tight control over our operational business costs.'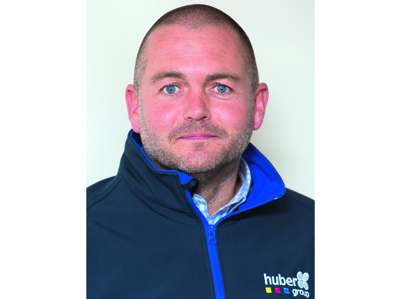 David Jackson has been appointed as key accounts manager 
Part of the plan involved putting a key accounts manager in place and continue to grow the team. That strategic role has now been filled by David Jackson, who came from the converter side, having most recently worked at Pulse Flexible Packaging. He works on key local and major European accounts, supported by a large team of technical experts.
Mr Jackson said, 'Prior to the final demise of Pulse, I was looking to progress my career and hubergroup offered an interesting proposition. The areas they are developing had a great synergy with my own interests.' Mr Halil added, 'Dave brings the experience of the converter to the table along with his knowledge of working with key brands. It gives an extra dimension to the conversation that we are having with our printer customers.'
Check it out
A lot of hard work has gone into growing the Gecko brand. Through print trials at customer sites running real jobs, huber UK has been able to prove the excellent runnability and cleanliness of the inks. Richard Birch said, 'The results have shown press speeds improve by 12-15%, with less stoppages needed and savings achieved in ink usage due to the high strength of the pigments. The sharp, clear images and cleaner print were also noted.'
'When you are printing very long runs, the press should be running towards its maximum OEE [overall equipment effectiveness], otherwise the already small margins in flexo can easily disappear,' said Mr Jackson. He continued, 'If the ink is the speed restricting factor then that is a serious issue. We are seeing improvements of up to 50-100m/min in some cases and an overall improvement in efficiencies with our ink.'
When approaching a potential customer, hubergroup will perform a full evaluation, auditing the entire operation, before making its recommendations. The audit is tracked through its customer portal !-Check, a performance improvement management system, which has been designed to log and communicate structured measurable project-based improvements.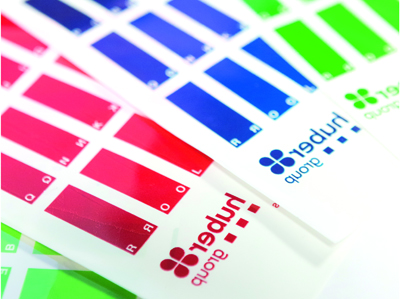 Lab testing
Originating in its offset business, the system has been further developed to fit the specific requirements of the liquid inks business and its customers. Mr Halil commented, 'Our portal is essential because we're so heavily focused on continuous improvement and working in partnership with the customers.' 
The audit takes in every little detail in the production process. 'Certain aspects are a given, but you have to do so much more than just supply the inks,' Mr Jackson explained. 'Our system gives us a blueprint to work from, and because we are using the converter's actual data, we can calculate the exact savings that can be achieved by reducing any waste in the process, be it time or materials.'
Blown away
Arrow Film Converters is one of the new customers that the company is now supplying with ink. It was looking to improve the quality of its printing to offer brighter, more vibrant colours, while also increasing the average production speed of its presses. Managing director John Graham and his team invited a number of suppliers to run trials, but after seeing the results produced with huber inks, they cancelled all other tests. 
Mr Graham said, 'We were blown away with the quality, both with the vibrant colours and how fast the inks ran on press especially on long runs. Also with how clean the plates stayed; even on 200,000 metres and above runs, we didn't need to stop the press to clean them.' 
The other aspect that swayed Arrow to opt for huber was the synergy between the two companies; both having been in the flexo market for less than three years and both putting a strong emphasis on quality first. Mr Graham said, 'We took time to meet everyone, from the managing director to the ink technicians and the people on the shop floor, and we found the ethos of the company impressive to say the least. Nothing is too much trouble and the positivity from everyone is infectious.'
He concluded, 'The handling of the transition was superb. We ran trials for two weeks and knew we had found something exciting, but to make sure, we asked if we could extend the trials for another two weeks just in case we had missed something. The huber team immediately agreed and the transition was seamless.'
Impressed with performance
Interflex Group UK has also given a home to the Gecko. Founded in 1975, the global company encompasses four facilities in the US, while its two UK sites are located in Sunderland and Dalkeith, Scotland. 
UK managing director, Graham Tilley, explained that when the contract with their ink supplier came up for renewal, there was a lot of movement in the market driven by external factors. He said, 'In truth this made it difficult for suppliers and customers alike. Brexit drove sharp movements in the euro exchange rate and equally raw materials were affected. We found that huber was able to offer a better pricing structure and stability.' 
Choosing a new ink supplier that had only been in the market for three years had its challenges. Mr Tilley continued, 'It was clear that in the UK, huber didn't have the scale and scope of the larger suppliers. However, the team was willing to support the business and invest in additional resources to do so. They brought in new personnel with experience and pedigree to support the transition and on-going business.' This approach, combined with excellent print results, won huber the contract. Mr Tilley added, 'Ink performance on line work facilitated better performance, at higher speed, and in some instances ink density, particularly on bases was better.'
Echoing the sentiments of John Graham at Arrow Film Converters, Mr Tilley was also impressed with the smooth transition. 'We have had little or no disruption through the process of moving suppliers,' he stated. 'An example of this would be the support offered by the huber team at multiple levels within our business, from operational staff helping with shop floor issues and logistics, to ink technicians helping with implementation of new procedures. This has been well received by our staff.'
With such great feedback from new customers, huber's approach is obviously welcomed by the market and the reason for its recent success. Moving from no presence in the market to 8% in just a few years in no mean feat. 'We're winning a bigger market share because the product is good, the service levels are a breath of fresh air in this market and because we offer a different proposition that offers real and tangible savings and solutions,' concluded Mr Halil. 'And it is evidence that we are not just an ink supplier, but a true business partner helping to bring continuous improvement and new innovations to our customers.'