The road to Bellissima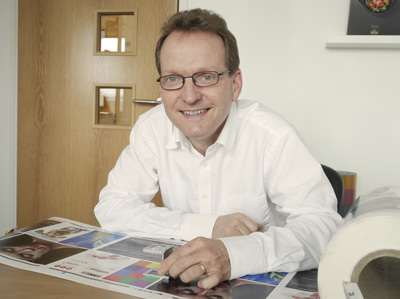 Andy Cave, Hamillroad Software CEO
Hamillroad Software's CEO, Andy Cave, is adamant that his company's digitally modulated screening software is the next big thing in flexo and has the capability to drive the industry forward. Michal Lodej visited the company's headquarters in Cambridge.
'If it were Kodak or Esko bringing out these changes, then there would be headlines all over the industry,' said Mr Cave. It is said with just a little frustration. He knows how ground breaking his technology is; he just has to convince the rest of the flexo world, no easy feat in an industry as cautious and sceptical as ours. 
He may have a good point; however, it is hard to imagine any company new to the scene making global installations in just a few months. The company only made its public debut in September at Labelexpo Europe 2017 in Brussels, but in reality it has been providing screening software for many years, albeit not in flexo.
It all started more than 30 years ago in Mr Cave's final year at university, where he built a PostScript interpreter, which he took to Harlequin, and continued to develop there, and which became the RIP we all know today. 
After Harlequin was bought out by Global Graphics, Mr Cave left and was approached by Robert Miller, Pierre Hammond and Shaun Rhoda who had set up a company in South Africa: Hamillroad Software CC. The company's aim was to replace the archiving and proofing capabilities flexo printers lost once they made the transition from using films to CTP, due to the absence of Cromalins.
New products
They founded the company to provide printers with the attributes which went missing with the advent of CTP technology, and worked closely with a South African company, Syreline Process, a flexo trade shop, to test new products. One of the first was Repliplate, which creates an archive using the TIFFs sent to the CTP for each job. That allowed printers to use those TIFF files for repeat jobs or to make new plates if any were damaged.
But they needed to make a RIP to do this, and that is why they got in touch with Mr Cave who began consulting for the company. At the same time the team decided that they needed to expand their product portfolio; Repliplate was a specialised high value product, which didn't have a huge target sector, so they wanted to create something which could be used by a much larger customer base.
This led them to create FirstPROOF, a pre-press soft proofing product that checks for overprints, trapping and other pre-press issues, which eventually became the company's bread and butter.
Screening in sight
In 2008 the company was approached to develop screening technology on an OKI printer by Compose and that is where digitally modulated screening started life. 
It was in September 2008 that year Mr Cave was invited to a litho press test in Spain by ECRM, 'The test was a disaster, but it was in the taxi on the way to the airport going home, that I had my first Eureka moment.'
Development then began in earnest on Auraia, the company's litho screening technology, and after a test at an Italian installation he had another breakthrough. That then led to more than 20 licences being sold in Germany alone in 18 months. Sales were going up, particularly in Germany which became the company's biggest market, and so took up most of the company's time and resources, however, things did not go smoothly from there. 
Hamillroad was sued in Germany over a claimed trade mark infringement, a case which it eventually won, however while the case was being pursued in the courts, no one wanted to invest in the system which very nearly caused the demise of Hamillroad.
Meanwhile, with the success of Auraia, albeit in litho, Syreline Process asked if they could try something on flexo. With everything that was going on in Germany though, Mr Cave did not have the time to focus on developing anything new, as he was building up the company again after the set-back from the legal case which had taken all his attention.
However, he pieced something together and sent it to them to try. The results that came back were excellent but to take it forward Hamillroad needed dedicated testing time, something that was hard to find. Over three years of use at Syreline, the early technology won multiple Gold awards in the South African FTAs, and so the time came to look at how this technology could be completely developed and released for flexo. 
A to B
Auraia means 'beautiful' in Greek, and so the name for the company's next version of the screening software became Bellissima, the Italian word for 'most beautiful'.  What the company needed however was a printer with the capacity to allow them to test the new screening software, in multiple scenarios with measured results. Until this could be done there was no way of telling whether Bellissima would be ready for release.
After several attempts to find such a partner, UK printing firm Coveris agreed to help develop the Bellissima screening. Coveris was a perfect fit because it had both narrow web and wide web presses.
This was the commitment the company needed and in just a few months it was able to test and fix the issues with the earlier iterations of the software. But more than that, Hamillroad was then able to develop it even further.
Mr Cave explained, 'On one press run, I saw barring for the first time and so I asked the operator, as he made some adjustments to the press, what it was and how was it caused. He explained how the gears were rather old, a bit 'mashed up', so the press didn't run smoothly and I thought about how that could be prevented in the screening process. Obviously if the screening could prevent this on the press it would help the operator enormously.'
Being in the pressroom with the operator was a vital part of the software's development, he said, 'Most of the people who sit and develop screening software have never seen a printing press. Only by being there with the printer was I able to observe how the technology was working in a real production environment and uncover such real-world problems, which then allowed me to think of ways to solve the issues.'
Making the sale
While the company states that the screening can produce extremely high-quality print, with tinted text legible even at 2 point, this is not the angle it takes when selling the product.
Mr Cave said, 'When it comes to selling the product, we barely even talk about the quality; it's about fifth on the list, as there are many other common printing problems that we can solve which provide a substantial ROI to the printer. For example the technology allows for faster make-ready, because the screening reduces registration problems and gets to colour quicker and there are savings in ink, as not only is a thinner layer of ink used, but there is less press waste due to reduced registration problems. Printers can therefore save money with this before we even get onto the subject of quality.'
All of this over the course of a year adds up, not just in terms of money but in time too. Mr Cave believes that a printer who is printing with spot colours can double his turnover and profit with the use of Bellissima and fixed gamut printing, and this applies particularly to narrow web printers who typically print many short-run jobs. Printers using the RIP  will need to install GTT anilox rollers from Apex International and use ITP-60 plates from MacDermid or EFX/ESX Easy plates from DuPont.
While only public since September, the technology is already being used by a number of different repro houses and printers across the UK. If it does what it says it can, then it will surely only be a matter of time before it is used industry-wide all around the world.