Holding it together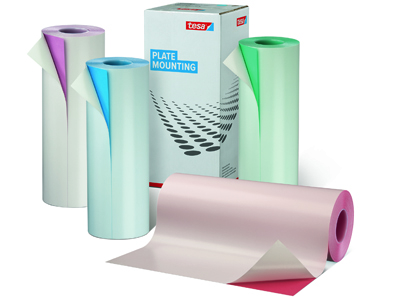 A selection of the tesa Softprint range showing the four main foam densities
Complex print jobs, increasing quality demands and narrow time frames are forcing many printing companies to further optimise their production processes with tapes playing a major part in that. Michal Lodej looks at what is on the market. 
Against the backdrop of a steadily growing packaging industry, flexo printing has established itself globally as a successful technique in relief printing. But with this comes a great deal of competitive pressure.
Equally high are the expectations on the part of customers for perfect printing results, and therefore the choice of the right plate mounting tape is a key factor for the flexographic printer. Acting as a support-structure and a damping factor, the foam tape must also facilitate an optimal printed image.
To meet these requirements Lohmann offers its DuploFLEX 5 product range, which consists of several compressible tapes that differ in their foam hardness and adhesive performance. 
The product line DuploFLEX HP 5 (High Performance) is available for particularly difficult and demanding print jobs. The HP foam used in these products plays a decisive role, it possesses high levels of stability and recovery characteristics which allows it to counteract machine vibrations, significantly reducing vibration marks in the printed image and is especially suitable for long runs and high speed print jobs.
New and improved
The company has upgraded its DuploFLEX 5 range with the DuploFLEX 5 EB (Engineered Bonding), which combines all the features of the original tape with greatly improved properties. The key feature is Lohmann's in-house development of new adhesives designed specifically for these products. 
The tape's adhesive coatings are especially resistant to solvents and have greater tolerance to environmental influences such as heat and humidity. DuploFLEX 5 EB does not only adhere well on printing cylinders of different sizes, but is also easy to remove and reposition when required without losing its high printing quality. The DuploFLEX 5 EB and EBX adhesives are available on a wide variety of foam hardnesses, from very soft to very hard, all products are available with a maximum width of 1380mm.
The company has also introduced its own Flexperts to the industry. This concept has been instrumental in helping Lohmann understand the needs of its customers. The Flexperts continue to demonstrate the use of best practice both within the FlexLab facility, using the wide web mounting machine and bespoke print simulator, or at customer premises.
This equipment is installed in the company's new technical centre based at Neuwied, Germany, and is used to assist users with both best practice and to perform testing with products associated with pre-press mounting and run-on.  The print simulator, commissioned from Tresu, is used in addition to the mounting machine for these purposes. Referring to the success of this strategy, Silvia Casellato, senior market manager graphics, said, 'I am very happy that the Flexperts are so successful with their open and friendly manner and positivity. There is a great team spirit which customers and I really appreciate.'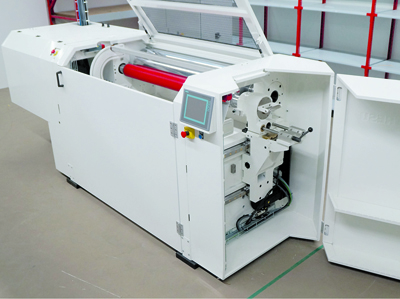 The printing simulator at its FlexLab allows Lohmann customers to run product tests
Trick up your sleeve
Due to its closed cell PE foam combined with a PET reinforcement film, tesa Softprint Classic offers easy handling and is suited to a wide range of specific applications. By comparison, thanks to its aligned design which incorporates PE reinforcement layers, the tesa Softprint Flex range is ideal for critical sleeve applications, including thin-walled sleeves and scratched sleeve surfaces.
The assortment of tesa Softprint plate mounting tapes is divided into two thickness categories: 500 and 380 microns. In the 500 microns category, two tape designs are available: tesa Softprint Classic and the new tesa Softprint FLEX to offer individual opportunities for greater process efficiency. 
For the 500 microns tesa Softprint tape category, eight different tailor-made adhesive lines are available. They are available in different foam hardness levels, making them suitable for specific print motifs such as solids, lines and screens. 
Depending on the individual printer's needs and conditions, the perfect combination of adhesives on both tape sides (sleeve and plate side) can be selected. Sleeve types, plate models, conditions, ink types, and process requirements all play a significant role in choosing the right plate mounting tape.
The company also offers three different adhesive lines of tesa Softprint Classic for narrow web printing in the 380 microns category, including tesa Softprint Steelmaster, tesa Softprint Steelmaster TP, and tesa Softprint Secure.
Packaging trends
In some market areas there is a trend towards 'no-label-look' packaging concepts, meaning that the printed information looks as if it was directly printed on the packaging instead of on a label. The area of the printed image normally has a white background, which is printed during the first step. The actual design then follows on top of the white background. The Softprint assortment for label printers offers optimal solutions for both stages in the printing process.
In case high flexibility for quickly changing print jobs and volatile requirements is needed, this can be achieved by standardised processes and a streamlined stock of consumables. The 'Medium' foam hardness of the tesa Softprint assortment for flexographic label printers offers the perfect compromise to print solids, screens, and line work with just one single tape.
All the Softprint foams are supported by a smart tape production process – leaving all foam cells intact for better cushioning and resilience over time. All raw materials used in production are selected by a team of chemical engineers and flexo market experts to ensure highest quality standards.
In addition to the comprehensive assortment of plate mounting tapes, tesa offers a variety of process and auxiliary tape solutions. One example is the tesa EasySplice FilmLine, especially developed for the splicing of film substrates. Film printers benefit from this tape series through fast splice preparation and a secure splice process, even at the highest machine speed.
EasySplice 51910 for example has a very high tack and is also hand-tearable, eliminating the need for knives or scissors, whilst tesa 51918 with its black PET carrier allows for easy optical splice detection.
Richard Eeles, strategic segment manager Print & Web Processing at tesa, said, 'We offer the most advanced flexo print tape technologies designed to meet increasing requirements for fast mounting, high print quality, and demounting tape performance. With reduced pre-press costs and results that rival the quality of gravure, we have been able to develop a wide range of product specifications with the consistency of performance that the industry demands.'
Wet and dry
BiesSse has developed a number of product lines with different price-performance ratios. The BS Firm range features various rubber-based adhesives (wet style), normally with medium/high adhesion levels, balanced on both sides.
The BS Print range features a selection of combined acrylic (dry style) and rubber-based (wet style) adhesives, generally with medium adhesion levels differentiated on each side. This product range ensures easy mounting, repositioning and removal.
The BS Mount range offers several features that make it an ideal choice for flexo printing applications. According to the company the range has a high resilience formula for perfect printing results at high speed and long printing runs. It comes in two thickness ranges and 10 different colours for wide range number of thickness and compression combinations, for more suitable selection and higher printing yield.
The tape's structured PP-liner is transparent to make it easier to identify air-bubbles; the surface structure is designed to impress a specific pattern in the adhesive that allows the smooth distribution of the air granting an ideal bonding to the widest possible contact area.
Among the BiesSse equipment solutions for flexo printing, allowing for the resolution of critical issues of pre-printing process (such as plate lifting and air bubbles), the TPMM – Tape and Plate Mounting Machine is particularly important. The BiesSse TPMM is the first compact and fully automated machine capable of automatically measuring the sleeve profile and applying double-sided adhesive tapes and plates, capable of substantially improving the pre-press process. It guarantees repeatable and very high precision mounting operations, at the same time reducing waste, in line with lean manufacturing practices.