UV LED brings new opportunities in short run packaging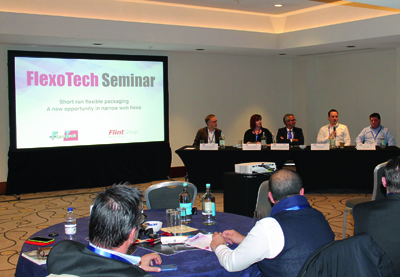 A panel of experts answered questions from the audience
In cooperation with Flint Group Narrow Web, FlexoTech presented a seminar dedicated to exploring new markets for narrow web flexo printers using the latest in UV LED technology. Neel Madsen reports on the window of opportunity.
Held in the afternoon ahead of the FlexoTech Awards gala dinner in November last year, the second annual seminar encompassed presentations aimed at investigating opportunities for flexo narrow web operations in food safe flexible packaging printing. From a technical point of view, it focused on how the latest developments in UV LED curing and inks are now opening up new markets that have hitherto proved problematic for traditional UV flexo. 
To present this opportunity to printers and discuss its merits, the seminar saw speakers covering food-packaging regulations, curing technology, inks and printing presses. Covering the whole gamut, speakers included Joanna Griffiths, packaging technical manager for BRC Global Standards; Phil Baldwin, aftermarket director Europe at Mark Andy; Alan Mills, sales manager EMEA for AMS Spectral UV; and Dr Patrik Gavelin, R&D director, product development laboratory, EMEA/APAC, Flint Group Narrow Web. 
The narrow web converter's real life experience of using UV LED for food packaging printing came from Antonio La Franceschina, co-owner and managing director of Italian printing company ACM, which has been at the forefront of developments. The flexible packaging producer supplies over 500 brands in the food, cosmetics, pharmaceutical and industrial sectors, specialising in a variety of applications including bags and all types of pouches. 
During the panel debate at the end of the programme, there was plenty of opportunity to ask the speakers detailed questions about this very specific market and the debate continued for some time.
Living up to standards    
BRC Global Standards is a leading brand and consumer protection organisation, and there are over 26,000 BRC certified suppliers worldwide, with certification issued through a global network of accredited bodies. Joanna Griffiths is responsible for the BRC Standard for Packaging and Packaging Materials, which affects producers of raw materials and the production of packaging materials for conversion or printing. 
Laying the foundation for the seminar topic, Ms Griffiths spoke about the advantages of being a BRC accredited site. These include attracting new customers and the ability to move into new markets. The standard is widely accepted by packaging specifiers worldwide who find suppliers through the list of accredited sites and it gives them more confidence in the company. Through the rigorous, independent third-party audit, a programme of continual improvement can be identified and a comprehensive system set up to manage product safety and quality.  
The globally recognised standard is regularly updated and there are also a number of additional modules that deal with environmental awareness and specific brand guidelines.
Looking at the legislation covering food packaging manufacturing, Ms Griffiths discussed the main EU regulations and how to comply with these through Good Manufacturing Practices and declarations of compliance. BRC has worked with the Food & Drink Federation and Campden BRI to publish the 'Global Guidance on Migration from Packaging Materials into Food' – a comprehensive tool that covers migration, legislation and best practice. It is available along with other supporting documentation from the BR website.
On press
Press manufacturers are also aware of the opportunities in short run food packaging. Flexo technology has improved dramatically in the last 10 years and a much wider range of substrates can be printed with modern presses. Mark Andy's Phil Baldwin said, 'Narrow web is not so much 'narrow' anymore. We are now seeing presses up to 26 inches wide on the market and these are usually used for flexible packaging.'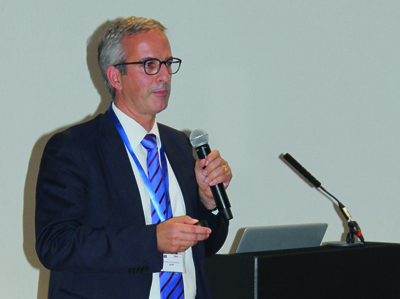 Antonio La Franceschina  from ACM in Italy shared his experience of UV LED
The company is seeing the demand for flexible packaging growing by 5% year-on-year and it is the biggest market for the press manufacturer. It responded early on to this trend by launching the VersaMax press in 2013. More recently at Labelexpo 2017, the company launched its enhanced Performance Series P7, which is available in a 22-inch version, demonstrating its ability to print on film. 
Food safety is top of the agenda  and Mr Baldwin revealed that Mark Andy sold more UV LED systems in 2017 than in the previous three years combined. Its ProLED curing system is now in its second generation featuring an increased irradiance up by 25% from 16 to 20W/cm². 
Mr Baldwin showed print samples reverse printed on 12 micron clear PET using Flint EkoCure Ancora LM UV LED inks, ProLED curing and Mark Andy's own solventless inline lamination with a 25 micron OPP barrier produced on the P7 at 300m/min. He said, 'Low migration inks are becoming standard and this trend will spread across the board over the next two to three years.' 
Cured for food
On the curing side, AMS Spectral UV, which is now owned by Baldwin Technology, first started developing UV LED systems in 2008, and today has a range of products for this market. It launched the Blade Series UV LED curing module for narrow web presses at Labelexpo Europe 2017. This features automatic width selection to reduce energy even further and comes with MultiWave wide-spectrum output option.  
Alan Mills, sales manager EMEAR, explained that MultiWave LED delivers compatibility with the broadest range of UV curable inks and coatings on the market today and its wide-spectrum output expands LED curing to more traditional UV photoinitiators, resulting in more inks and coatings to choose from. AMS has a close working relationship with Flint and the two have been developing solutions for food packaging applications for several years.
He highlighted the advantages of UV LED, listing these as the ability to print on heat-sensitive and thinner materials as heat is not transferred to the press or the substrate, instant on/off as no warm up or cooling phase is needed, safer working environment as no ozone or mercury is involved, uniform curing without any hot spots or tackiness, no bulbs to replace with UV LED chips lasting over 20,000 hours and savings in energy usage. AMS also claims an average ROI of less than one year.  
Window of opportunity
'Combining low migration ink technologies with UV LED technology opens the door to short-run flexible packaging in flexo,' said Dr Patrik Gavelin, R&D director, product development laboratory, EMEA/APAC, Flint Group Narrow Web. 
Flint's EkoCure Ancora ink series combines UV LED curing with low migration food compliant chemistries. Together, these technologies enable food safe printing with the highest reliability and productivity due to stable curing at high press speeds and optimised ink chemistry. It is compliant to the Nestlé Guidance Note, Swiss Ordinance and FDA regulations.
Designing a UV LED food compliant ink formulation is a challenge, but necessary as standard low migration UV technologies are insufficient, said Mr Gavelin. The ink must achieve high reactivity with high molecular weight components, excluding low molecular weight monomers that are prone to migrate. As legislation continuously changes while awareness of migration issues amongst not only big brands but also smaller, local brand owners is increasing, the ink manufacturers are aiming at an ever-decreasing 'design window'.  
When implementing a UV LED LM ink system, a higher degree of operational knowledge is needed in the pressroom and printing companies should invest in people and process operation procedures, explained Mr Gavelin. 'It is not simply plug'n'play,' he said. The manufacturer works closely with clients to continuously evolve the ink, responding to issues, such as yellowing of white inks, by developing new solutions and products.
Made in Italy
With a turnover of almost $16 million, ACM is one of the earliest adopters of UV LED for flexo. The company has worked closely with AMS and Flint Group to lead the way as an all-UV LED printer offering food safe packaging printed with low migrationinks in HD quality.
Antonio La Franceschina, co-owner and managing director, was keen to share his positive experiences with the attendees. He said, 'Traditional UV flexo has always been seen as too risky for food applications, but with low migration UV LED we can demonstrate that our products are not only of the highest quality, but also the safest on the market.'
The company's new Bobst M5 narrow web flexo press has nine flexo stations and is set up for seven-colour fixed gamut palette printing – CMYK+OGV – also known as Heptachrome. 'This technology totally changes the traditional colour matching system and allows a faster and more flexible process while improving the printing quality,' said Mr La Franceschina. 
Printing on filmic materials at up to 70-80 lines/cm at 180m/min, ACM also has four laminators offline and offers a variety of products including bags and pouches in many forms. A new department has been set up specifically for pouches and the laboratory expanded to ensure the quality and safety of the products. The progressive company is in the process of installing a fourth press, with a fifth scheduled for 2018, and is developing inline lamination to speed up production.