Wiping it clean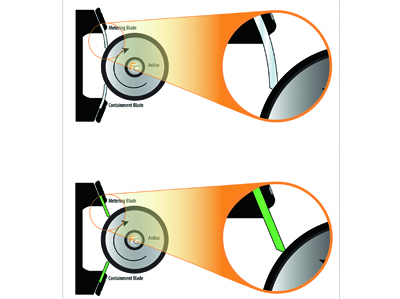 Illustration from Flexo Concepts showing how its TruPoint Green blade exhibits less creep than a standard UHMW blade (top)
As the gatekeeper that ensures the right amount of ink is transferred to the printing plate, the doctor blade is a vital cog in the flexo machine. By Neel Madsen.
In its simplest form, the doctor blade removes the excess ink from the anilox roller, wiping the cylinder as it rotates. This ensures that the correct volume of ink, as dictated by the capacity of the anilox, ends up on the substrate.
The doctor blade sits in a blade unit or in an enclosed doctor blade chamber system, which positions it at an angle to the anilox roller. The exact angle depends to some extent on the viscosity of the ink; it may need to be adjusted to avoid issues, such as UV 'spitting'.
White, blue and gold
Bill Warner, vice president, Allison Systems, said, 'With the doctor blade being a mission critical part of the printing process, a printer needs to purchase the best quality and most appropriate blade available for the application to minimise doctor blade related problems.' 
Celebrating its 50th anniversary on 20 March, the US manufacturer is currently planning an expansion project, which is due to be completed by the end of the year, adding a 60% increase in size. The extra space will allow the company to install additional equipment to facilitate more additions to its portfolio and also improve the quality of existing products, Mr Warner explained. The space will also provide improved workflow efficiencies to further enhance customer service and support. 
Allison's portfolio includes White and Blue carbon steels – these differ in the cosmetic blue oxide process that is applied to the steel.  For abrasive or long runs, the options include the Gold and Laser Gold long life steel blades. 
The Gold blades are made from a tool steel alloy that wears in the form of very small particles that can easily be flushed away from the blade, unlike other materials that can form wire burrs that break off as the blade wears. A laser process can be applied to the working edge of the Gold material to further increase wear resistance. Mr Warner said, 'Many customers who are using our Laser Gold material report that it is very effective at reducing UV ink spitting issues.'
Allison's Fiberglass composite doctor blades are made from cryogenic grade stock that is free of voids and inclusions. These can provide longer life at high speeds when compared to carbon or stainless steel blades. As they approach metallic blade performance with respect to fine screen metering, composite blades can be a good choice for most abrasive or high solids inks.
But development does not stop there according to Mr Warner. 'We are now in different stages of evaluation of two materials that we believe will offer enhanced performance for doctoring applications. Testing and feedback for one of the materials looks very promising and it should be available to our customers in the near future,' he concluded.
Millions of metres
Eurograv reports a significant increase in new flexo customers using CBG doctor blades. The company has seen significant success across the field, but in particular for high-end packaging and pharmaceutical printers using CBG's patented Wing Lamella profile.
Having conducted intensive production trials, the company has shown that the blade angle and design of the Wing Lamella reduces the required pressure in some instances by up to 50%, but certainly with a minimum of 20% when compared with other types of blade.   
Colour strength was reported to be much stronger and wear rates with aggressive whites and metallic inks were greatly reduced. Eurograv's Mike Attard stated, 'Flexo printers tell us they no longer have to bed the blade in, which in turn allows faster set-up times and increased blade life, which is in no small way due to the high quality ESR (electro slag refined) steel and unique Wing lamella profile that CBG use.'

PrimeBlade in Sweden has developed new products
The company can supply a vast  range of coated CBG blades that can all achieve over 1 million linear metres, but Mr Attard stressed that blade selection should be determined by careful trials to analyse which is the best wipe/longevity/cost combination.   
Granular analysis of many print trials shows that in quite a few cases 'one hat fits all' does not really give equal wear or wiping performance within the same job.
'We have several clients that use a mixture of blades in the press at any one time,' explained Mr Attard, 'as wear rates can be different on the various decks … with the same blades.' He said that several master flexographers use different types of specifications, angles and coatings within the same job. 'These print managers use CBG Super Coated Wing lamella for colour decks which gives not only a long life but also lower friction and a top quality wipe, whilst for whites they use our Z Ice Plus coated blade which with its high density ceramic coating makes its perfect for these aggressive and heavy pigmented inks.' 
'This method means that flexo printers can maintain perfect colour consistency and wiping performance for many hundreds of thousands of metres, whilst matching the wear rates that different inks dictate,' he concluded.
Orange and green
TruPoint Orange was created as an alternative to steel for the most demanding flexo applications. Constructed from a polymer material and engineered with a MicroTip edge, the blade maintains a fine contact area with the anilox roller, producing high quality graphics on line screens up to 785l/cm. 
Compared to steel blades, which become honed and extremely sharp as they wear, Orange is made from a polymer material that does not develop a dangerous cutting edge. The material will not separate, splinter or crack and produces no metal fragments that can damage the surface of the anilox. 
TruPoint Green was developed as an alternative to UHMW PE (ultra-high molecular weight polyethylene) blades for corrugated printers. As graphics requirements continue to rise in corrugated applications, many printers are finding a 'gap' between where UHMW is effective and steel is needed. When anilox line screens approach 120l/cm, UHMW blades begin to lack metering precision due to excessive contact area with the anilox roller and poor spring memory or 'creep'. 
Maintaining good contact on line screens ranging from 120-200l/cm, it has demonstrated better stiffness with only half the creep of UHMW and a lower wear rate than steel, according to the company.
News from Sweden
'In more and more cases, low quality and low-priced doctor blade are giving way for the new high-tech blades. However, a higher priced quality blade is not necessarily more expensive to use than a 'cheap' blade, often the opposite,' said Jonas Andersson, technical sales manager at PrimeBlade Sweden. He continued, 'If the blade can be used longer, prints better, reduces waste and avoids extra machine stops during run for blade changes, the higher priced quality blade is cheaper to use.'
PrimeBlade has recently introduced the LF (Low Friction) edge treatment, which smoothens the tip of the doctor blade to eliminate burrs or impurities that can be found on untreated blades after edge grinding. By doing so the friction between blade edge and anilox is brought down to a minimum and wear is reduced, both on the anilox surface and blade. The treatment can be applied to all edges and types of steel, from carbon through stainless to micro-alloy tool steel.
Other new products include the Dual step lamella blade and Hybrid edge, which have been developed to address UV ink spitting issues. With the Dual step lamella edge the resonance vibration is brought down to a minimum and the ink spitting reduced or eliminated. The Dual step edge can be produced on any type of steel blades, on base blade thicknesses from 0.20mm and up.
The Hybrid edge is for printers who want a stable and non-growing contact zone edge, but also need room for some blade edge flexibility. As the name suggests, this edge is something in between a lamella and a bevel, and it can be used both as a working and containment blade in a chambered inking system. 
Meanwhile Swedev continues product development with added wear resistance to its MicroKote H7 blade for flexographic printing and white inks. This blade was first introduced at drupa 2016 and has been developed for extra demanding applications where a decrease in friction is vital to eliminate lines in print and extending blade life, and where aquaplaning with very stiff ceramic blades gives wiping problems.