All shapes and sizes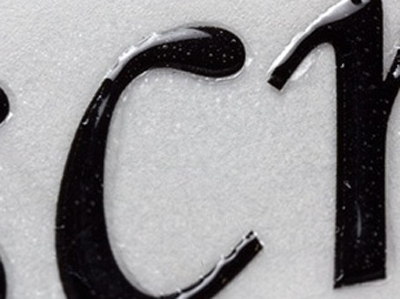 TactiLox is an engraving designed to reproduce the tactile effect of rotary screen
No matter what kind of sector you cater to, if you are using the flexo process, so much of your work's quality depends on the anilox rollers you are using. With many different engraving types to choose from, it is imperative a printer selects the right one. By Michal Lodej.
Since its inception in the early 1990s, flexo printers have employed the 60˚ anilox roller in almost all printing and coating applications. This proven, reliable roller has been supplied by engravers ever since. If handled with care properly, these anilox rollers can yield many years of production. Based on industry standards, it has been the most useful geometry in the industry.
However, the industry has moved on in leaps and bounds since then, and while still very popular, the 60˚ is just one of many different engravings to choose from.
Because of the number of options, it is important to become familiar with the selection of geometries. All suppliers offer similar geometries, but some are proprietary. In other words, there are many types of engravings to choose from. Let's start with the existing industry standard for flexographic reproduction.
Bill Poulson, senior technical representative at Harper Corporation, reminds us, 'It is important to remember that an application may arise that requires a different geometry, based on unique challenges and/or customer's requirements. When this happens, the supplier is the best resource for assistance. Suppliers have seen a multitude of requests, problems and solutions and can assist in providing an alternative geometry that might work better.'
Swinging 60s
Harper advises that 60˚ anilox rollers are used for all flexographic applications, including coatings and laminations up to 40bcm. If the chemistry of the ink or coating is not compatible with this closed cell design, then it would be prudent to switch to one of the alternate geometries. There are also a couple of variations of the hex cell that allow it to expand, which may afford better transfer when testing viscous and tacky coatings. This is especially true for blister packaging and other adhesives, like cold seal and hot melt adhesives. It may be necessary to consider an alternative geometry when using this type of specialty application.
According to the company the 60˚ is a better proportioned cell and it supports doctor blades well. All around, 60˚ hex stands out in all categories that you evaluate an engraving for: wear, cell integrity, cell wall width, ink transfer and geometric consistency. It is still the most used geometry in the industry.
The 70˚ engraving is another closed cell option with a slightly longer linear cell wall.  This will help viscous inks and coatings transfer out of cells more efficiently. Before going to these options, run or test via banded roller to verify the advantages if any for going to that geometry.
However, while using this geometry may provide some benefits, it could also cause additional wear to the doctor blades, as Mr Poulson explained, 'Our KatRon elongated cell is another version of closed cell technology.  The elongated cell area allows for easier transfer when viscous inks and coatings are used. It can assist with and minimise pin holing on films. These geometry changes will affect the lay of the transferred chemistries. Again, testing is needed before going forward to ensure that there will be a benefit when going in this direction. 
I have found that there is less blade support in the linear wall portion of this cell pattern.  The "V" shape area in all three of these geometries allows support for the doctor blade, once you extend into the linear wall area, you lose that support.  This area in the linear portion of the cell walls will wear faster.This is just something to consider.'
Open minded
There are of course now open cell structures available on the market, which act very differently to the traditional 60˚ cell.
Harper offers three variations of the Trihelical family which all have beneficial uses when coming into play with tacky type coatings that do not like to transfer. Mr Poulson said, 'Adhesives do not like to transfer and these geometries have a way of assisting with the complications that can come from blister pack coatings, PS adhesives, Glitters, etc. These have the capability of reaching 80bcm range for all my purposes and my customer's applications. These geometries all transfer differently and look different as well, so you need to know what your final aesthetic results have to be as well as the physical property of the coating.'
These open cell structures are finding their place across the market, not just for tacky adhesives. Adrian Morton, sales director of ALT has witnessed first hand the changing demands of the market, 'Although we still use standard cell geometry such as 60˚ we are seeing greater demand in our elongated range of geometry such as the Nano, Ani-Plus and Ani-Plus II as these cells allow us to push the screen count whilst still maintaining the desired level of ink/coating at the increased speeds, ensuring improved lay down whilst offering enhanced graphic reproduction. Thirty degree and 45° cells are still used but the finished cell structure is usually changed where the walls are removed partially to help the flow and lay down.'

An anilox roller goes through quality control at Sandon Global
The company's Nano and Ani-Plus II structures allow printers to run at high speeds whilst maintaining cell evacuation and clean running cells that offer very high quality print definition.
Mr Morton continued, 'The challenges we see daily as we see more ECG (extended colour gamut), increased opacity on whites required, tactile applications becoming more desirable and offering further brand enhancement, metallic/pearlescent finishes and fewer anilox changes has meant our anilox geometry has evolved to help in all these areas. We have recently had great success in a number of applications, firstly in the wide web solvent based industry and narrow web UV with both base whites and tactile – with the base whites we have been helping customers increase run speeds, improve lay down, reduce pin holing and in some cases offer advantages on ink consumption.'
The tactile projects the company has worked on offer greater brand enhancement, widely adopted in the drinks market, and solutions that are robust and manageable on press ensuring good production speeds.
According to the company the Nano technology is helping with white applications, combination (tone/solid/text) printing, vignette, fixed colour printing, printing on uneven and absorbent substrates such as corrugated board and wine label stocks, and metallic/pearlescent applications where movement of the particle and limiting entrapment is key.
Two other key successes with the Nano have been with matt varnish applications helping to keep the matting agent moving and controlling the lay down and in the corrugated sector helping improve the graphics whilst maintaining the desired lay down and coverage.
Mr Morton concluded, 'We see more demand and call for the lower grammage recycled papers within the corrugated sector and the brand owners still require the coverage to be good whilst ensuring the print quality is of a good standard without compromising the integrity of the finished box – our Nano geometry has been proven within this field over the last six years and we have evolved the geometry to offer a great solution to a demanding and complex issue.'
Go with the flow
Cheshire Anilox Technology's portfolio also includes a channel engraving, MaxFLo+, which improves the ink flow within the anilox engraved structure. There are no individual closed-up cells but a continuous cell structure which has 50% less land area than 60° conventional engravings. This offers a more efficient and finer ink distribution to the plate. The secret of the superior ink densities achieved with MaxFlo+ lies in the smoothness of the ink distribution and the absence of voids which is the main factor that reduces measured ink density.
Higher ink transfer efficiency from anilox roller to plate allows print production with low pressure ensuring consistent quality in every run from start to finish which is critical when adopting fixed palette or HD flexographic techniques.
Cheshire's ProFlo technology for high definition print is fast growing in popularity for its outstanding results. It features a new improved cell profile that will provide a more consistent ink lay down while also eliminating the chance of uncontrolled dot gain. This high-release engraving allows printers to achieve high colour densities at extremely fine line counts.
Apex International's GTT channel engraving follows a slalom pattern which allows a better ink transfer to the plate as the ink is not trapped in individual cells, as with tradition anilox engravings. Instead the ink can flow freely through the channel. 
This consistent ink transfer allows printers to calculate precisely how much ink will be on the plate, and so can accurately recreate Pantone colours on the press from using just the four process colours. The company claims that 80% of Pantone colours can be created with CMYK and that using seven colours can replicate up to 90% of Pantone colours dependent on the print parameters used.
It can also improve the quality of printing, which is more pronounced with the latest plate technology, however even without the most up to date plates, the company can assure that printing will be consistent.
At Labelexpo Europe 2017 it was announced that the company is working closely with Hamillroad Software, which said that the GTT engraving is the only anliox roller certified to be used with the Bellisima digitally modulated screening system.
The desired effect
Over the last two years, Cheshire Anilox Technology has also been involved in an extensive development programme to produce an anilox roller with extreme varnish-release characteristics to offer high-build tactile effects in flexo.
The two year long process culminated in TactiLox, an engraving specially designed to reproduce the tactile effect of rotary screen on to the print or packaging. Tactile varnishes require a high volume anilox that can transfer large amounts of the coating. Its cell profile also offers a more uniform coverage which is critical to achieve a high gloss finish.
TactiLox achieves an excellent varnish coverage, applied in a smooth fashion with razor sharp precision. Tactilox is compatible with extremely fine plates and can produce the highest edge fidelity- meaning you can choose to spot varnish the finest details on your packaging.
Sandon has also observed a growth in the use of tactile varnishes. The company has a patent pending engraving design called GMX that will reduce trapping when applying tactile varnishes or coatings.
Different cell structures provide flexo print houses with the flexibility to operate in the narrow web, wide web, pre-print and post-print sectors. 'It is not "one size fits all" when it comes to anilox applications,' commented Sandon Global's sales manager, Richard Millington. 'For example our new process engraving Xpro is designed to be robust enough for the wide web and corrugated markets but still delivers HD quality. Likewise we have been able to develop a specification by working with our customers in narrow web UV flexo called Fluid, which significantly reduces the likelihood of ink spitting. This engraving has also shown major benefits in reducing white ink consumption when utilised with solvent based inks by improving cell evacuation and therefore ink lay down.' 
One of Sandon's customers Steve Melville from SaicaFlex Buxton believes that working with the supplier has made the company's processes more efficient, 'We were looking to increase the lifespan of our process anilox. As a Sandon Global Beta Site we were able to develop and trial the new Xpro specification that has delivered an 18% increase in the life of our anilox for one particular press.' 
The value to printers of such an increase can not only be measured in the cost saving of reducing the frequency of anilox refurbishments but also in the production efficiencies benefiting from the reduction in changeovers. This is the aim for all anilox producers, who between them have now discovered engraving solutions to meet any print specification, and with the consistency needed to produce top quality results.